2014 Holiday Gift Guide Suggestion

Every holiday season begins with an order from one of my favorite online stores, Ornaments with Love! My husband and I will sit down together and browse through their selection of over 2000 unique and beautiful ornaments looking for the one we feel will fit our tree perfectly! I know that is a lot of ornaments from which to choose, but to make shopping easy, the ornaments are divided into common themes such as family, pets, angels, military, sports, travel and many more. They carry both tree ornaments and tabletop decor from the best suppliers around. And the best part? Any ornament you choose can be personalized for free!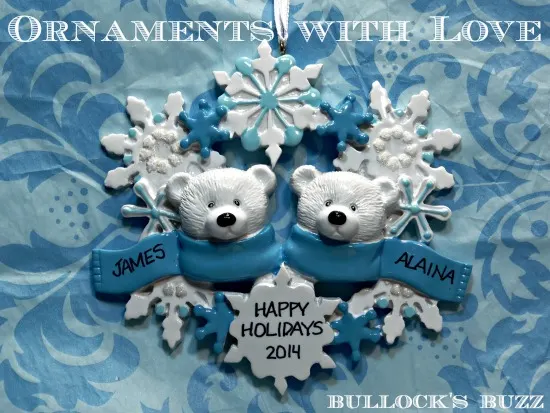 Last year we selected the In Our Hearts Forever ornament to honor my father, this year we went with something a bit more whimsical, the Personalized Polar Bear Couple Christmas Ornament with Snowflakes. This adorable ornament is ice blue and white in color, and features two polar bears wearing blue scarves. On one scarf is my name, and on the other is my husbands'. The bears are surrounded by several snowflakes, some blue and white, some white and some with glittery centers. On a larger snowflake under the polar bears heads are the words "Happy Holidays 2014". Of course you can personalize the ornament to say whatever you prefer! The writing is done in what appears to be black permanent marker, and is written in a pretty, easy-to-read script.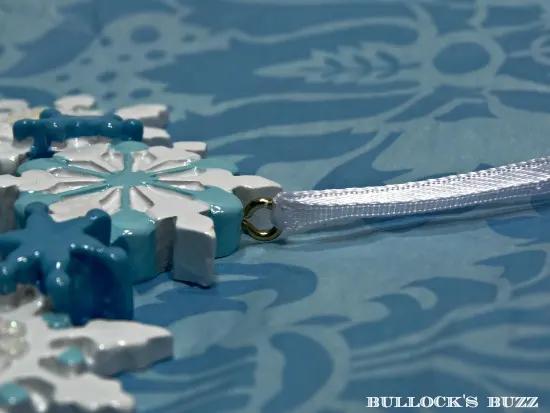 The ornament hangs from a white, satiny ribbon securely attached with a small metal hoop in the very top. It measures approximately 3.75" in height and 4.25" in width, and is made of durable resin. It is beautifully crafted, and will last for years as a perfect reminder of the 2014 holiday season!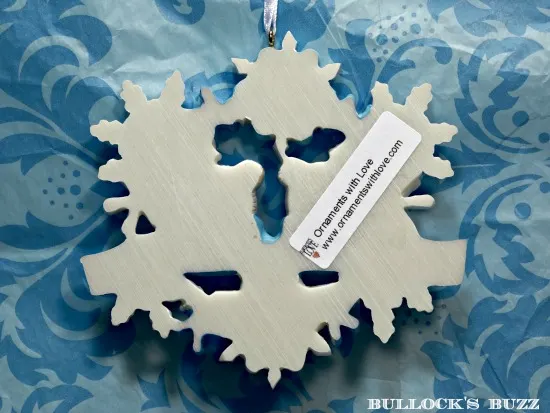 The Personalized Polar Bear Couple Christmas Ornament with Snowflakes costs $13.99 and makes a great keepsake ornament for your family! It would also make a great gift! Use it for a couple, two friends, two grandchildren or even twins! And if this one isn't quite what you are wanting, be sure to check out all of the other ornaments at Ornaments for Love!
Connect with Ornaments with Love on Facebook and show the world the ornament you chose!