Can you believe it is almost time for summer vacation? Right now, most high school seniors are busy thinking about dresses and tuxes for their upcoming prom, while college seniors are preoccupied with enjoying their last few weeks before entering the "real world'. But for both, in just a few short weeks, they will be putting on their caps and gowns and walking proudly across the stage to receive their diploma. Whether you're attending a high school or college graduation this spring, if you are looking to celebrate with a gift that's sure to delight the tech-savvy female student in your life, the Clutchette Power by Chic Buds!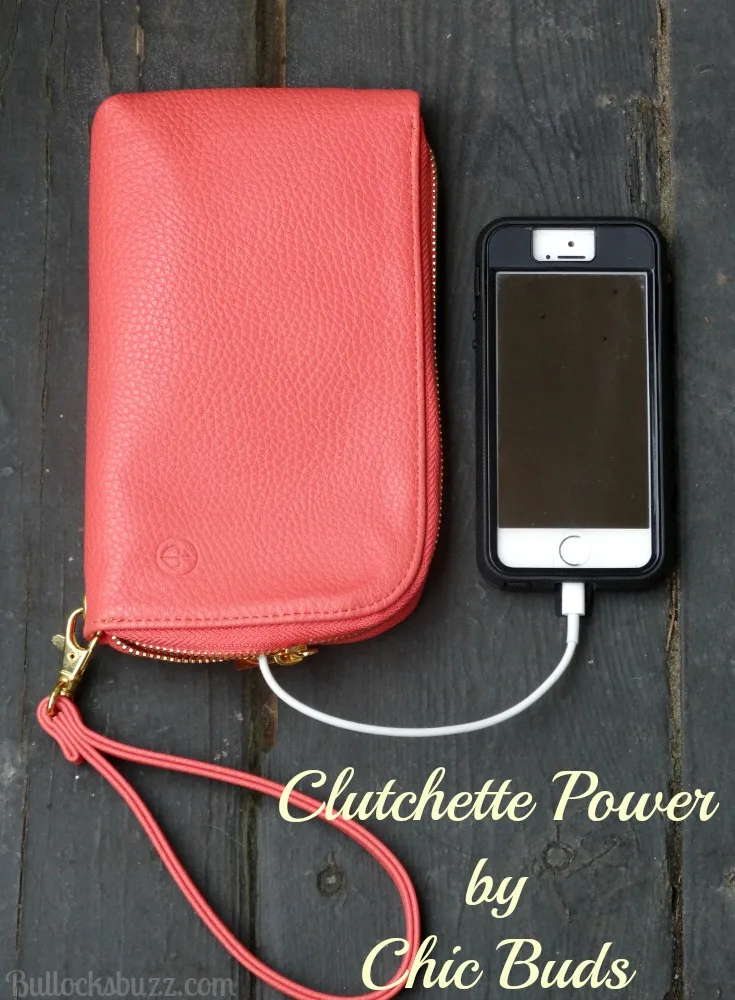 Chic Buds and the Clutchette Power
Chic Buds was created by Nikki Carlson and Kailynn Bowling when they recognized a need for technology accessories that catered to women.
"Our products are unique in that they are specifically and intentionally designed to meet the exclusive needs of women and girls. We are 100% focused on the female customer."
And one of their products is the innovative Clutchette Power – the cute and stylish clutch that also provides you with the means to charge your phone (or other USB device) wherever you may be. Each Clutchette Power features an ultrathin, lightweight, removable 2600mAh battery and built-in USB cords – one for charging the battery, the other for charging your phone – as well as enough room to carry some of the basic essentials.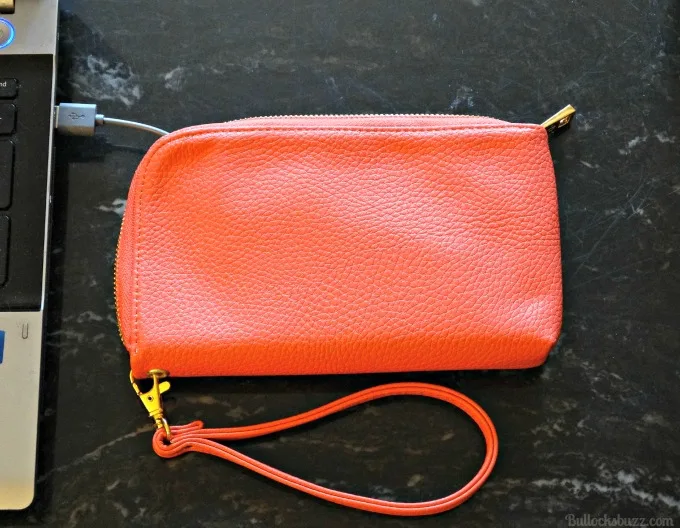 How Does the Clutchette Power Work?
When your Clutchette first arrives, you will need to charge the battery. To do this, unzip your Clutchette, and inside one of two inner pockets you will find the ultra-thin battery with its own USB cord. To charge the battery simply plug-in the attached USB cable labeled 'IN' into either a USB port wall adapter or directly into your computer. Mine took a couple of hours to reach a full charge. In addition, if you want to see how much charge your Clutchette Power has, you can press the small button on the top of the battery, and the 3 small lights next to the button will tell you how much charge you have.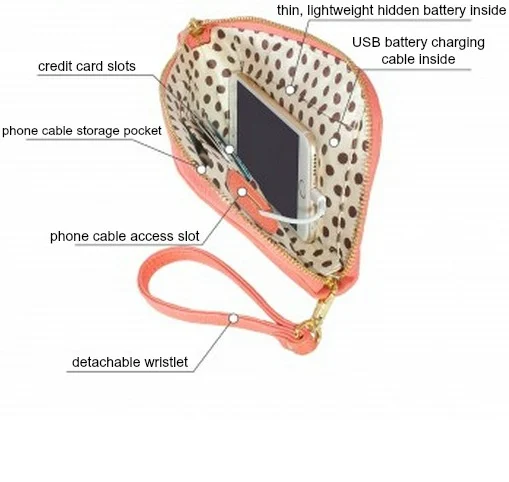 The cord for charging your phone can be found in the other inside pocket, and it is labeled with a tag that reads 'OUT'. To use, simply plug your phone's charger cord into this and you are good to go! Both your charger cord and phone will tuck right inside the clutch, out of sight and out of the way.
How Well Does the Clutchette Power Really Work?
Although a 2600mAh battery is modest, it is still enough to keep your phone from going dead when you need it most. If you are anything like me and either texting, surfing the internet or snapping pictures and uploading them to Instagram on a regular basis, the Clutchette Power is a handy thing to have. I have found that it will give my iPhone 5S about one full charge.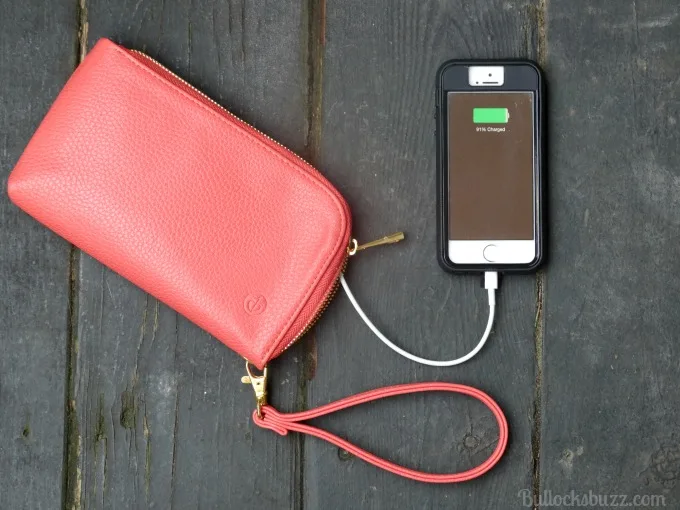 In addition to the awesome fact that the clutch charges your phone, it is actually quite stylish, too. Available in several fun and stylish colors, it features a supple, vegan leather outside and a satin lining with a fun pattern on the inside. And although the Clutchette Power is small, there is plenty of room for your phone, charger cord, credit cards, cash, ID and one or two more essentials – and really, what more do you need? Plus, an included wristlet means that you can carry it with you as a small purse, or you can take advantage of its small size and stick it inside a larger purse or bag!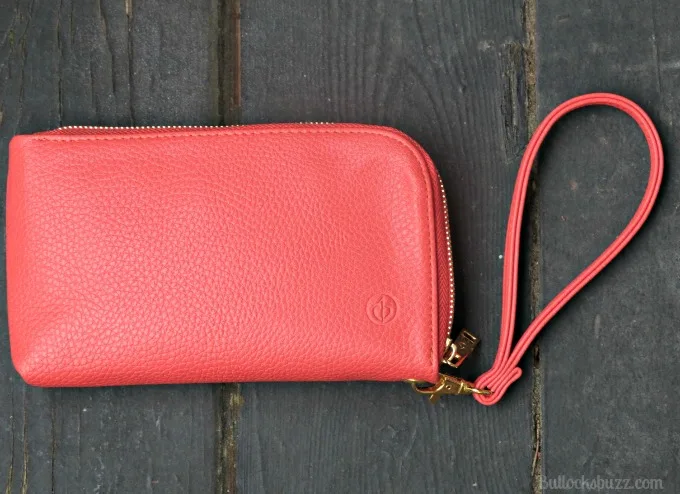 Where Can I Find a Chic Buds' Clutchette Power?
The Chic Buds Clutchette Power can be purchased directly through the Chic Buds website for $49.99. It's the perfect fashion accessory for any tech-savvy girl – from professionals to tweens!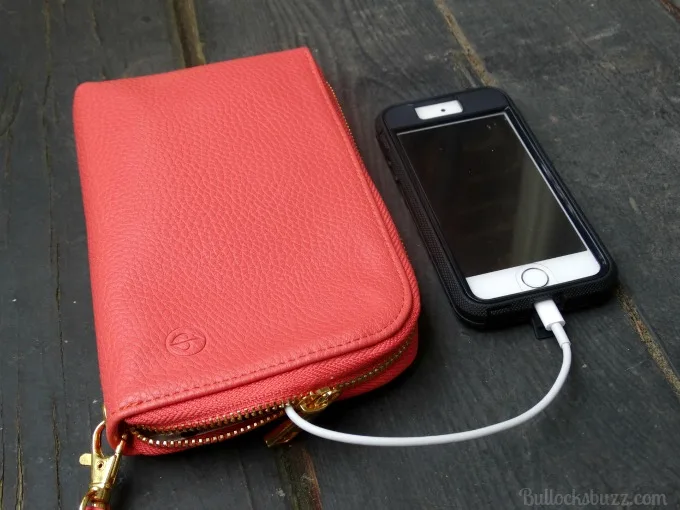 Be sure to visit Chic Buds online to check out their full collection of stylish accessories, including batteries, earbuds, speakers, phone carrying cases, and more!