Creamy vanilla ice cream is sandwiched between two chewy, tender donuts for a simple yet irresistible hand-held frozen treat in this donut ice cream sandwiches recipe.
Calling all donut lovers. National Donut Day (June 1) has come and gone, but there's no reason to be sad. You can celebrate donuts every day with this delectably sweet twist on the classic treat – DIY Donut Ice Cream Sandwich recipe!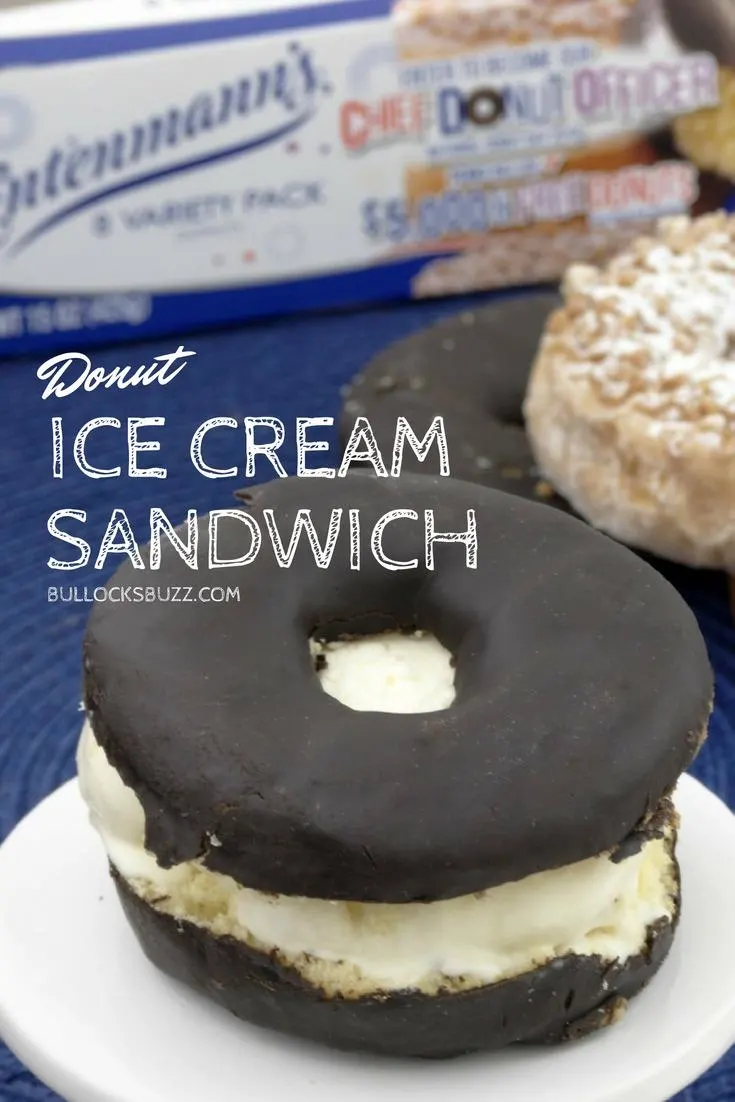 Ice cream sandwiches are as much a part of summer as flowers are to spring and toys to childhood. These classic hot-weather treats bring back memories of playing in the sprinklers, riding bikes until dark, and sitting in the warm sunshine licking sticky, sweet ice cream from my fingertips as it melts from in-between the chewy, chocolate cakes.
While this quintessential summer treat is usually made with chocolate cake sandwiches, it's fun to switch things up and make them with other ingredients such as these Skittles cookie ice cream sandwiches. Or in this case, some Entenmann's donuts.
Entenmann's Baked Goods
Our family is a huge fan of Entenmann's® baked goods. From their Little Bites® muffins to their cookies to their special-flavored seasonal sweets, each one of us has our favorite treat.
My personal favorite is their donuts! Soft, flavorful and oh so good! Just don't ask me to pick a favorite flavor. 😉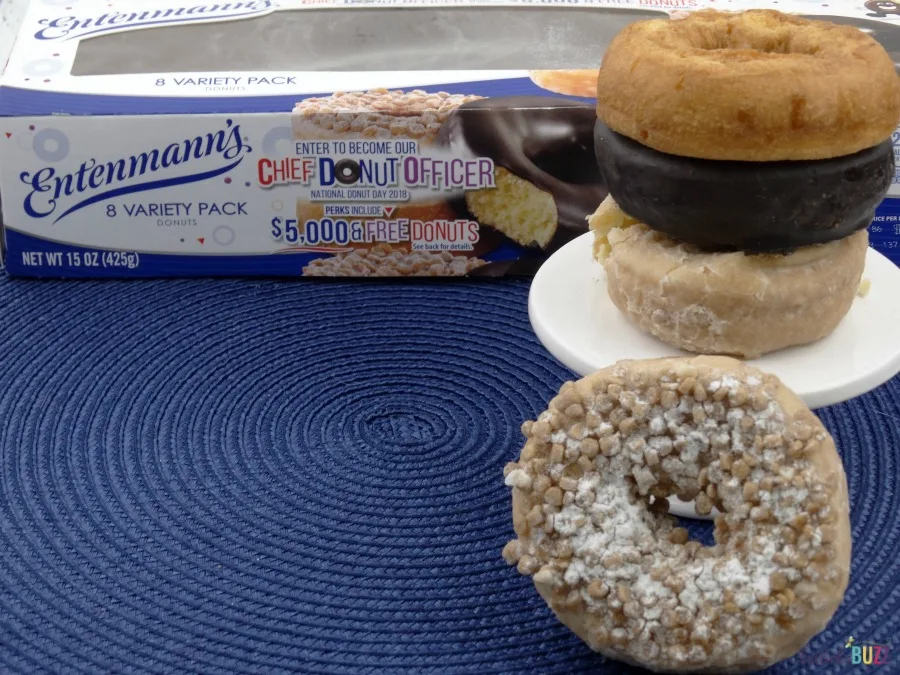 While Entenmann's® Donuts are delicious on their own, they're also super tasty when used as an ingredient in a variety of sweet treats. And today I am sharing one of our favorites: a DIY Donut Ice Cream Sandwich recipe!
This delectable Donut Ice Cream Sandwiches recipe takes two classic favorites and combines them into one delectable summer sweet!
One blissful bite will have you begging for more!
Best of all, they are incredibly easy to make.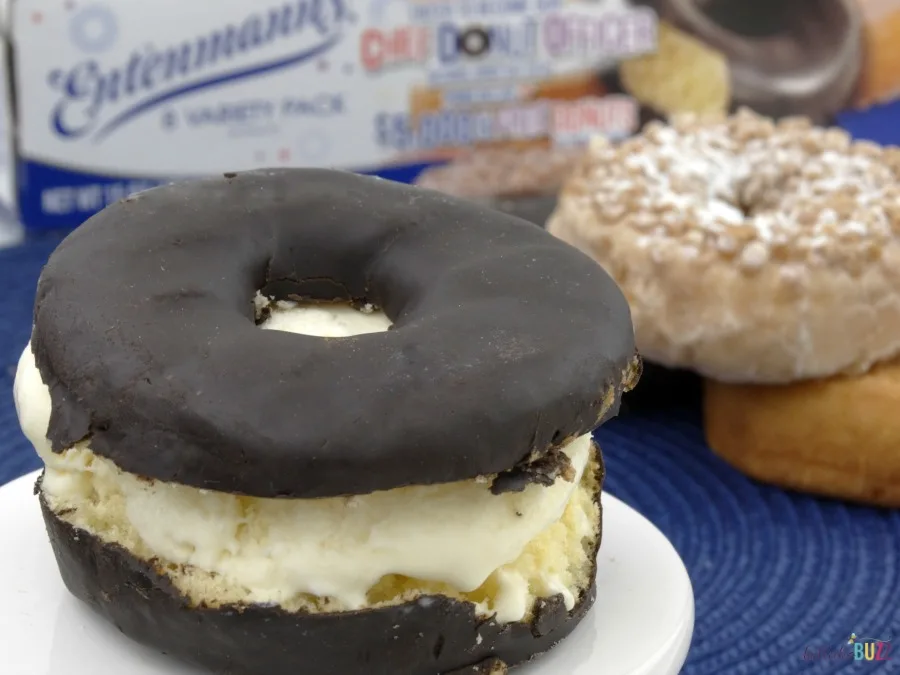 How to Make a Homemade Donut Ice Cream Sandwich
Making this homemade donut ice cream sandwich couldn't be easier! With two simple ingredients and about 5 minutes of your time, you can have a mouth-watering treat that you'll soon have a new favorite snack!
Helpful Kitchen Tools You May Need
Disclosure: This blog post contains affiliate links for products or services I think you'll like. This means if you make a purchase from one of these links, I may make a small commission at no additional cost to you. I only recommend items I use and love.
The only tool you really need to make this Ice Cream Sandwich recipe is a knife that is sharp enough to cut the donuts in half.
Ingredients You Will Need
Your favorite flavor of Entenmann's® Donuts
Vanilla Ice Cream
Instructions to Make Donut Ice Cream Sandwiches
Step One: Cut
Begin by carefully slicing an Entenmann's® Donut in half lengthwise.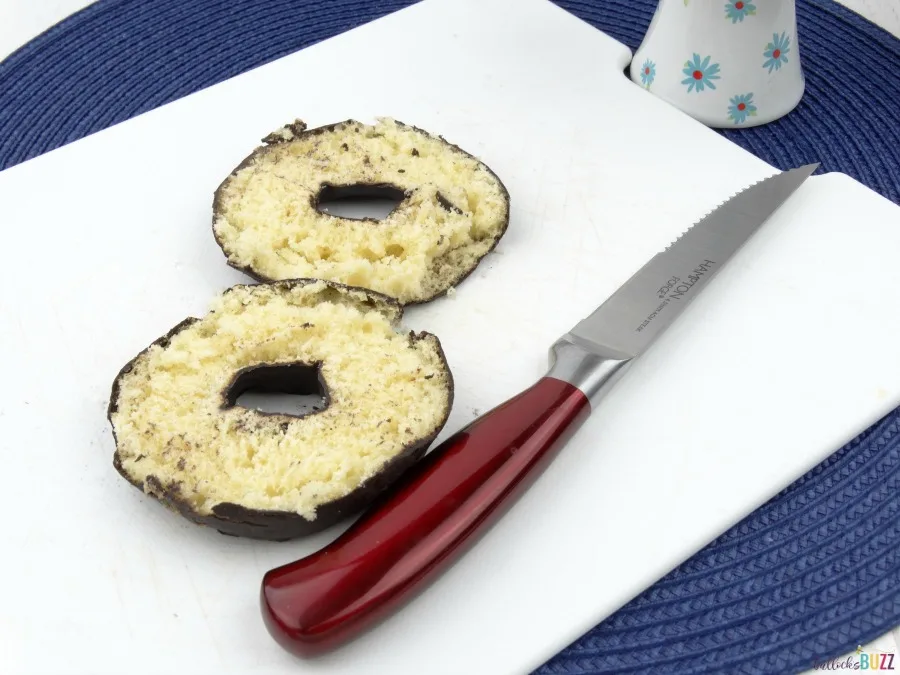 Step Two: Add Ice Cream
Next, take a small scoop of vanilla ice cream and place it on one half of the donut.
Step Three: Assemble Donut Ice Cream Sandwich
Now simply place the other half on top, and you are ready to enjoy your Donut Ice Cream Sandwich!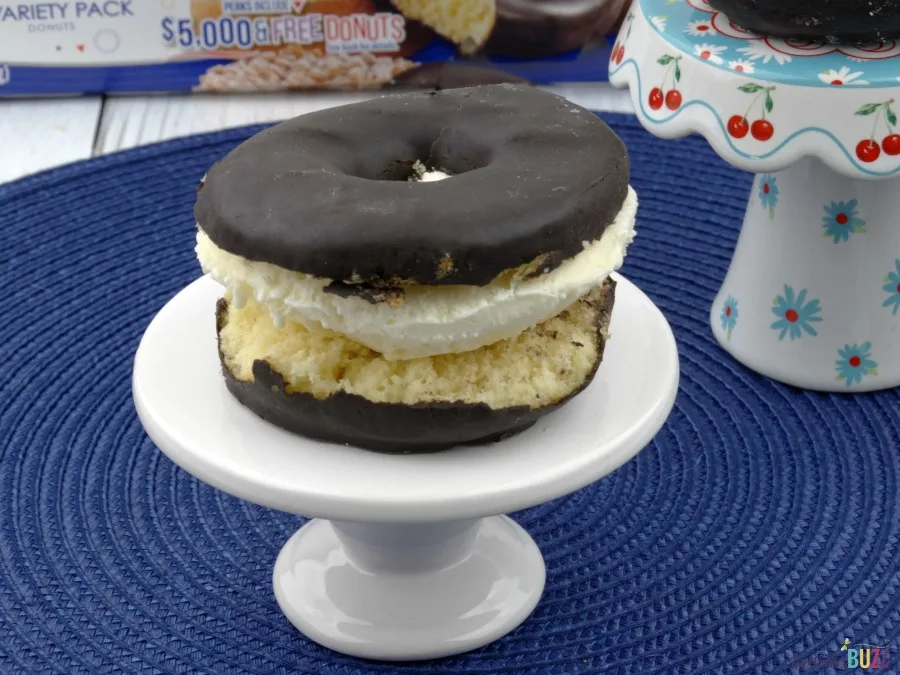 Other Ice Cream Recipes You Will Love
If you're looking for more dessert recipes that use ice cream or donuts, check these out!
Like It? Love It? Please Share This Donut Ice Cream Sandwich Recipe!
Did you make this easy recipe? If so, I'd love to see how it turned out! I absolutely adore seeing your take on my recipes.
So please be sure to tag me on Instagram @bullocksbuzz or using #bullocksbuzz and share a photo of your tasty creation!
Don't forget to save it either by clicking on that little heart over there to your right or by pinning it on Pinterest. And then share with your friends and family by clicking the share buttons above the post title, too!
And, if you really liked this dessert recipe, comment and leave me a ⭐⭐⭐⭐⭐ rating on the printable recipe card below!
And finally, don't forget to follow us on Pinterest, Facebook, and Instagram!
A big thanks to Entenmann's® for the coupons and gift card! Today's post is a sponsored post on behalf of Entenmann's®.