2013 Holiday Gift Guide
Winter time means snow and ice storms, and often during these storms you lose power. Sometimes the power can be out for days at a time which makes keeping a charge on your cell phone and other devices a problem. Recently I received a portable external rechargeable battery that is not only small and portable, but charges quickly and can provide hundreds of hours of extra battery time. Made by Jackery, this charger is one of several portable external batteries that works on most devices whether it's a smart phone, gaming device or tablet.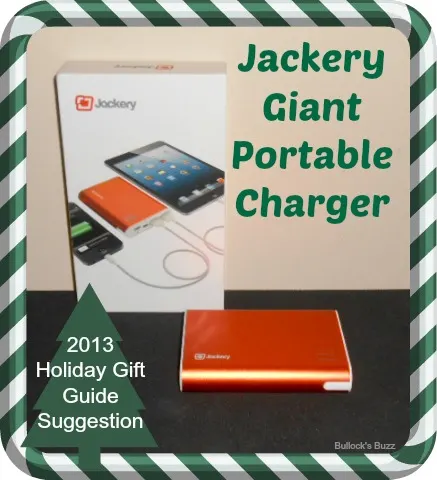 I received the Jackery Giant which is one of the larger, yet still conveniently small and portable, external rechargeable batteries. It has a compact and stylish design, and is available in different colors. The premium aluminum case provides protection for the battery as does the 4 layers of smart safety protection. With its large power capacity of 10,400mAh, it is strong enough to charge two devices at the same time and can increase their operating time by up to 220 hours. The Jackery Giant measures approximately 4.3″ in length, 3.1″ in width and 0.8″ in height, and measures 10.4 ounces. It has two 5V output ports, 2.1A and 1A, and even has a powerful LED flashlight that can provide illumination for up to 700 hours! And to keep the flashlight from accidentally coming on, they have upgraded the design so you have to push the power button twice to activate it.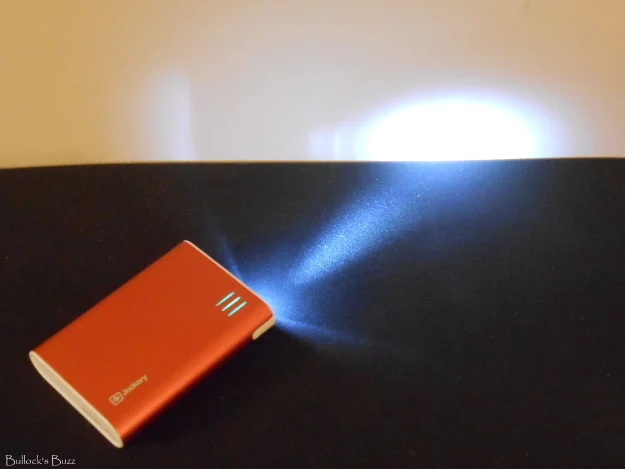 It comes with one Micro USB to USB 2.0 cable and can be charged by connecting to either a USB AC adapter or a computer. When you first use open the package, it will have a small charge already on it. You can check to see how much by pressing the power button and checking the three LED indicator lights found on the front. One blinking LED means there is less than 10%, one steady light means 10% to 33%, two steady lights means 33% to 66% and all three indicates anywhere from 66% to 100% charge. It will take about 10 hours to get a full charge, and it is capable of being recharged over 500 times for the life of the battery. Plus, with a standby time of up to 6 months, you can rely on this compact external battery to provide a charge to your portable device in a time of need.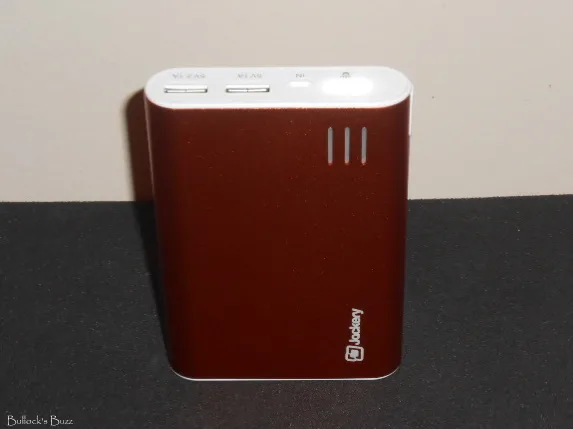 The Jackery Large is one of the best external batteries I have used. Not only does it charge devices super fast (even when charging two at the same time), it has a nice stylish design too! It's small size makes it easy to store in my purse, and it can even fit in my pocket. I like knowing that even if I don't use it for several months, it will hold a charge in standby mode. I keep this one in the apartment for possible power outages, although I also take it with me on trips. I would like to get another smaller one to keep in the car for an emergency.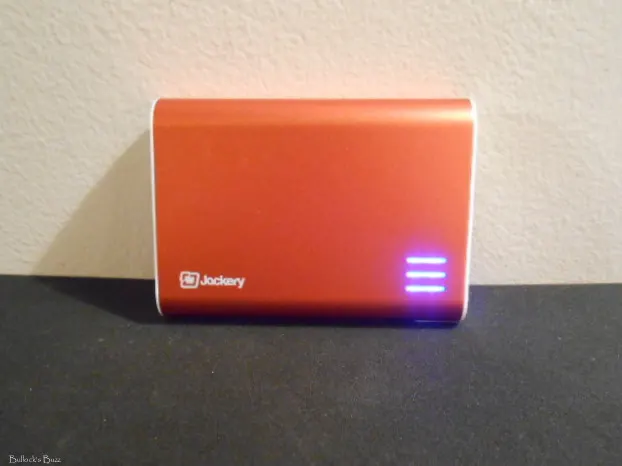 The Zackery Giant is compatible with many devices including, but not limited to iPhones 4, 4S, 5, 5C, 5S, iPad, iPad Air, iPad Mini, iPod, (you will need an Apple cable for any Apple device), Android, Windows phone, Droid, Motorola, HTC One and many other smartphones, tablets, gaming devices, MP3 players and more! You can purchase the Jackery Giant in orange or silver on Amazon.com for less than $40.00! It'd make a great Christmas gift! Jackery also has several other sized portable rechargeable batteries in addition to the Jackery Giant. You can get one from as small as a tube of lipstick to as large as the Jackery Giant Plus. To see all available products, check out the Jackery website, and connect with them on Facebook and Twitter!