This post was sponsored by the creative people of FCTRY who have a great sense of humor. I was compensated for this post, but all opinions are my own.

Mustaches seem to be everywhere these days. From cookie cutters to drinking cups, they are all the craze! And now, even your baby can have a mustache with the incredibly cute
mustache pacifier
known as the Mustachifier! Babies love their pacies, and parents will love to show off their hipster baby sporting a stylish mustache!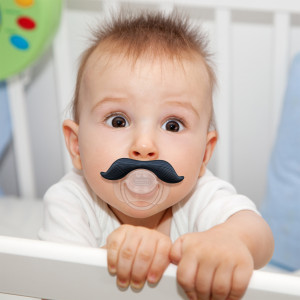 The Mustachifier is created by FCTRY, a family owned company located in Brooklyn, NY. It is a precious little pacifier that has a soft, flexible mustache on the top portion of the pacifier so when it is in the baby's mouth, it looks as though the baby has grown a mustache! Too cute!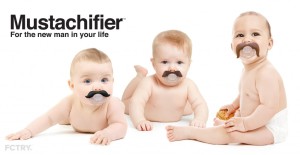 The Mustachifier is not just a cute gag-gift, but a serious pacifier created and designed by parents like you. Following guidelines set by the US Consumer Product Safety Commission, the Federal Drug Administration, the American Academy of Pediatrics, and the American Dental association, the Mustachifier meets and exceeds all US Safety Requirements. It is made completely from baby-safe materials, and is 100% BPA free.
The mustache part is formed from the same soft, flexible material as baby teethers, and cannot be detached from the pacifier for safety purposes. The silicon nipple has a natural orthodontic shape, and the pacifier shield is made of a firm plastic and contains ventilation holes. It even comes with a snap on top to keep it clean and germ-free when not in use.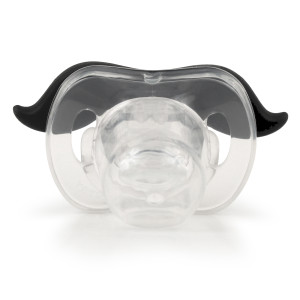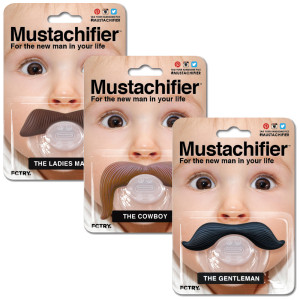 I was sent The Gentleman Mustachifier to review, and my niece (and everyone who saw her) absolutely loves it! Yes, I did say my niece, but who said we can't have some fun? She has been a bit picky with her choice of pacifiers in the past, so we were happy to see her take to this one as though it is her favorite. We love that it not only brings a smile to everyone's face who sees her, but that it is made with her health and safety in mind following strict guidelines and rigorous testing! It is a tad bit more top-heavy than other pacifiers due to the mustache, but she quickly adjusted and compensated, and happily sucks away!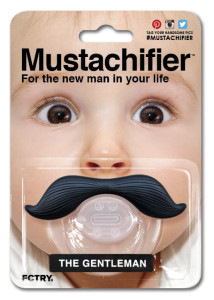 The Mustachifier would make a cool baby gift to give at a shower or even as a holiday present. Instead of a stuffed animal or a package of those plain old pacifiers, you can give the most unique baby gift at the party!
You can purchase the Mustachifier directly through the website at http://www.mustachifier.com. It retails for $9.99 and there is
FREE Shipping on orders of 2 or more, otherwise there is a
$5 Flat Rate Shipping fee on all orders in the US. It can also be found at several stores both online and off. Connect with The Mustachifier on
Twitter
,
Facebook
,
Pinterest
and
Google+
!
THE GIVEAWAY!!
And beginning June 8th, be sure to enter the Summer Stache Sweepstakes on The Mustachifier's Facebook page where you can win The Full Monty!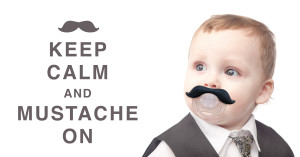 I personally like The Gentleman Mustachifier and find The Ladies Man to be super cute, too! Which one is your favorite?
Disclosure of Material Connection: I received one or more of the products or services mentioned above for free in the hope that I would mention it on my blog. Regardless, I only recommend products or services I use personally and believe will be good for my readers. I am disclosing this in accordance with the Federal Trade Commission's 16 CFR, Part 255: "Guides Concerning the Use of Endorsements and Testimonials in Advertising."