Ocean Water Cookies are the perfect ocean-themed treat. These soft and chewy cookies have a mesmerizing blue color and a sweet and tangy flavor that'll transport your taste buds to a tropical paradise with every bite! So get ready to dive into a wave of flavor with my irresistible Sonic Ocean Water Cookies recipe.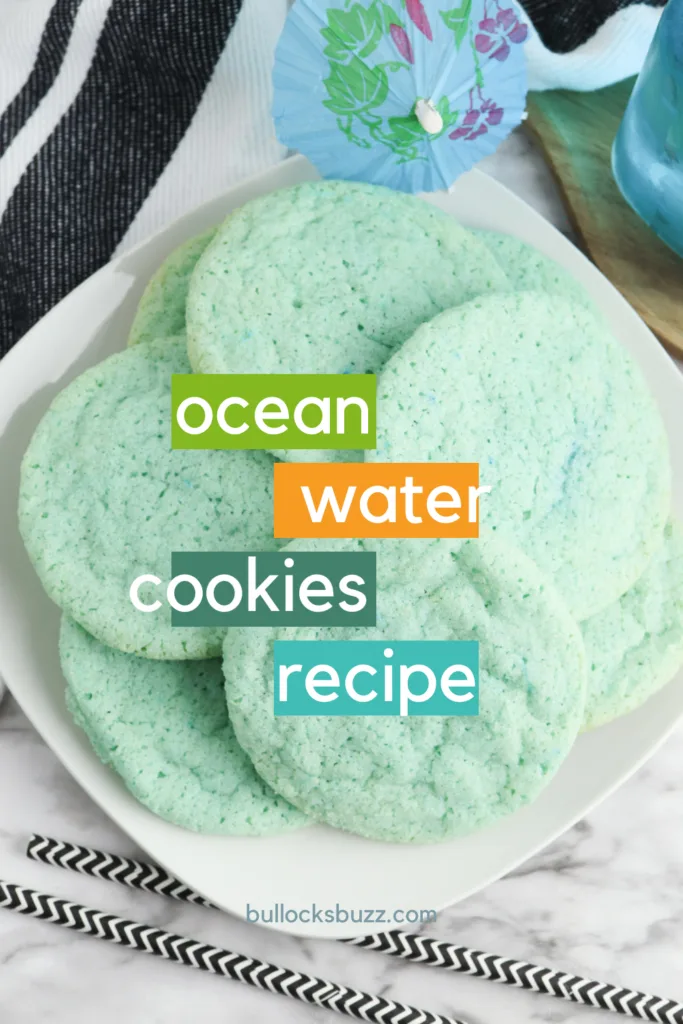 Inspired by the vibrant and refreshing drink from the popular fast-food chain, these Sonic Ocean Water Cookies are a delightful twist on the classic treat.
Soft and chewy, each delectable bite will transport you straight to a seaside paradise.
So, put on your apron, grab some mixing bowls, and get ready to embark on a delectable voyage to create the most irresistible Ocean Water Cookies you've ever tasted!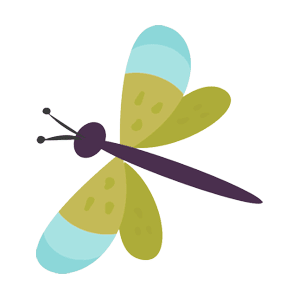 I love creating food and drinks with a unique twist! From my M&MS Beach Ball Cake to this Shark Bark Candy to my adult-only Blue Hawaiian Cocktail, making fun and playful treats is one of my favorite things to do! Simply right-click the links above and open these other ocean-inspired goodies for kids and adults in a new tab so you can check them out after this recipe!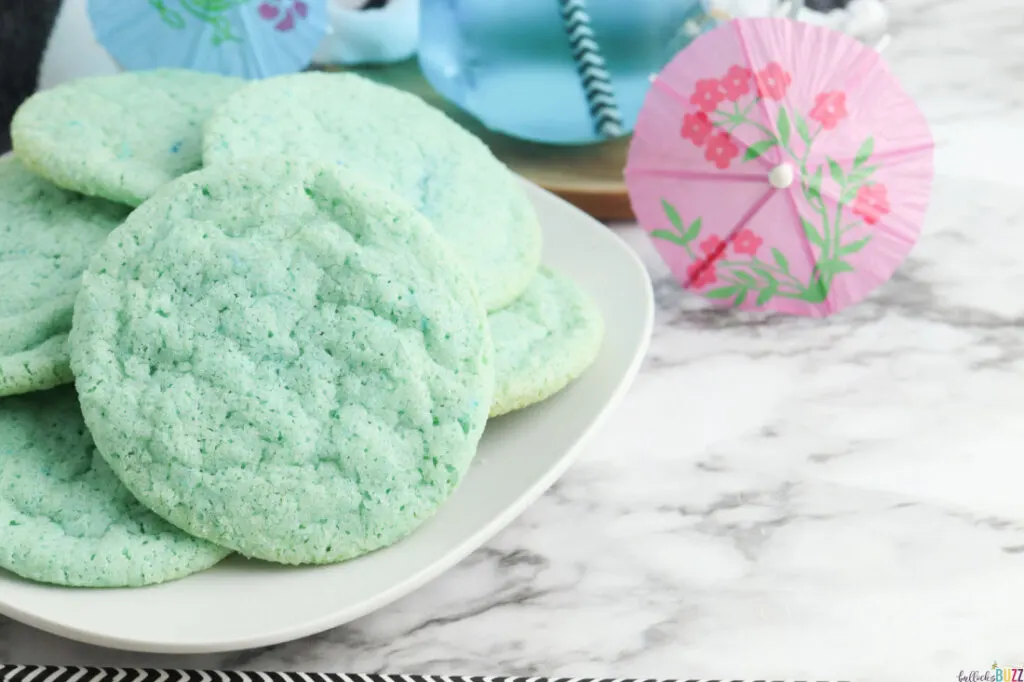 How to Make Ocean Water Cookies
If you're a fan of Sonic's Ocean Water drink, then you are in for a tasty treat! These Ocean Water Cookies feature a deliciously unique twist on the classic sugar cookie by incorporating the taste of Sonic's signature blue drink into each cookie using Sonic Ocean Water Gelatin.
These cookies turn out soft and chewy, with a gorgeous ocean-inspired hue and a taste that will leave you wanting more!
So whether you're a die-hard Sonic fan or just want to try something new, these ocean water cookies are a must-make!
Ready to dive into the recipe and bring a little taste of the ocean to your kitchen? Let's go!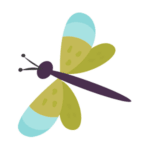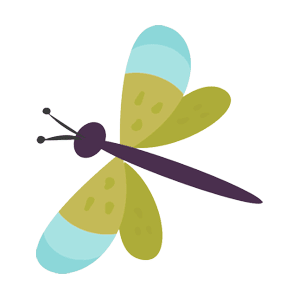 Pin for Later
Too busy to make this tasty recipe right away? Why not Pin it for later? Pin this easy recipe to your favorite board on Pinterest and it will be there waiting for you when you are ready!
Kitchen Tools You May Need
Before we dive into today's recipe for Ocean Water Cookies, you'll need a few essential kitchen tools to ensure smooth sailing. Most of these you probably already have…
Disclosure: This blog post contains links to products or services I think you will like. If you purchase from one of the links, I may make a small commission at no extra cost to you. As always, I only recommend products that I use and love.
With these essential tools at your disposal, you'll be fully prepared to navigate the creation of these Ocean Water Cookies with ease.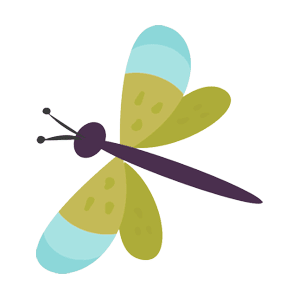 This section includes ingredient notes and substitution options. Get all measurements, ingredients, and instructions in the free printable recipe card at the end of this post.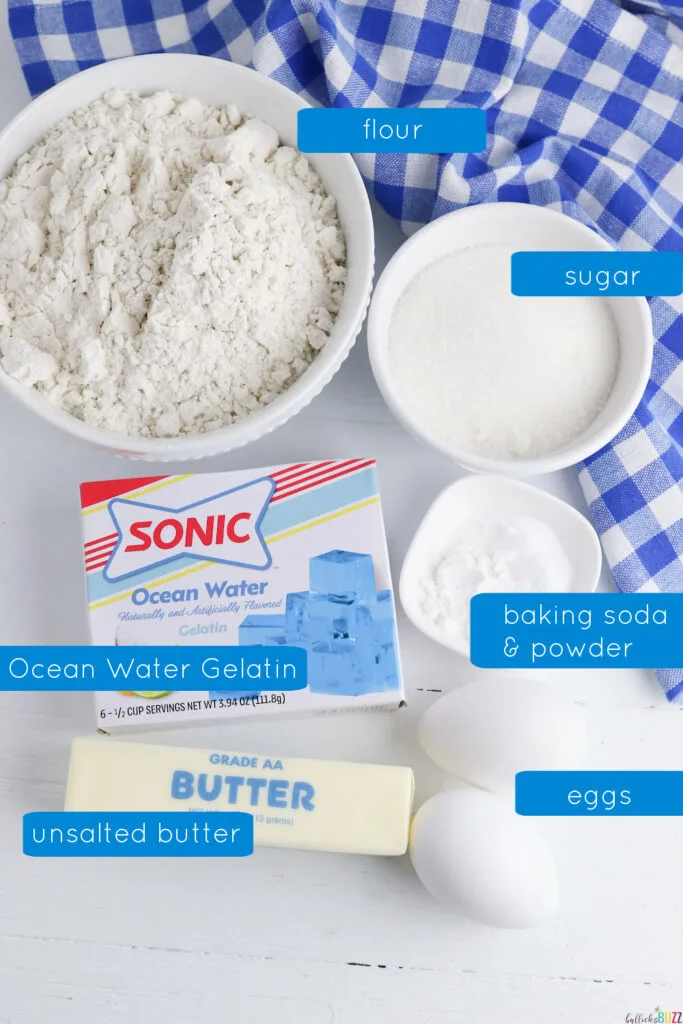 Ocean Water Cookies Ingredients You Will Need
With just a handful of simple ingredients, you'll be well on your way to creating these fun and tasty ocean-inspired cookies. So gather up the following ingredients, grab your apron, and get ready to dive into a world of ocean-inspired deliciousness!
Sonic Ocean Water gelatin – with just a hint of coconut, lemon, and lime, this Sonic Ocean Water gelatin gives the cookies their sweet flavor, ocean-blue colors, and soft and chewy texture you'll love!
flour – provides structure to the cookies and also helps create that perfect chewy texture.
baking powder
baking soda
butter – make sure it comes to room temp. before use so it will be softened
sugar – provides a nice, sweet contrast to the tangy Ocean Water-flavored gelatin
eggs – provides richness and structure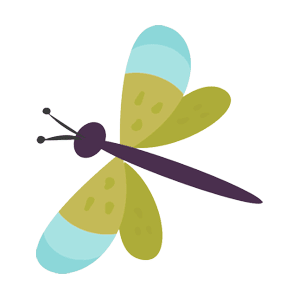 This section shows you how to make the recipe with step-by-step instructions. For the full recipe, see the free printable recipe card below.
Step-by-Step Ocean Water Cookies Recipe Instructions
These cookies start with a simple yet delicious homemade sugar cookie recipe and then use Sonic Ocean Water jello to add flavor, texture, and color. They are then lightly rolled in sugar and placed in the oven to bake.
With a sprinkle of creativity and a dash of baking magic, you'll soon have a batch of irresistible cookies ready to be enjoyed!
Step One: Prep
To begin, preheat the oven to 350 degrees Fahrenheit and prepare a baking sheet by lining it with either a Silpat mat or parchment paper. This will prevent the cookies from sticking and ensure easy cleanup.
Step Two: Creaming the Butter and Sugar
In a medium bowl, cream together the softened butter and sugar until the mixture becomes light and fluffy. This creaming process introduces air into the mixture, which helps gives the cookies a soft and tender texture.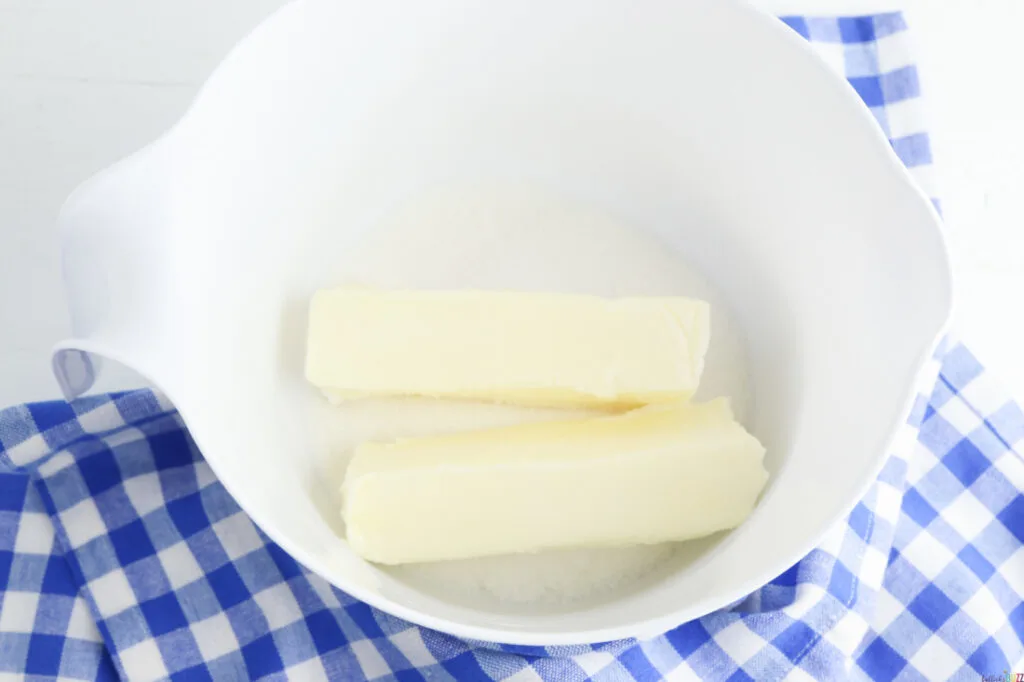 Step Three: Adding the Eggs
Once the butter and sugar are creamed to perfection, it's time to add the eggs. Crack the eggs one at a time into the butter-sugar mixture and beat until completely combined. Repeat with the next egg. The eggs will act as a binding agent and help contribute to the overall richness of the cookies.
Now set the bowl to the side, as we will return to it shortly.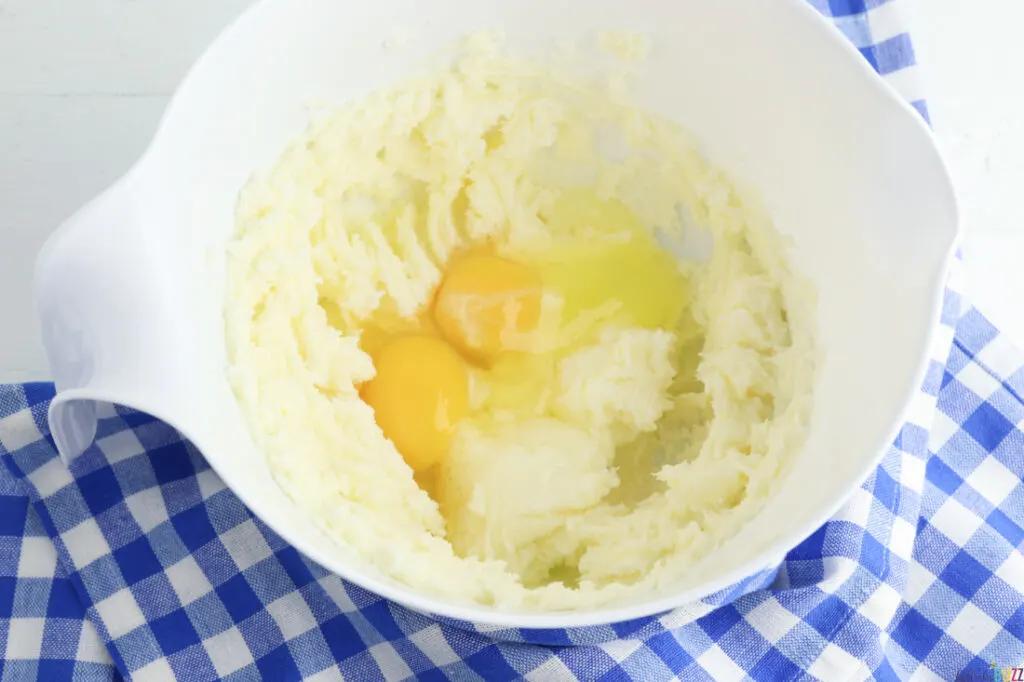 Step Four: Whisk Remaining Dry Ingredients
In a separate medium-sized bowl, whisk together the flour, baking powder, baking soda, and the delicious Sonic Ocean Water gelatin. This combination will infuse your cookies with a burst of oceanic flavors, making them truly unique.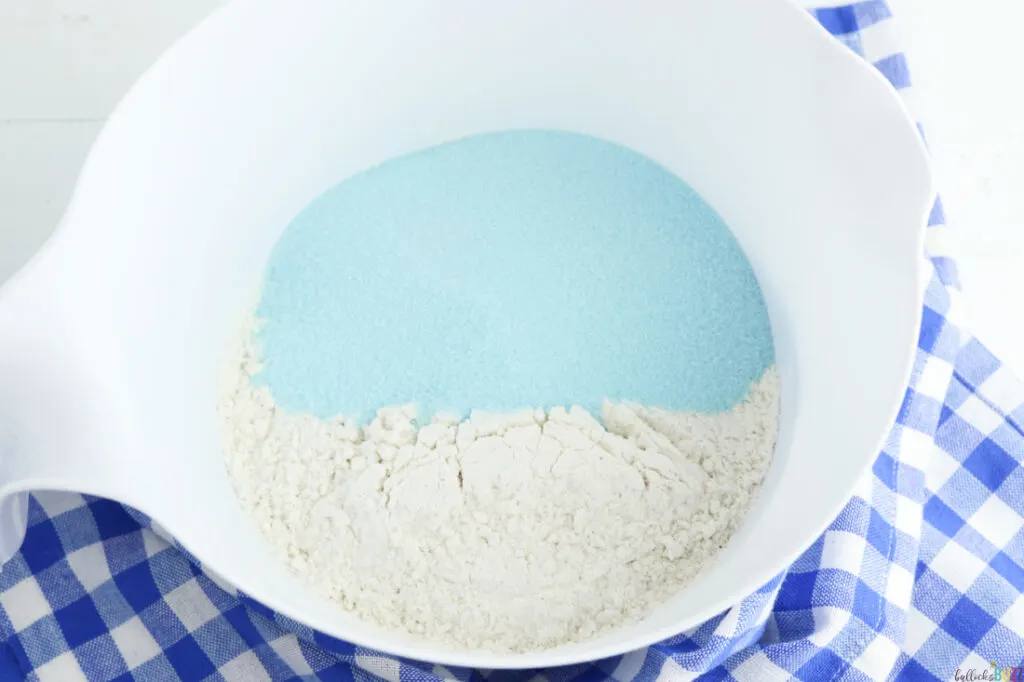 Step Five: Combining the Wet and Dry Ingredients
Now, it's time to bring everything together. Gradually add the dry mixture (flour, baking powder, baking soda, and Ocean Water gelatin) to the bowl containing the wet ingredients (butter, sugar, and eggs). Stir the ingredients until they are just incorporated, being careful not to overmix. Overmixing will result in tough cookies, and we want ours to be nice and tender, and chewy.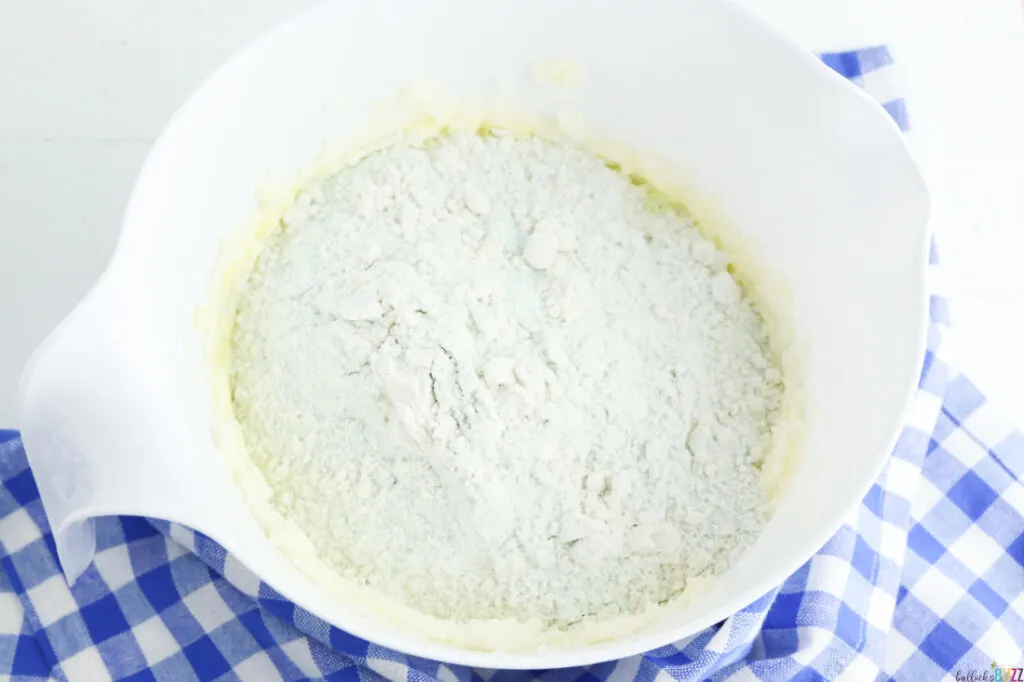 Step Six: Form Cookies + Roll in Sugar
Scoop the cookie dough (about a tablespoon each) and roll each ball in the reserved sugar for added sweetness and a hint of pretty sparkle. This enhances the visual appeal of the cookies while also adding a delightful sugary crunch to every bite.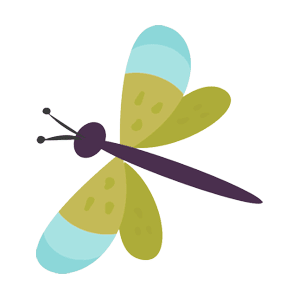 Pro Tip
Use a cookie scoop to get perfectly round cookie balls. I usually use either a 1-inch scoop or a 2-inch scoop.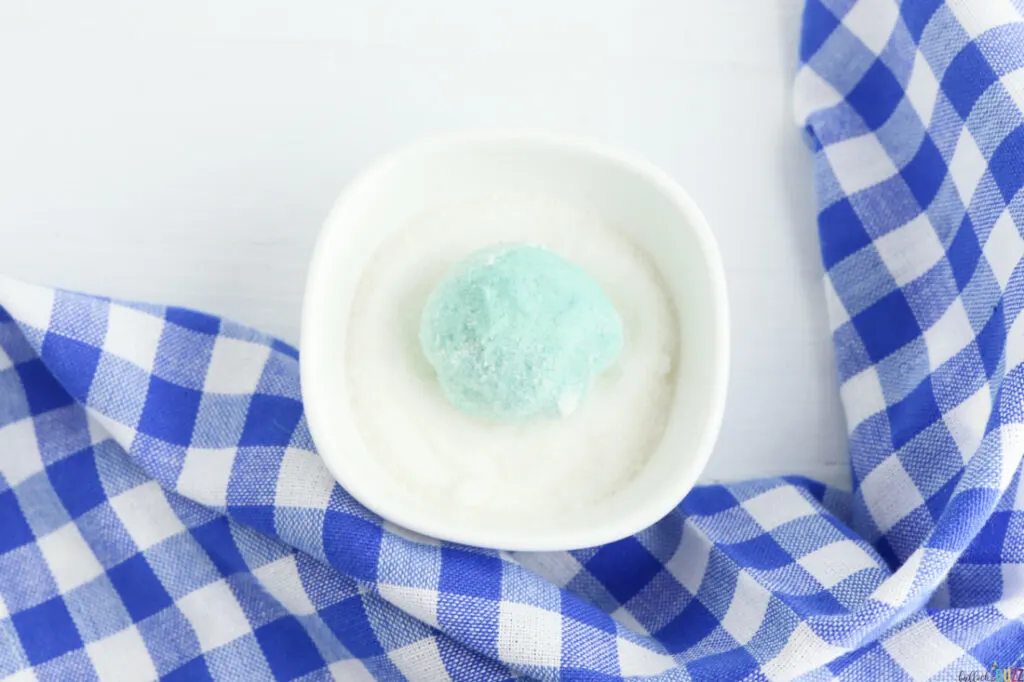 Step Seven: Flatten Dough Balls
Next, lightly flatten the balls using the palm of your hand or the bottom of a glass dipped in sugar (so it doesn't stick) and place it on the prepared cookie sheet.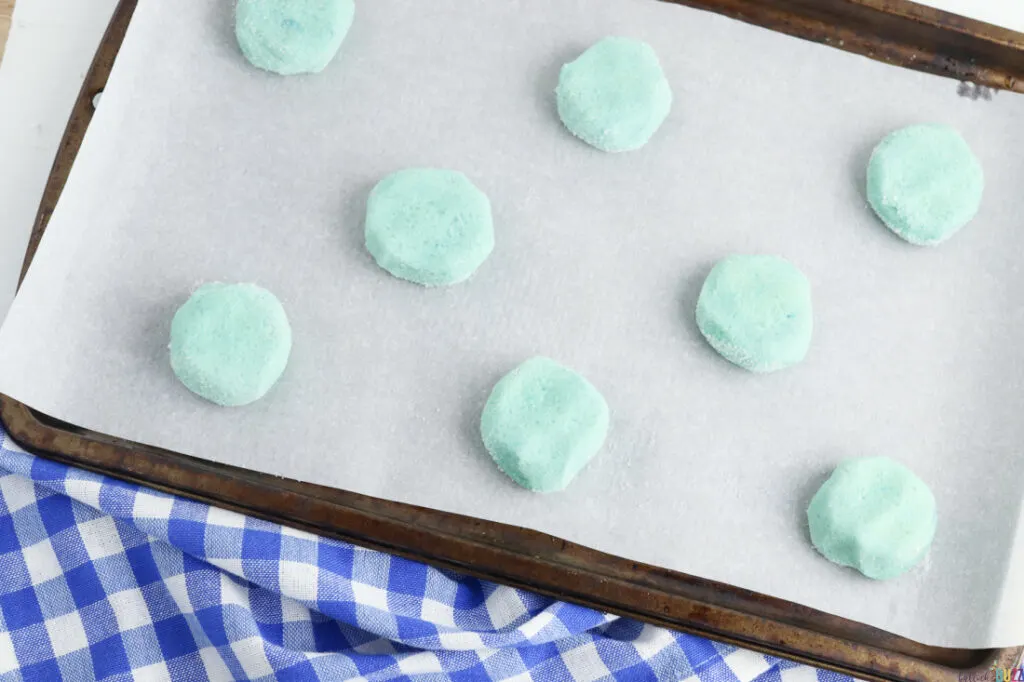 Step Eight: Bake to Perfection
Place the sheet in the preheated oven and bake for 10 to 12 minutes. Be careful not to overbake if you want them to stay nice and soft. Remember, they will continue to cook a bit once you remove them from the oven.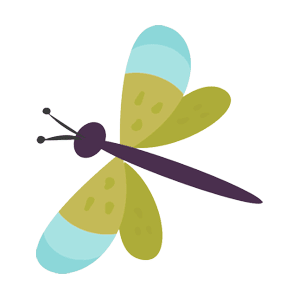 Pro Tip
The key to a perfectly soft and chewy cookie is to not overbake them. Keep a close eye on the cookies, and pull them out of the oven once the cookies have puffed up and their tops are no longer glossy looking. Do not wait until the edges start turning golden brown, they'll be overcooked!
Step Nine: Cool and Serve
Once finished, remove from the oven and allow the cookies to cool on the baking sheet for about 5 minutes. This will ensure they firm up slightly before transferring them to a wire cooling rack.
Then transfer the cookies to a wire cooling rack to cool completely before serving.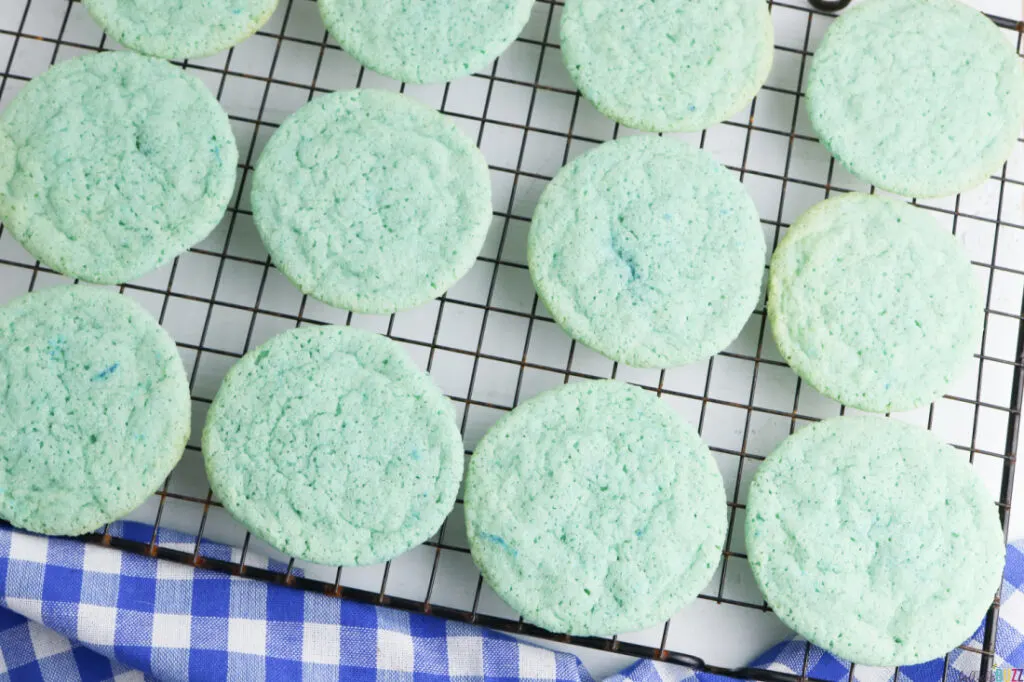 Congratulations! You have successfully created a batch of Ocean Water Cookies that are sure to impress anyone fortunate enough to taste them. The delightful combination of Sonic Ocean Water gelatin and my carefully selected ingredients will transport your taste buds to a tropical paradise.
Additions, Substitutions, and Variations
Want to add some exciting twists to your Ocean Water Cookies recipe? Here are some additions, variations, and substitutions to inspire your creativity in customizing the Ocean Water Cookies recipe to suit your preferences and dietary needs. Feel free to experiment and make the recipe uniquely your own!
Substitutions:
Gluten-Free Option: Substitute all-purpose flour with a gluten-free flour blend for those with gluten sensitivities or dietary restrictions.
Vegan Version: Replace butter with vegan butter or coconut oil, and replace the eggs with a chia seed or flaxseed egg substitute.
Additions:
Tropical Twist: Try folding a bit of diced pineapple or shredded coconut into the cookie dough to enhance the tropical flavors and give the cookies an extra burst of added texture and tropical taste.
Citrus Zing: Add a hint of citrus by incorporating some freshly grated lime zest or lemon zest into the dough. This will add a refreshing and tangy twist to your cookies.
Nutty Delight: For a delicious crunch, mix in some finely chopped macadamia nuts or toasted almonds to the dough. This will provide a contrasting texture along with a nutty flavor that complements the ocean theme.
White Chocolate Chips: Mix in some white chocolate chips to the dough before baking for added sweetness.
Ocean Sprinkles: Decorate your cookies with blue or turquoise sprinkles to resemble ocean waves or you could even use edible glitter to give them a magical shimmer.
White Chocolate Drizzle: Melt white chocolate and then drizzle it over the cooled cookies for an extra touch of sweetness and creaminess.
Blue food coloring: to intensify the beautiful ocean-inspired hues.
Variations:
Ocean Water Cookie Bars: Instead of making individual cookies, press the dough into a parchment paper-lined baking pan and create cookie bars. Simply cut them into squares or rectangles once baked for a convenient and delicious treat.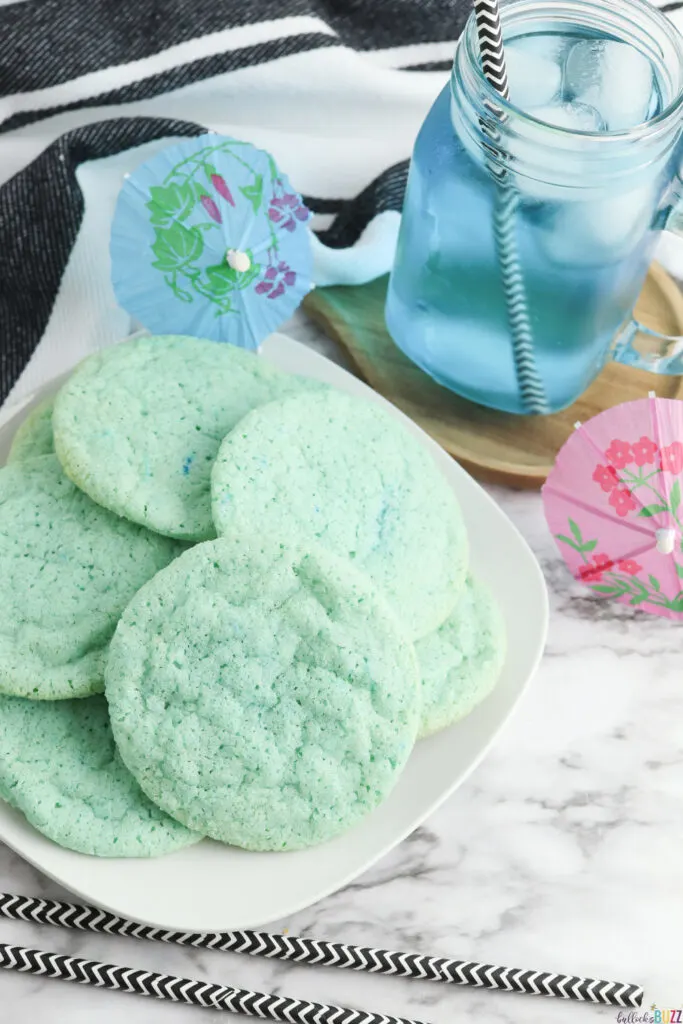 These simple Sonic Ocean Water Cookies are the perfect summer snack. Make them for an ocean-themed movie night, a beach-themed party, a mermaid party, a Moana party, or a 'just because' party. Whether you're hosting a beach-themed party or simply looking for a fun and unique dessert to enjoy with friends and family, ocean water cookies are sure to be a hit!
Frequently Asked Questions
Can I Store Leftover Cookies?
Yes, store leftover cookies (if you have any that is!) in an airtight container or ziploc bag at room temperature for about a week to a week and a half.
Can I use a different brand of gelatin instead of Sonic Ocean Water gelatin?
If you do use a different brand, you will get the same color but not that delicious Ocean Water flavor. So no, I would not use another blue gelatin unless you want a different flavor.
Can I use margarine instead of butter in this recipe?
While butter provides the best flavor and texture, you can use margarine as a substitute if desired.
Can I make the dough ahead of time and refrigerate it for later use?
Absolutely! You can refrigerate the dough for up to 24 hours before baking. Just make sure you bring it to room temperature before you proceed.
Can I freeze the baked cookies for later consumption?
these cookies for up to 3 months. Once baked and cooled, store the cookies in an airtight container and then place them in the freezer.
Can I double the recipe to make more cookies?
Yes, this Ocean Water Cookies recipe can easily be doubled or tripled to make a larger batch.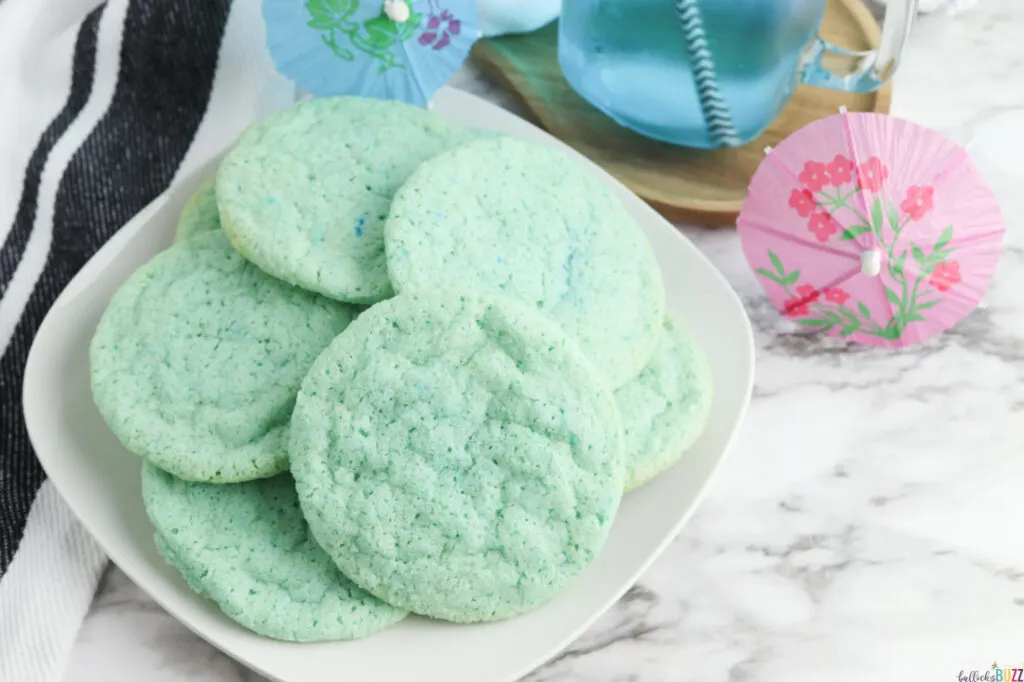 Now that you've discovered this delightful Ocean Water Cookies recipe, it's time to put it into action! Print the recipe, gather your ingredients, and embark on a baking journey that will transport you to a blissful beachside escape.
More Irresistible Cookie Recipes
Looking to tantalize your taste buds with more easy, yet delicious cookie recipes? Check out the mouthwatering array of cookie recipes on my blog, from classic Double Chocolate Chip Cookies to delightful Pumpkin Snickerdoodles, there's a treat for every craving!
Here are a few reader favorites: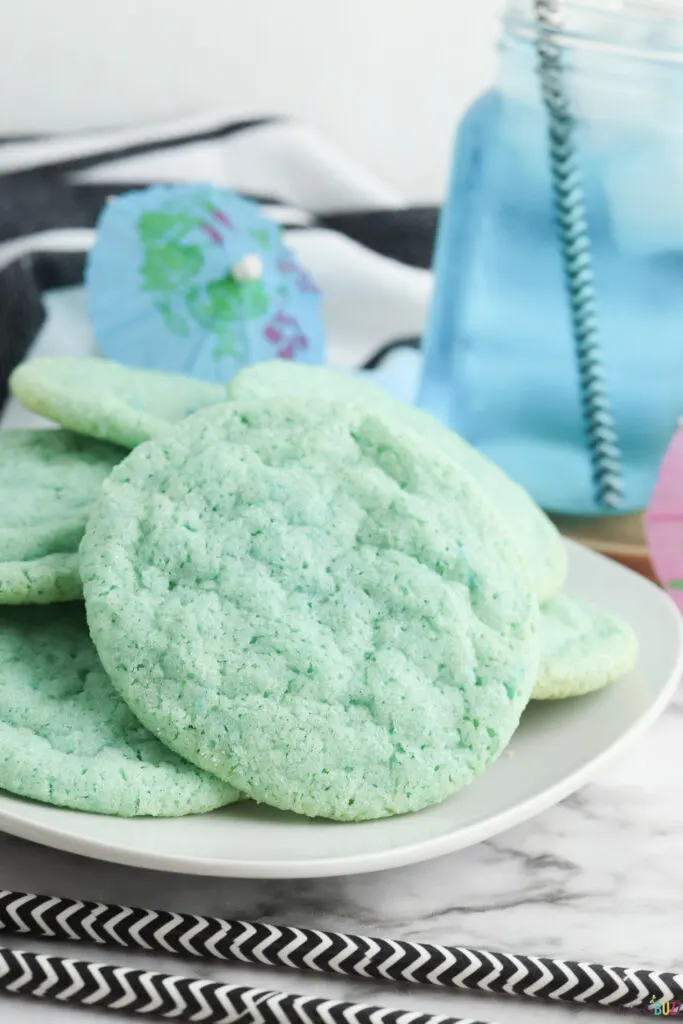 And if you have any questions, drop them below and I'll be sure to answer as soon as possible!

Dive into a Tropical Paradise and Share Your Cookie Adventure!
Once you've baked these mouthwatering Ocean Water cookies, share your experience with us! Did you try any of the alternative ingredient ideas? Did you make any modifications to the recipe? I'd love to hear all about it in the comment section below.
I'd also love to see how yours turned out! I enjoy seeing your incredible take on my recipes. Be sure to tag me on Instagram @bullocksbuzz or using #bullocksbuzz and share a photo of your tasty creations!
Don't forget to save this post either by clicking on that little heart over there to your right or by pinning it on Pinterest. That way you can easily and quickly find it again. Then share with your friends and family by clicking the share buttons above the post title, too!
And, if you really liked this homemade cookies recipe, comment and leave me a ⭐⭐⭐⭐⭐ rating on the printable recipe card below!
And finally, don't forget to follow us on Pinterest, Facebook, and Instagram!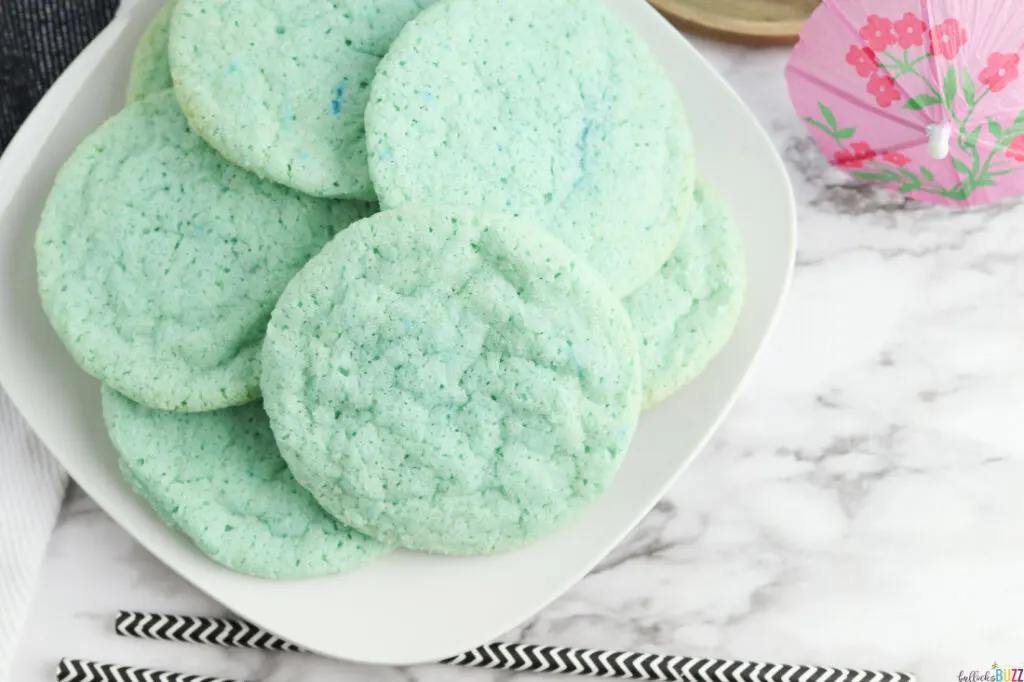 Printable Ocean Water Cookies Recipe Card
Yield: 12 cookies
Ocean Water Cookies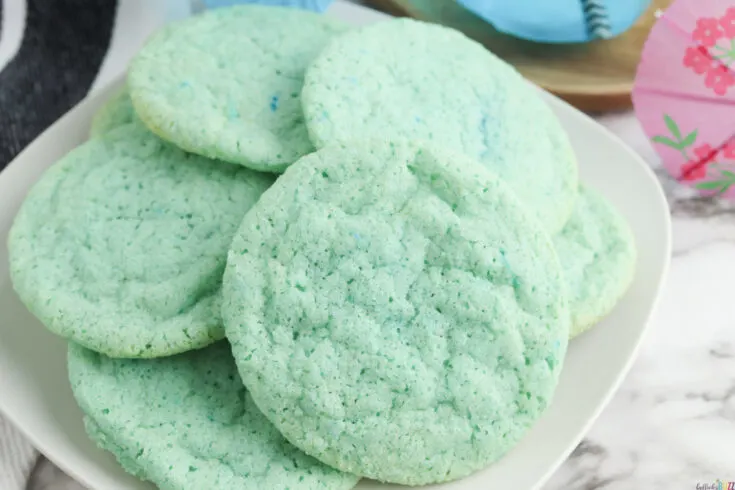 These soft and chewy Ocean Water Cookies have a mesmerizing blue color and a sweet and tangy flavor that'll transport your taste buds to a tropical paradise with every bite!
Ingredients
2 ½ cups flour
1 teaspoon baking powder
½ teaspoon baking soda
1 package Sonic Ocean Water gelatin
1 cup butter, softened
1 cup sugar, plus ¼ cup for rolling
2 eggs
Instructions
Preheat the oven to 350 degrees and line a baking sheet with either a Silpat mat or parchment paper.
In a medium bowl, whisk together the flour, baking powder, baking soda, and Ocean Water gelatin. Set aside.
In a separate bowl, cream together the butter and sugar until it is light and fluffy.
Add the eggs one at a time and beat until completely combined.
Next, add the dry ingredients to the wet and mix until just incorporated.
Scoop the dough into small balls (1 to 2 inches) and then roll each ball in the reserved sugar.
Using either the heel of your hand or the bottom of a glass dipped in sugar, gently flatten each cookie ball then place it on the prepared baking sheet.
Bake for 10 to 12 minutes, making sure not to overbake.
Once done, remove from the oven and allow the cookies to cool on the baking sheet for 5 minutes.
Then transfer the cookies to a wire cooling rack to cool completely before serving
Notes
For the best soft and chewy cookies, remove the cookies BEFORE the edges begin to turn golden brown. The cookies will continue to cook a bit as they cool outside the oven.
.

Nutrition Information:
Yield:
12
Serving Size:
1 cookie
Amount Per Serving:
Calories:

309
Total Fat:

16g
Saturated Fat:

10g
Trans Fat:

1g
Unsaturated Fat:

5g
Cholesterol:

72mg
Sodium:

229mg
Carbohydrates:

37g
Fiber:

1g
Sugar:

17g
Protein:

4g
Nutritional information is automatically calculated with ingredients and serving size and may not be accurate. Please always double check with your own nutritional apps as well.