Shark Rocket Complete TruePet® with DuoClean™ Technology Review (HV382)
Please note, this post may contain Amazon affiliate links to make shopping easy. If you make a purchase through these links, I'll make a small bonus at no extra charge to you.

Between a husband working in construction, a stepson, and our pets, keeping our floors clean is a daily chore. Since we have mostly hardwoods with area rugs scattered throughout, I spend a lot of time sweeping, and then more time vacuuming. And I am not one that likes to sweep, especially since it's hard to get every little dirt particle into a dustpan. Luckily, the Shark Rocket Complete with DuoClean Technology vacuum, works on both types of floors (and much more), so now cleaning is a breeze!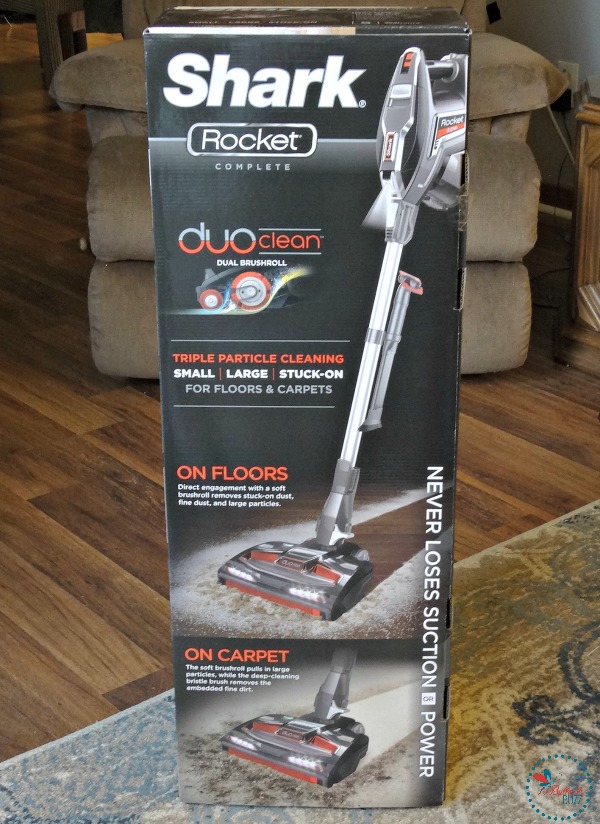 The Shark Rocket Complete with DuoClean Technology is uniquely designed to clean-up all types of dirt and particles, including small crumbs, large messes, and even stuck-on goop.  It has twice the power of the original Rocket, and with dual brush rolls for triple particle cleaning, it works great on every surface whether its hardwood floors, tile floors, or plush carpeting. In fact, since it works as both an upright stick vac and as a handheld, you can clean just about anything and everything with this lightweight vacuum. I'm talking ceiling fans, window sills, drapes, upholstery and much more. Heck, I've even used it to clean my car!
The 'Duo" in Shark Rocket Complete Duo
So what exactly does "dual brush rolls for triple particle cleaning" mean? Basically, the vacuum has two brushes, a soft brush and a bristle brush. On hard floors, the soft brush works to remove stuck on dust, fine dust and large particles, while the bristle brush pushes the particles up into a high-velocity suction channel. On carpets, the soft brushroll pulls in large particles on high piles, while the second, deep-cleaning bristle brush removes deeply embedded dirt. I love how I can move straight from my area rugs to my floors without having to change any settings, too.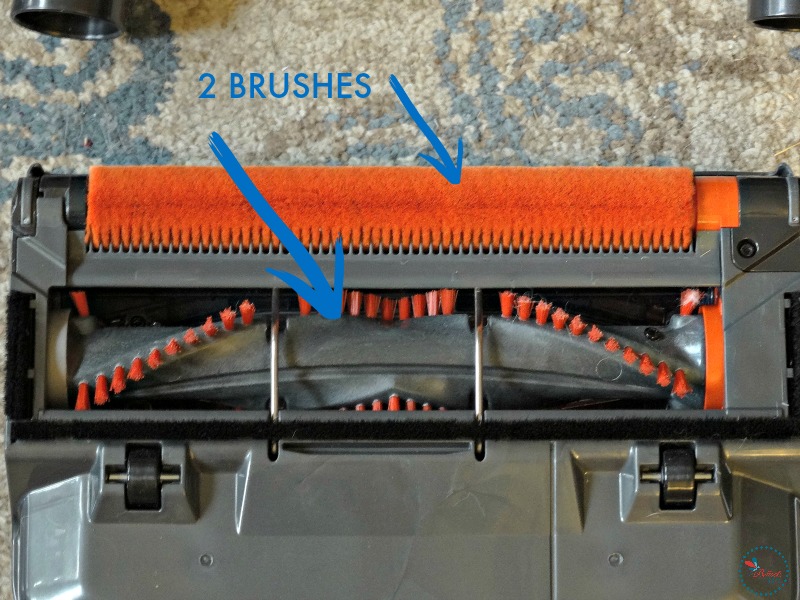 Other awesome features of the Shark Rocket Complete with DuoClean Technology Vacuum include:
brightly illuminating LED Lights on the hand vac and the nozzle

Washable Filters

Quick Release Foot Pedal

Advanced Swivel Steering

Easy to Empty Dust Cup

Lightweight

Detachable handle
Accessories
The Shark Rocket Complete with DuoClean™ Technology (HV380 series) vacuums all come with several handy accessories. However, the exact accessories you get depend on the HV380 series model you have, although all accessories can be purchased separately.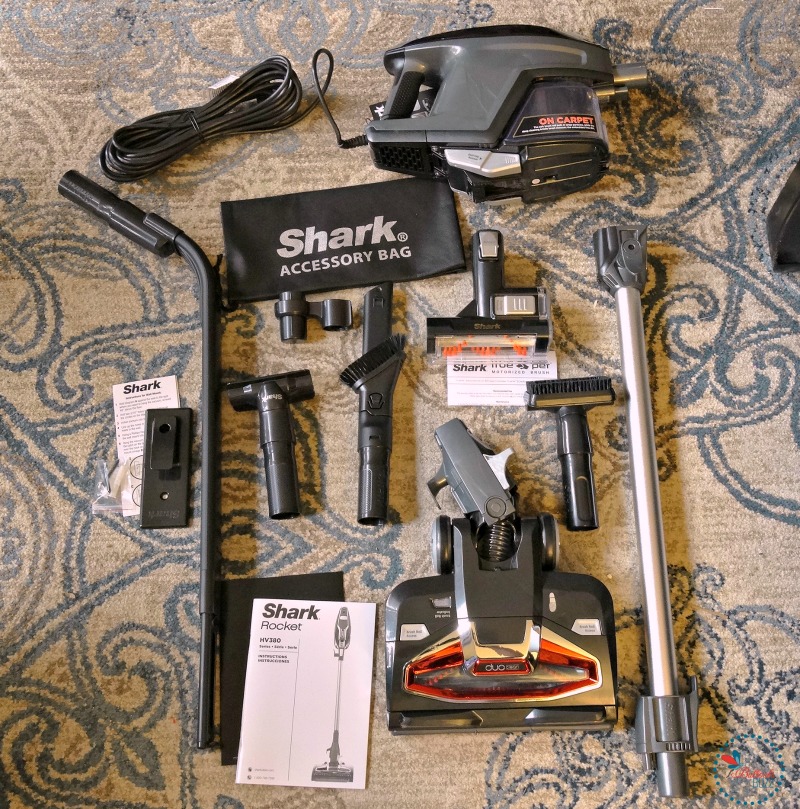 My particular model, the Shark Rocket Complete TruePet® with DuoClean™ Technology (HV382), comes with a dusting brush, a 12-inch duster crevice tool, an upholstery tool, an Under Appliance Wand, a TruePet® Mini Motorized Brush, a wall mount, an on-board tool clip and an accessory bag. Attachments can hook easily onto the tool clip, and extras can be stored in the accessory bag (available with some models) so you can carry them with you as clean. Even better, the on-board attachments are positioned so that they stay out of the way while you clean. 
Easy to Assemble
Thanks to the quick set-up guide instructions with pictures, I had my Rocket assembled and ready to go in under 10 minutes. In fact, the hardest thing about the set up was mounting the wall bracket – if you choose to hang the Rocket. And once it is hung on the bracket, it takes up very little room which I love!
Once together, the very first thing I noticed was how light it is. At a mere 8 pounds, it's the lightest vacuum I've ever used. The second thing I noticed is the length of the cord—more than 30 feet—which is much longer than many uprights. This saves me from having to unplug and plug-in every time I move to another part of the house.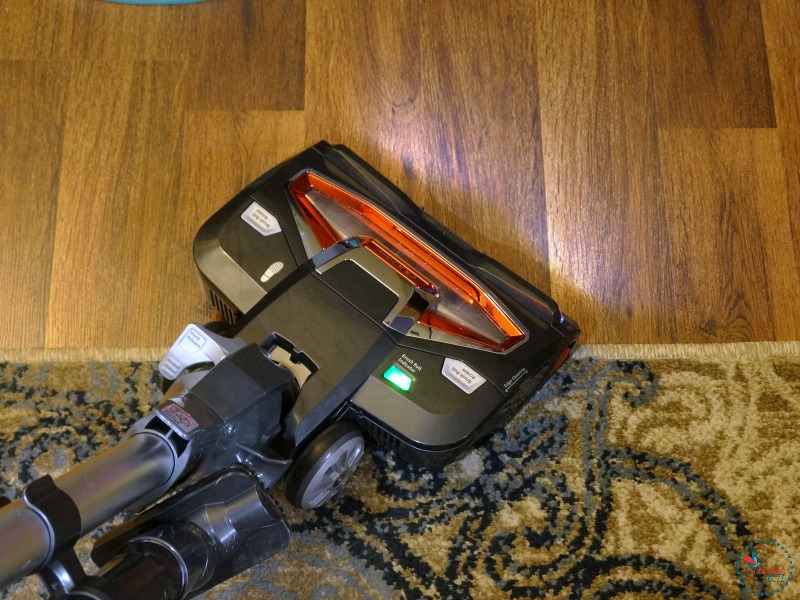 Lots of Power in a Lightweight Vacuum
Once I turned it on, I was quickly impressed. The power this little vacuum puts out was very noticeable! Running it across the area rug in our living room, I was very happy. I didn't have to push hard at all, it pretty much did it by itself. By the time I finished the rest of the floors in our house, I was in love! It's an amazing machine, easy to handle and very effective on both my hard floors (wood and tile) and my carpets. And the LED lights make it easy to see what is on the floor.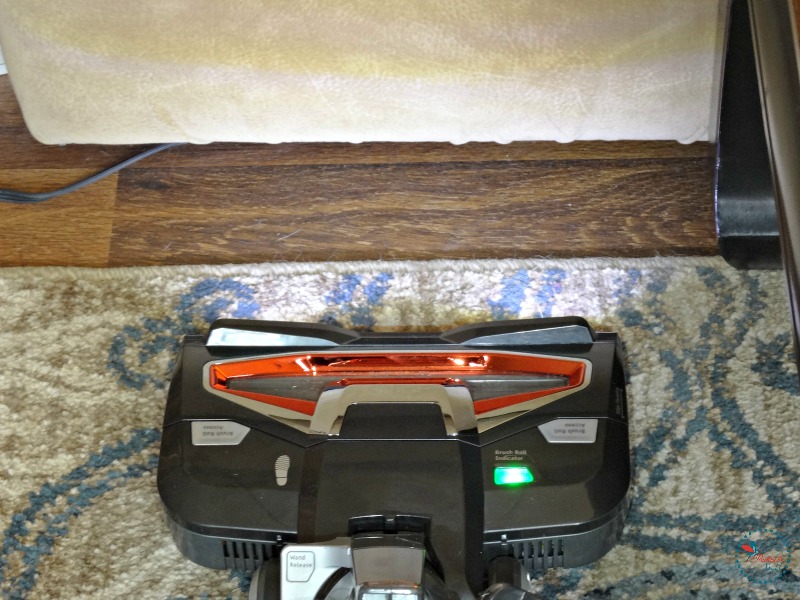 Thanks to the Swivel Head, it literally turns on a dime, allowing me to get in and around places that there is no possible way to get with a full-sized upright. I was able to easily get under the coffee table, in between the sofa and the end tables, around all the cords running from my computer and our table lamps. I also got under the kitchen table, in between all of the chairs, and even under the edges of the bottom cabinets.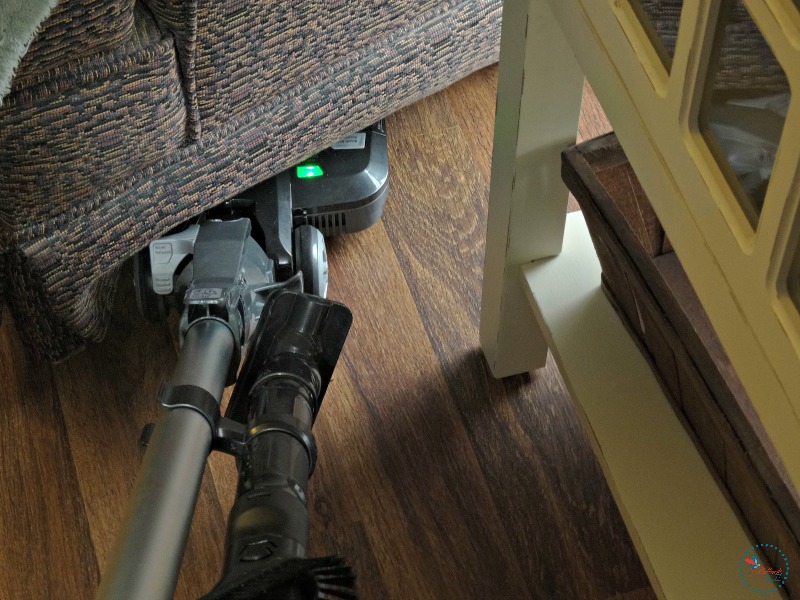 Easy to Empty
The first time I dumped the large-capacity Dust Cup, I was shocked at how much dirt it had collected. I thought my former vacuum had been doing a good job – apparently not. The dust canister separates from the vacuum with the push of a button, and then opens from the bottom and easily empties. I just empty it into an old grocery bag, tie the bag shut and put it in the trash.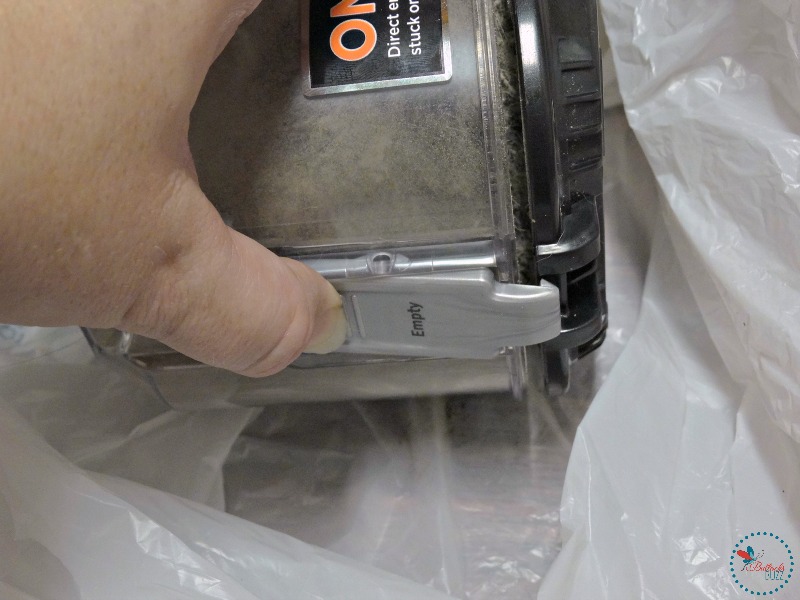 I emptied that Dust Cup quite a few more times because once I realized just how versatile this vacuum is, I went on a cleaning spree! Seriously, the Shark Rocket Complete with DuoClean Technology is like one of my stepson's Transformers. It easily converts from a lightweight upright stick vac into a powerful handheld mini-vac that's ideal for stairs and furniture, for dusting hard surfaces such as tables, for cleaning up spills (non-liquid), and so much more.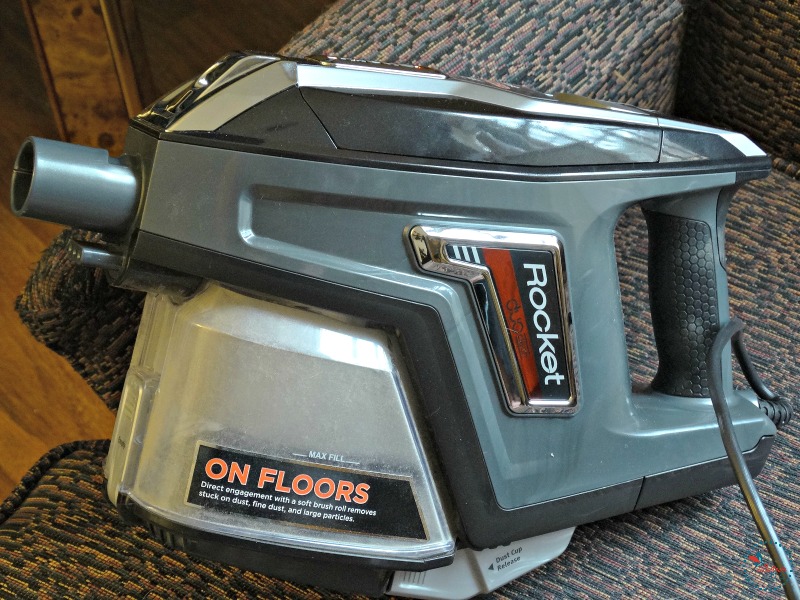 And those attachments I mentioned above? They attach easily and are incredibly handy, enabling me to vacuum the couch and chairs, the curtains, the air vents, and even under the stove and refrigerator. I was vacuuming all sorts of hard-to-reach places, and even in the corners and other spots that I'd never dreamed of being able to vacuum. It's so lightweight, I even went after my ceiling fans and mini-blinds. You name it, and I cleaned it with my new Shark Rocket Complete with DuoClean Technology!
True Pet® Upholstery Tool (HV382)
One of my favorite attachments is the True Pet® upholstery tool (HV382 only). This little mini motorized brush attachment quickly and easily picks up the cat fur off our furniture and carpets. It works so much better than non-motorized tools. I was cleaning off our chairs, the sofa and even the cat tree. Oh, and for you fellow cat lovers, the Rocket Complete Duo does wonders with those little pieces of litter that tend to get tracked out around the box!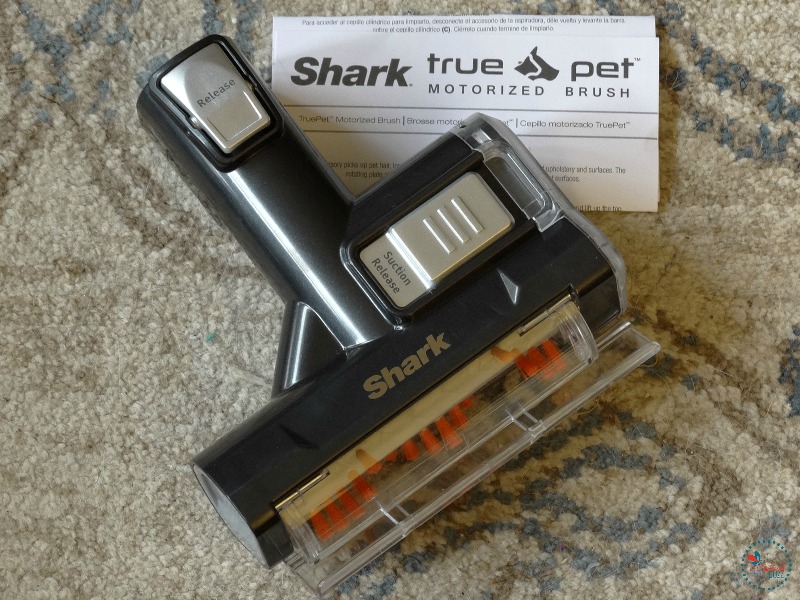 Easy-to-Clean Rollers
Something else I really love about this vacuum is that both brush rollers are incredibly easy to take off, clean, and replace. I can't stand when hair, threads, or strings get wrapped around the brush rollers and you have to either sit there and unwind them by hand (yucky), or grab a screwdriver or some other tool and take the rollers off. With the Shark Rocket Duo, all I have to do is push two buttons, and I can easily access the brush, snap it out, clean off the hair and dirt, snap it back in and snap the lid closed. It literally took me maybe 5 minutes from start to finish to take out the brush, clean it and put it back. Shark even includes a handy little brush cleaner that has a ripper on one end that makes removing hair, strings and other things that get wrapped around the brushes much easier.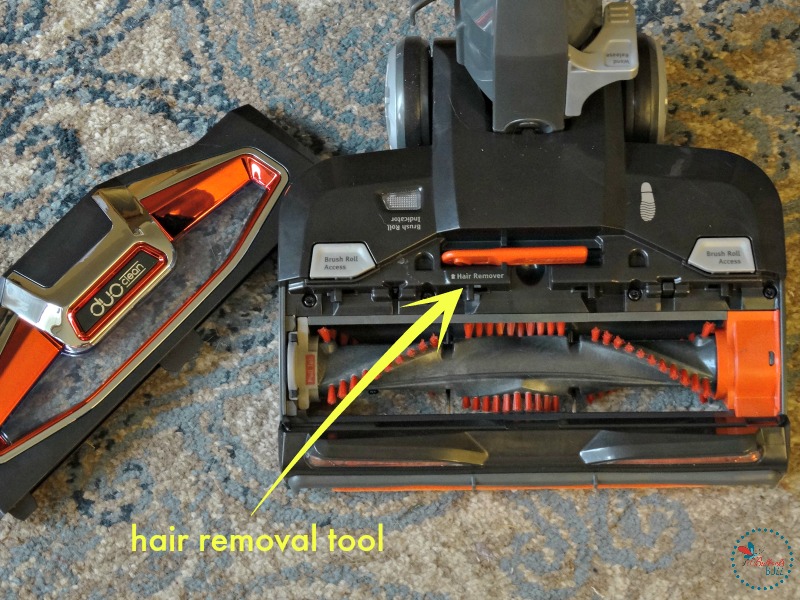 Any Drawbacks?
As far as loudness, the Shark Rocket Complete Duo is not overly loud. You can tell a definite increase when you switch between power level 1(floors and area rugs) and level 2 (deep pile), but it is no way deafening or any louder than you'd expect. 
The only thing I noticed that is going to take a bit of getting used to is that the majority of the weight on this vacuum is up top. This means that I can't just lock it and leave it standing up on its own. Since it is top-heavy, I have to prop it up against something or lay it down if I need to stop vacuuming for a minute. However, the versatility and effectiveness of the Shark Rocket really outweigh this.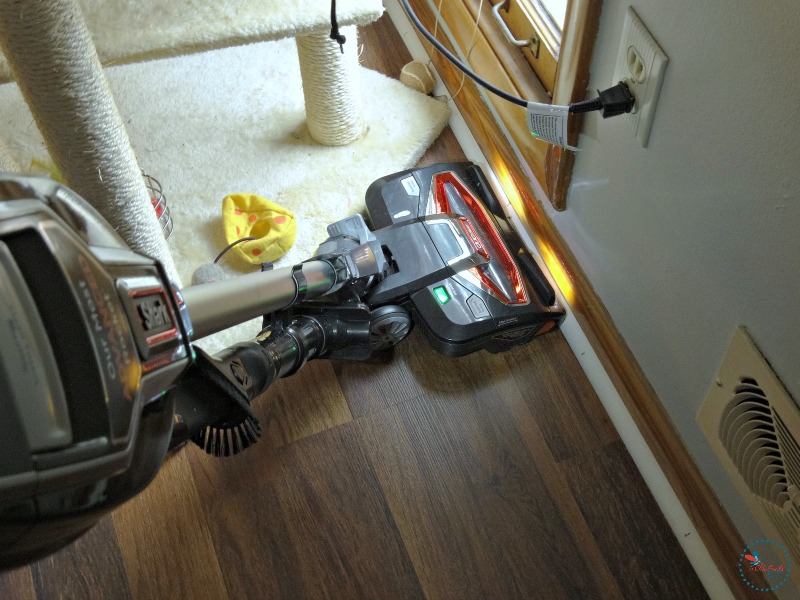 Take Your Chores and Cut Them in Half
My absolute favorite thing about the Shark Rocket Complete with DuoClean Technology is that this vacuum takes so many chores and cuts them in half. Instead of having to sweep, Swiffer, and then vacuum, I can just use my Shark Rocket Complete. It saves me time, energy and money.
If you're looking for a versatile and affordable vacuum cleaner that deep cleans better than other vacuums I've used, the Shark Rocket Complete with DuoClean technology is a fantastic option. I think you'll be quite impressed by this machine's versatility, pick-up, surface adaptability and general ease-of-use.
Connect with Shark