This post may contain affiliate links.
Wellness Pet Food – A Divine Duos Cat Food Review
Our cat is more than just a pet, she is a member of our family. And as a member of our family, we want to make sure she gets the nutrition and exercise she needs to remain healthy and happy.
Like all cats, Sookie can be a hard cat to please when it comes to her food. If it isn't what she wants, you better believe she will stick her tail up in the air and walk away. This makes it a bit more difficult to find a food she likes that provides her with the nutrients she needs.
When it comes to the food I feed her, although she is picky when it comes to taste, I am picky when it comes to the brand. So many cat foods add unnecessary and unhealthy ingredients and seem more focused on taste than nutritional value.
Wellness Pet Food is one brand that goes above and beyond to create the healthiest food for our beloved pets
"At Wellness®, we do whatever it takes to create the healthiest foods for the pets that depend on us. Food feeds their souls, sustains their lives and protects their bodies. That's why our diverse team of animal lovers, nutritionists and vets has only one mission: To help you provide your pet a healthy, happy, long life through the power of natural nutrition."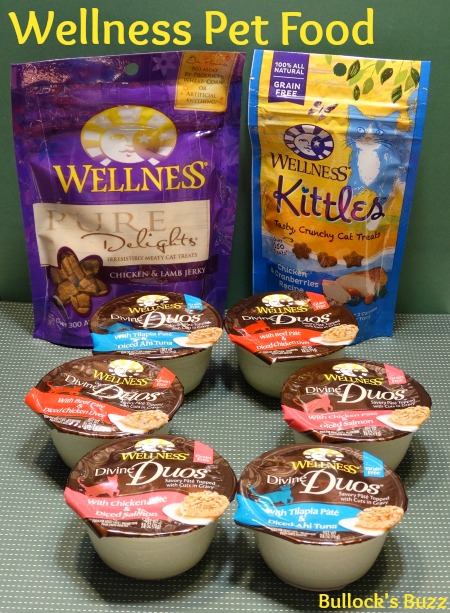 Using only wholesome, natural ingredients, all of Wellness' recipes use only the best lean meats, whole grains, fruits, and veggies. They never contain wheat, corn, soy, or any added artificial flavors, colors, preservatives, or fillers.
Enriched with antioxidants, omega fatty acids, prebiotics, and probiotics, Wellness Pet Foods provides your four-legged friend the nutrition they need.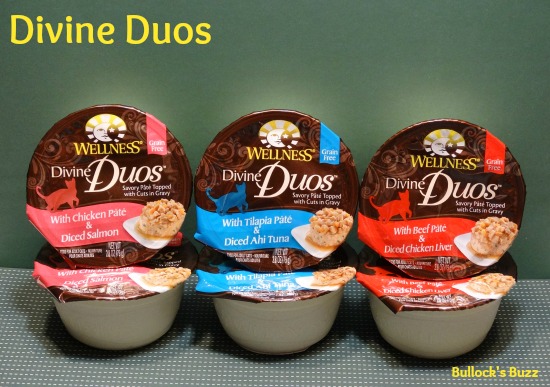 Wellness Pet Food – Divine Duos™ Wet Food for Cats
Wellness offers several lines of both wet and dry cat foods. Their Divine Duos™ wet food combines two tasty layers in one cup – a layer of savory pate topped with tender cuts in a thick, rich gravy.
Poultry, seafood and meat combinations are paired with hearty vegetables for each of the six delicious varieties that provide you cat with a nutritionally complete, wholesome meal.
Even the pickiest cat will be able to find one she loves with choices like Beef Pate & Diced Chicken Liver, Tilapia Pate & Diced Ahi Tuna, Tuna Pate & Dice Salmon, Chicken Pate & Diced Salmon, Chicken Pate & Diced Duck and Chicken Pate & Diced Turkey.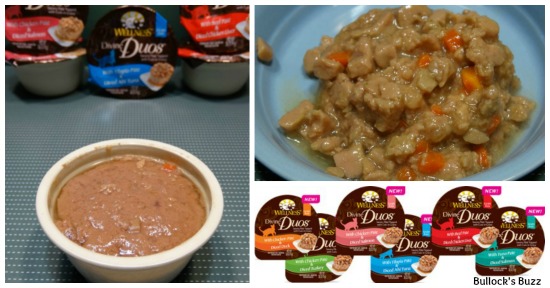 Our Opinion of Wellness Pet Food Divine Duos Cat Food
For me, I love that Wellness Pet Foods are made with only a small number of simple, pure, authentic ingredients. No unnecessary or unhealthy ingredients are added, ensuring that my cat gets exactly what she needs
Of course, the real test came when I opened a container and put the food in her bowl. As she always does, she sniffed and inspected before tasting, but once she finally did take a bite, she didn't stop until she was done! For Sookie, that is the highest praise a brand can receive!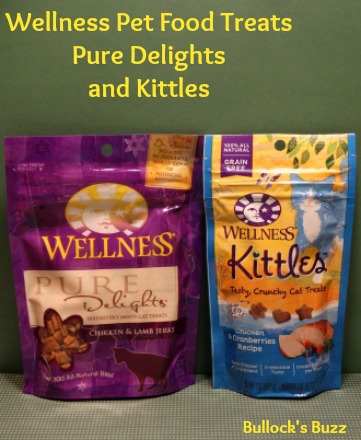 In addition to the wet food, Wellness also sent some of their tasty treats! Like all of their products, the Wellness Pure Delights in Chicken & Lamb Jerky Treats are made with 100% natural ingredients, and contain no artificial anything.
Each bite-sized, soft treat has only 1 to 1.2 calories, and contains over 90% pure meat jerky! These are definitely Sookie's favorites! The Kittles™ Salmon & Cranberries Recipe treats are definitely her second favorite with their fun shapes and crunchy texture that not only tastes great, but also helps keep her teeth clean.
These grain-free treats are 100% natural and contain no meat by-products, artificial colors, flavors or preservatives.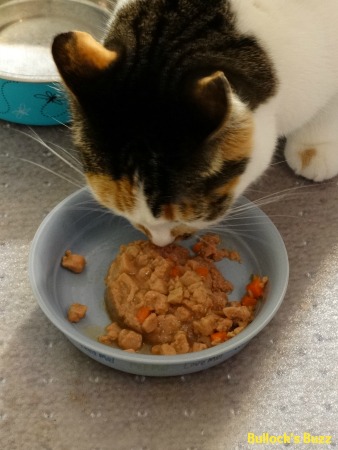 More About Wellness Pet Food
In addition to the Divine Duos wet food, Wellness also makes several other varieties of wet food, dry food and treats. They also carry an entire line of dog food, both wet and dry, and dog treats. Wellness Pet Foods is sold both online and off. For a complete list of both online and offline stores, visit the Wellness Pet Foods Location Finder.