Full Circle's Wherever Water Bottle
***I received this product for the purpose of review. Regardless, all opinions are my own.***
With so much focus on healthy living, I am trying to live a more healthy lifestyle, as well as lose some of this weight I gained. And one of the best, most important health measures people can take to both remain healthy and help with weight loss, is to drink plenty of water every day. Unfortunately, I am a bit odd as I do not particularly care for the taste, or rather the non-taste, of water. And buying pre-flavored water not only adds up money wise, but it is not a very environmentally-conscious thing to do with all of those single-use bottles. Yes, I could easily buy those little packets or containers of flavoring to add to water, but those also cost a lot of money over time and many have sugar and other additives. However, thanks to Full Circle, I have found the perfect solution both to my water-disliking dilemma and my quest to live a more 'green' life.
Full Circle makes an entire line of eco-friendly, functional products that are not only made from sustainable materials, but are also affordable and stylish! They make everything from cleaning cloths to dish brushes, waste bags to compost collectors, veggie brushes to pot scrubbers and so much more. Tons of products to help you live a more 'green' and healthy life.
When Full Circle gave me the opportunity to pick an item for review, I was in 'green' heaven! After a few moments of looking, my eyes landed on the perfect answer to my water problem, the Wherever Water Glass Bottle. A glass water bottle that is not only perfect to take on the go, but has so many different answers to different issues! Let me explain.
First of all, the Wherever Water bottle is made of glass which means it can be used over and over, the perfect eco-friendly answer to the large amount of waste cause by using those single-use plastic water bottles. And glass water bottles keep your water cooler and tasting better, plus they are recyclable.
Secondly, the Wherever Water bottle's ergonomic design is not only comfortable to hold while your are drinking, but it minimizes the impact on the glass if it is dropped by landing on its soft bottom or lid. No more worry over the glass breaking easily.
It also has a comfortable handle for carrying, and it's unique lid has a drinking 'hole' that is kept sealed by a lift-up cover so you can drink easily without having to remove the entire lid. The cover snaps closed so securely, no water leaks out even if you hold it upside down'
But those are not even the best part! You see, the Wherever Water bottle is much more than just a glass water bottle, it is really an on-the-go solution to healthier hydration because I can use it to make lemon water (or any fruit flavor I prefer) whenever I desire!
Yep, you read that right! The Wherever Water bottle has a removable fruit reamer so I can make fresh lemon water wherever I am and take it wherever I go!
It is incredibly simple to use! Just remove the top, cut a lemon, lime, orange or whatever easy-to-juice fruit you desire in half, and use the reamer to extract the fruit's juice.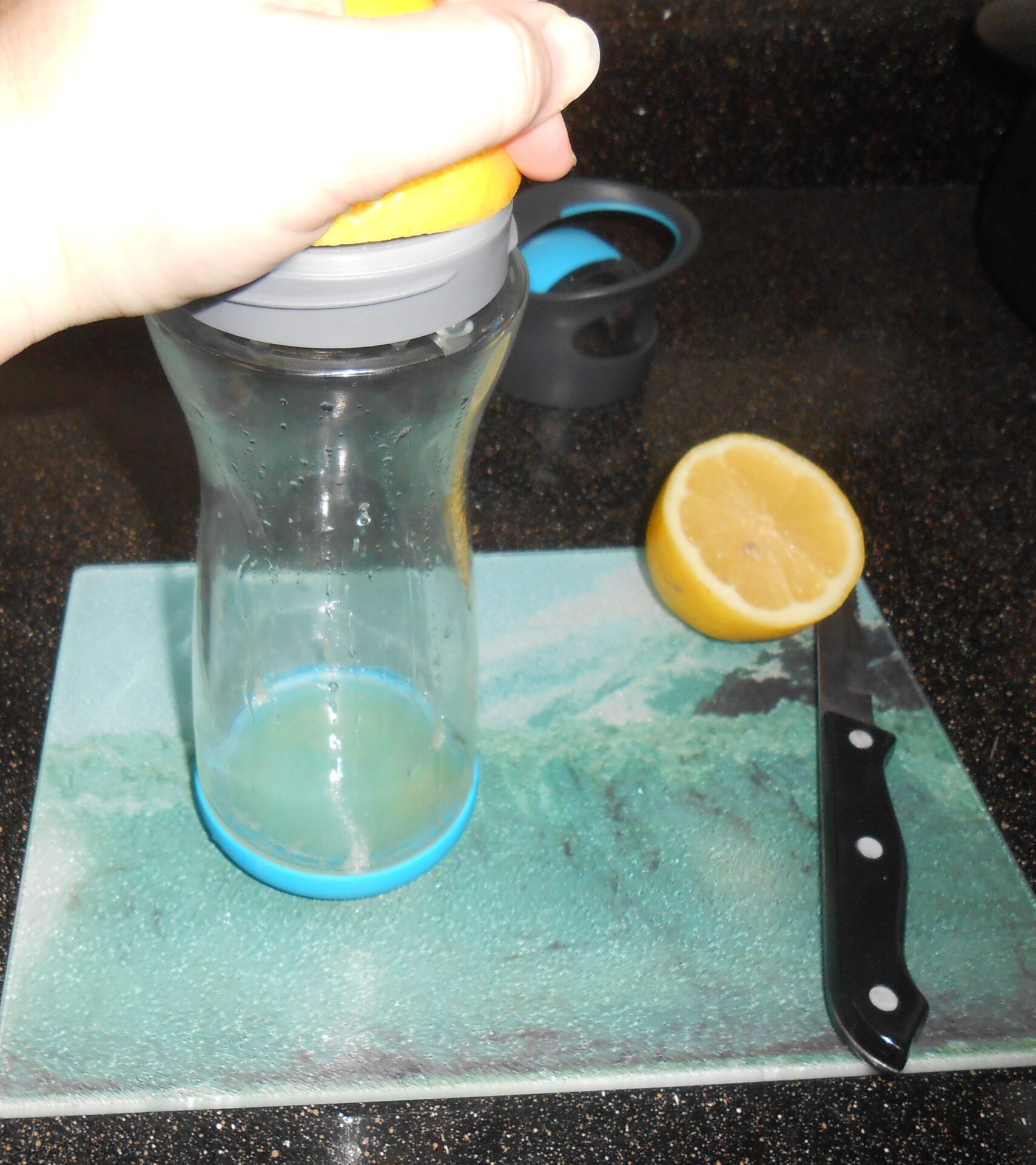 Then you just add your water, give it a shake and you have a delicious, all-natural flavored water.
The reamer is designed so it stays firmly in place while you are pressing and twisting the lemon, then it can be easily removed to clean once you are finished. The reamer not only keeps the seeds out of the water, but any pesticides that are on the skin will remain on the skin.
Did you know there are more benefits to adding lemon to water than just making the water taste good? Yep, its true! Lemon is rich in Vitamin C, Vitamin B, riboflavin and many minerals that all do wonders for your body! And using fresh-squeezed lemons is much more beneficial than using bottled lemon juice or packets.
There are so many different combinations of fresh-squeezed, fruit flavored water you can make. You can use oranges, grapefruits or limes, and even herbs to create a delicious, flavor-infused water. A few suggestions include mint and lemon, mint and strawberry, lemon and basil, lime and raspberry, orange and lemon and many more…get creative! I have even used mine to make fresh-squeezed orange juice and it was delicious!
How Neat!! Where Can I Get A Wherever Water Glass Bottle?
The Wherever Water Glass Bottle comes in four cute colors, and is dishwasher safe. It, as well as other Full Circle products, can be purchased directly through the Full Circle website at their online store. Their products can also be found both online and in stores near you. For a list of other online sites and locations by state, click HERE.
Be sure to keep up with all the latest Full Circle news, promotions, deals and more by following them on both Facebook and Twitter!
***I received this product for the purpose of review. Regardless, all opinions are my own.***