Halloween is one of the most popular times of the year for popcorn balls. Today you can find all sorts of recipes for these sticky, yet delicious, flavored concoctions. From caramel to green apple to vanilla and more! You can also find them in all sizes and shapes, like these Spooky Witch Popcorn Balls I made last year! Popcorn Balls are easy to make, and take very little ingredients and even less time! And they make great party favors and treats to give to the kids.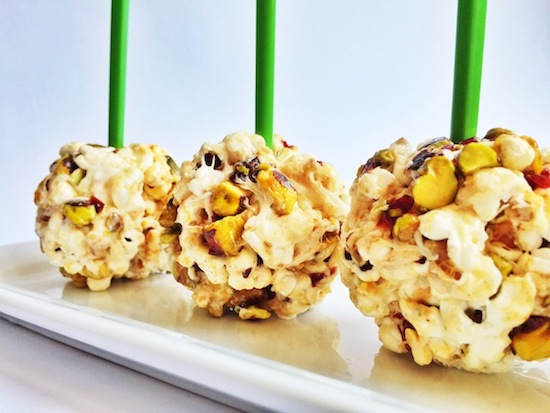 Looking for a unique popcorn ball recipe? Try this one for these delicious-looking Pistachio Chewy Bite Popcorn Balls!
Pistachio Chewy Bite Popcorn Balls
Ingredients:
5 cups popped popcorn
1/4 cup non-hydrogenated buttery spread (Earth Balance)
2 cups vegan marshmallows (Dandie's brand)
1/4 teaspoon ground cinnamon
1/8 teaspoon sea salt
1 teaspoon vanilla extract
1 bag Setton Farms Pistachio Chewy Bites, 6 pieces, roughly chopped

Directions:
In a 4-6 quart heavy pot, add buttery spread, marshmallows, cinnamon and sea salt.
Cook for 3 to 4 minutes.
Turn off heat and add vanilla extract and Pistachio Chewy Bites.
Stir well, mixing until uniform.
Use a 1/2 cup measuring cup to portion out the mixture into 10 balls and place on a parchment or wax paper lined baking sheet.
Enjoy when cooled.
(C) Spork Foods, 2014
About the Chefs
L.A.-based sisters and celebrity chefs, Heather Goldberg and Jenny Engel of Spork Foods are vegan chefs that own a Los Angeles-based gourmet cooking school. The culinary duo are also cookbook authors and work with some of Hollywood's elite including Emily and Zooey Deschanel, Kristen Bell and Dax Shepard, Kristin Bauer van Straten and Alicia Silverstone.