Despite all the hype, going to the gym is not fun. At least not for me. It takes some serious motivation to get me there. Plus, it's easy to let daily schedules and stresses get in the way. But prepping my gym bag ahead of time makes things so much easier. So, today I'm sharing this list of gym bag essentials so you're always ready when it's time to head to the gym.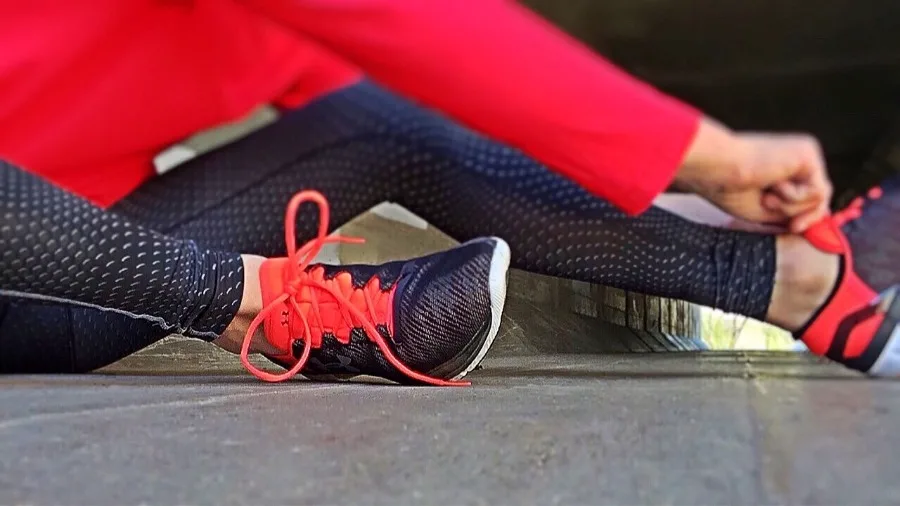 Quality Workout Clothes
When it comes to fitness fashion, us women tend to want clothes that are both cute and functional. Plus, cute workout clothes can be hugely motivating. But always remember, workout clothes should be less about fashion and more about comfort and fit.
The type of material that you wear to workout plays a big role in comfort. Look for fabrics that are lightweight, breathable, flexible, moisture-wicking and odor-resistant. Being able to hold up to hundreds of washings is also a plus.
Getting motivated to workout is hard enough without having to wear uncomfortable clothes that don't fit properly. Nothing is more annoying than having to pull up or tug down your clothes while you're working out. And chafing hurts! While a lot depends on the type of exercise you're planning on doing, you should always select clothes that won't get in the way of the activity.
Sports Bra
Bouncing boobs can be a major exercise deterrent, and a painful one, at that! Which is why the sports bra is at the top of my gym bag essentials list. The best sports bras are comfortable, supportive, and help minimize excessive movement. They're made of a lightweight, "breathable" material to help sweat evaporate and prevent odor.
Of course, finding the best sports bra is like trying to find the perfect pair of jeans: you have hundreds of choices. with lots of failures and a few successes. One good thing: you no longer have to accept those uncomfortable sports bras that smash your boobs into flat pancakes!
Look for a sports bra that fits snugly, but still allows you to breathe comfortably. It should offer plenty of support, but not constrict your range of motion. Also, make sure the straps don't dig into your shoulders or the band into your rib cage. Knix has a great selection of sports bras and other underwear for workouts.
The Right Sports Shoes
Next on the list of gym bag essentials is shoes. A really good pair of comfortable shoes are the basis of your workout. A great pair of sneakers can make your workouts more comfortable and effective, and keep you from cutting your session short due to discomfort.
It used to be that one pair of sneakers would work for all types of activity. Today, however, shoes have become highly specialized, and there are different types of sneakers for different types of workouts. And just like with sports bras, there are tons of options out there.
To make things easier, talk to a sports shoe expert about your specific needs, or visit fitness shoe websites to learn about the various types of shoes out there, and to find the right pair. Here are a few things to consider when looking for the perfect fit:
the most important factor to consider is comfort.
try shoes on at the end of the day, when your feet are at their largest.
bring or wear the type of socks you typically workout in when you go shoe shopping
if it has been a year or longer since you had your feet measured, have them checked: sizes continue to change as you get older.
test out the shoe by walking around in them for at least 10 minutes, jog in place, etc.
whatever pair you choose, make sure it provides the support you need for the type of exercise you will do.
Socks
Another gym bag essential: socks. Not having the right socks, or not having any socks at all, can really throw you off your game. I like to keep a low-cut pair rolled up in my sneakers so I don't forget them.
Motivate Yourself with Music
Music can be extremely motivating, but it has to be my music. That loud annoying music played at many gyms, just doesn't do it. Being plugged in to your personal playlist can help keep you motivated and working hard. Plus it helps keep your mind off of annoying and bothersome things such as aching muscles, labored breathing and sweat running down your face!
Of course to listen to your music you need a good pair of comfortable workout headphones or earphones with high quality sound. Look for a pair that fit snugly in your ears, are sweat-proof, and help to cancel out surrounding sounds.
Or you could skip that annoying headphone wire, and opt for a wireless Bluetooth pair instead. This will keep you from accidentally yanking the earbuds out of your ears, and eliminates the cord swinging in your face.
Reusable Water Bottle
Staying hydrated during exercise is vital, and having a reusable water bottle with you makes it much easier to the fluids you need. Plus by bringing your own water bottle, you help save your money and the Earth, too.
Hat and/or Hairbands
One exercise pet peeve of mine is having sweaty locks of hair in my face, which is why keeping a no slip headband or hair ties is one of my gym bag essentials. A cute hat will work just as well, too.
Yet another option is a sweatband. If you're old enough to remember the sweatbands that were so popular back in the 80's, then you'll know just how effective these are at keeping both hair and sweat off your face. Their lightweight feel is ideal for fast paced exercises, and they are available in a huge range of designs, colors, and sizes.
Workout Towel
Another of my gym bag essentials is a small microfiber towel. While most gyms have complimentary hand towels, for me, the thought of using the same towel that hundreds of others have used before me is a bit unsettling.
Bringing along a small towel doesn't take up a lot of room in my gym bag, and I know it's a lot cleaner than the ones I'd use from the gym.
Fitness Tracker
One big key to feeling successful with your exercise routine is to track your progress. A good quality heart rate monitor or fitness tracker in your gym bag is a great way to keep tabs on your progress. Plus they're a great way to stay motivated!
There are all sorts of fitness trackers available. Some will monitor just your heart rate, while others will track steps taken, calories burned, heart rate and so much more.
Fitness Fuel
Keep a light snack such as an energy bar in your gym bag in case you need a boost before, during or after a long workout. After all, the foods you eat before and after exercise can help or hinder performance and recovery.
Deodorant
While this gym bag essential is pretty much self- explanatory, it's definitely a good thing to have on hand to keep workout and gym funk at bay.
Post Workout Wipes
Keep a small pack of cleansing wipes in your gym bag. These not only come in handy for post-workout freshening, you can also use them to wipe down sweaty equipment.
Gym Bag Essentials Conclusion
Having to dig through your closet and drawers to find your workout gear can quickly tempt you into skipping your workout. Plan ahead for your workouts by keeping these gym bag essentials together so all you have to do is grab your bag and go!