Haunted Graveyard Halloween Frosting Board is a scarily simple Halloween treat that is sure to raise spirits! Creamy buttercream frosting is covered with cookie dirt, decorated with candy to look like a graveyard, and then surrounded by sweet and salty treats for dipping.
Only a few more weeks until my favorite time of Fall, Halloween! To me Halloween isn't just a holiday, it's a state of mind! From spooky decor to creepy desserts, my house practically oozes Halloween!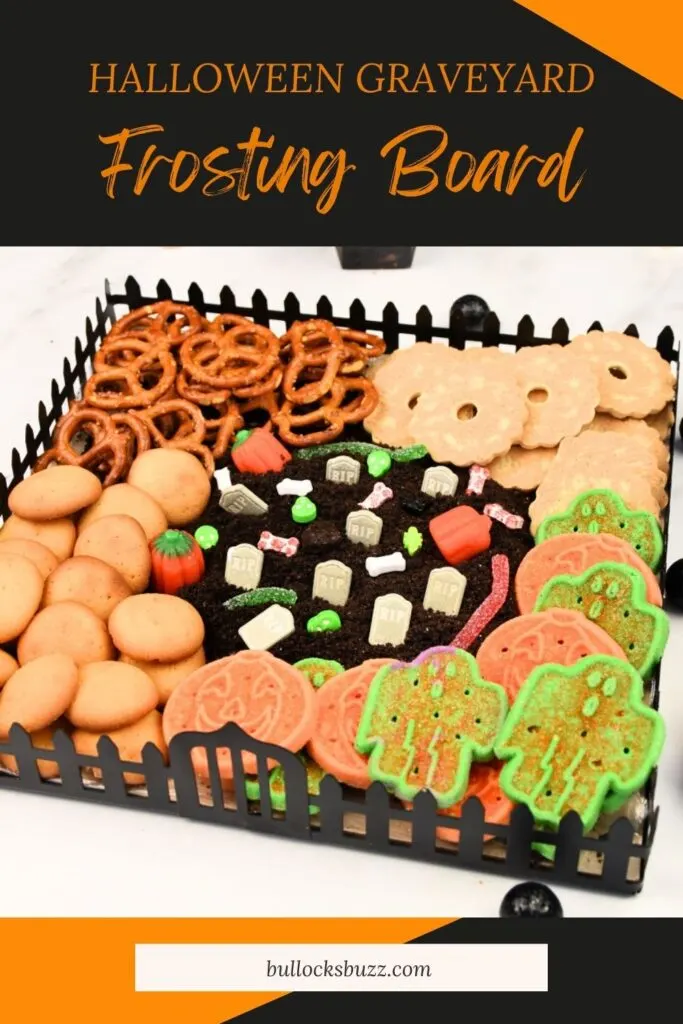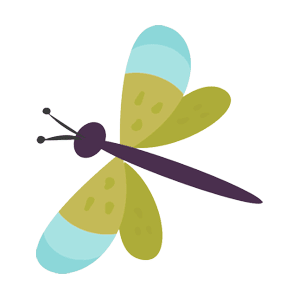 Pin for Later
Too busy to make this tasty recipe right away? Why not Pin it for later? Pin this easy recipe to your favorite board on Pinterest and it will be there waiting for you when you are ready!
Last week I shared my Candy-Filled Witch Hats and Popcorn Ball Witches, and today I'm continuing the countdown with another creepy culinary creation. This time, things are getting scarily sweet with this hauntingly delicious Halloween Graveyard Frosting Board!
From creepy candies to devilishly delightful cookies, this Halloween Frosting Board is a ghostly gala where sweet treats mingle with spine-chilling delights! Every bite tells a tale from beyond the grave.
So step into the supernatural sweetness of my Halloween Frosting Board, and get ready for a hauntingly delightful culinary adventure!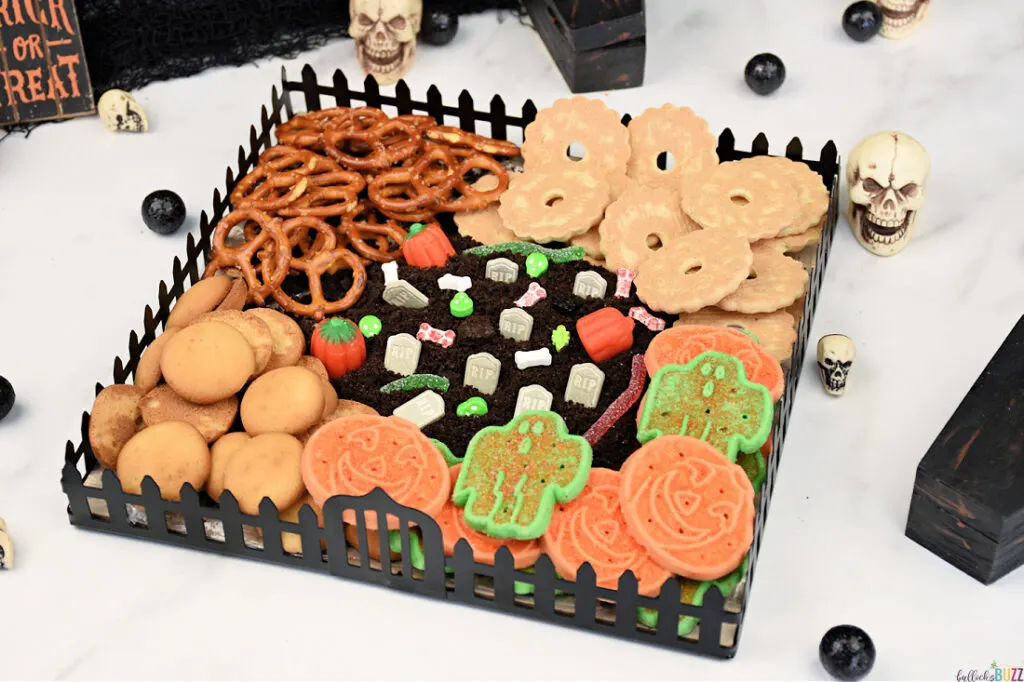 WHAT IS A FROSTING BOARD?
A frosting board, also known as a buttercream board, is a tasty twist on a dessert board where an array of treats like fresh fruit, cookies, and pieces of cake are arranged on a tray surrounding a layer of creamy buttercream frosting. The frosting is then used as a dip to create an irresistible fusion of flavors.
It's a delightful, quick, and easy way to create a deliciously amazing dessert experience!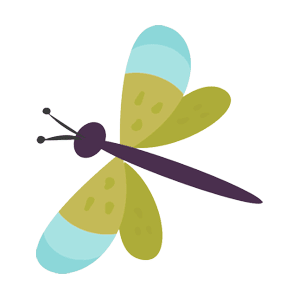 I've got many creepalicious recipes for you to try out including my Marshmallow Witches, Bat Twinkies, and even these Spooky Spiders– simply right-click the link and open these other warm-weather goodies for kids and adults in a new tab so that you can check them out after this one.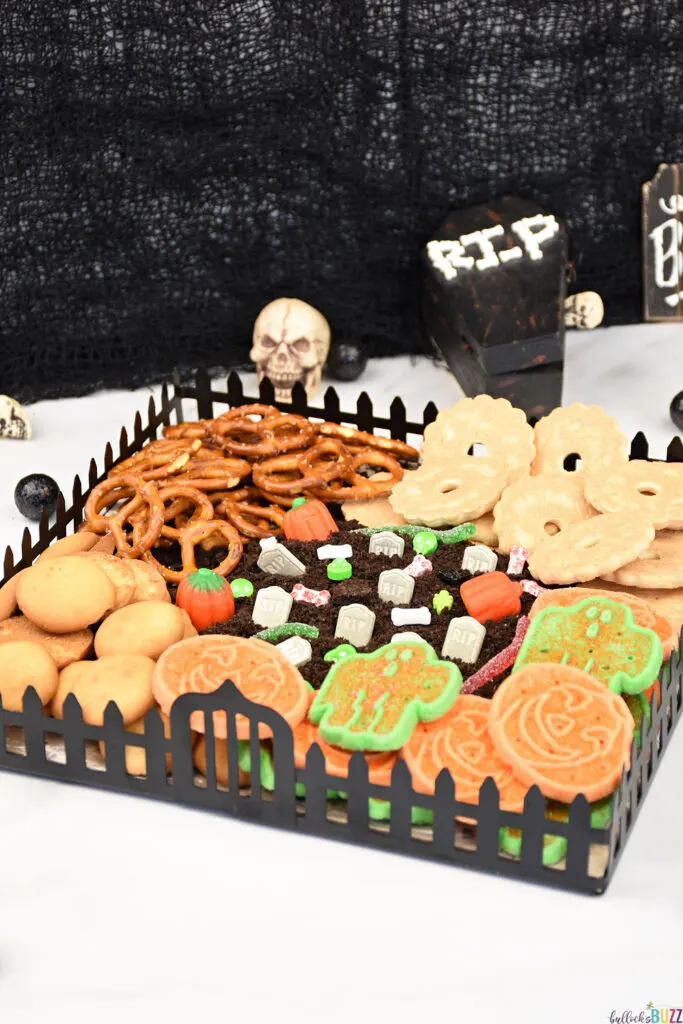 EASY HALLOWEEN GRAVEYARD DESSERT: AN EERIE FEAST FOR ALL SOULS
Although this is my first frosting board, I am already in love with the concept! If you thought tossing together a Halloween Candy Charcuterie Board was easy, just wait until you make a buttercream board! They are so simple to make, it's scary (insert evil laugh).
Plus, frosting boards make great centerpieces – especially for a Halloween Party. And they are always a hit with the kids.
This particular monstrously delightful frosting board has been crafted into a haunted Halloween graveyard where the ethereal meets the earthly. With frosting, cookies, and candy used to create a spooky culinary spectacle, it's a Halloween recipe that's to die for!
Whether you serve it at a ghoulish gathering or enjoy it in the eerie silence of the night, this graveyard Frosting Board is sure to be the star of any supernatural celebration.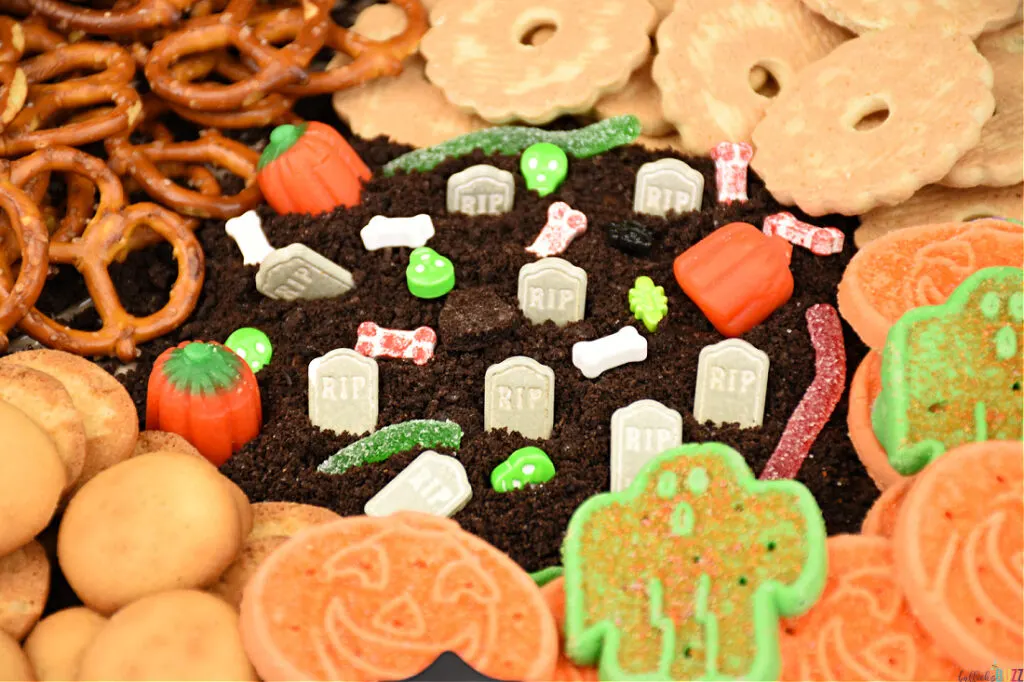 HOW TO MAKE A GRAVEYARD HALLOWEEN FROSTING BOARD
Filled with chocolate frosting, cookie dirt, candy headstones, bones, and pumpkins surrounded with delicious treats for dipping, this hair-raising Halloween frosting board is an absolute scream. It's a no-bake Halloween treat that's both macabre and mouthwatering.
So if you aren't too scared to unveil the magic of Halloween with this spooktacular Haunted Graveyard Frosting Board recipe, let's go!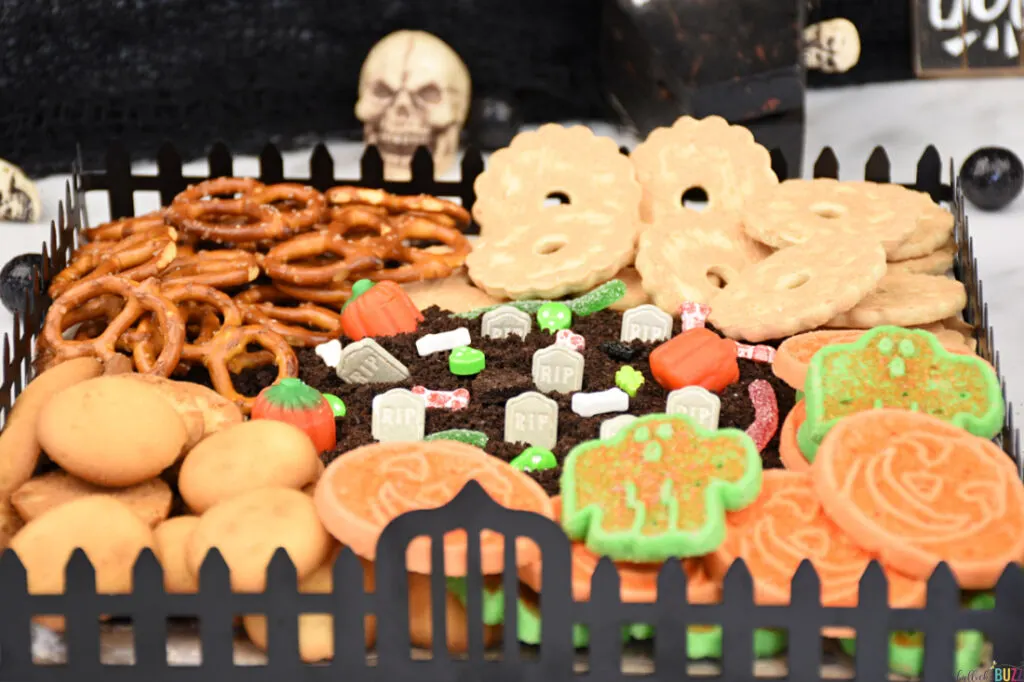 KITCHEN TOOLS YOU WILL NEED
To prepare for our culinary séance, you will first need to dive into your crypt of essential kitchen tools. The following utensils are the key to awakening the kitchen spirits and crafting our Halloween Graveyard Frosting Board. So grab your ghostly tools, and let the haunting feast begin!
Disclosure: This blog post contains links to products or services I think you will like. If you purchase from one of the links, I may make a small commission at no extra cost to you. As always, I only recommend products that I use and love.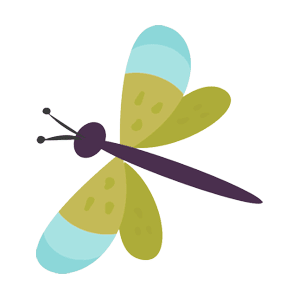 You will find the complete list of ingredients and instructions in the free printable recipe card at the bottom of this post.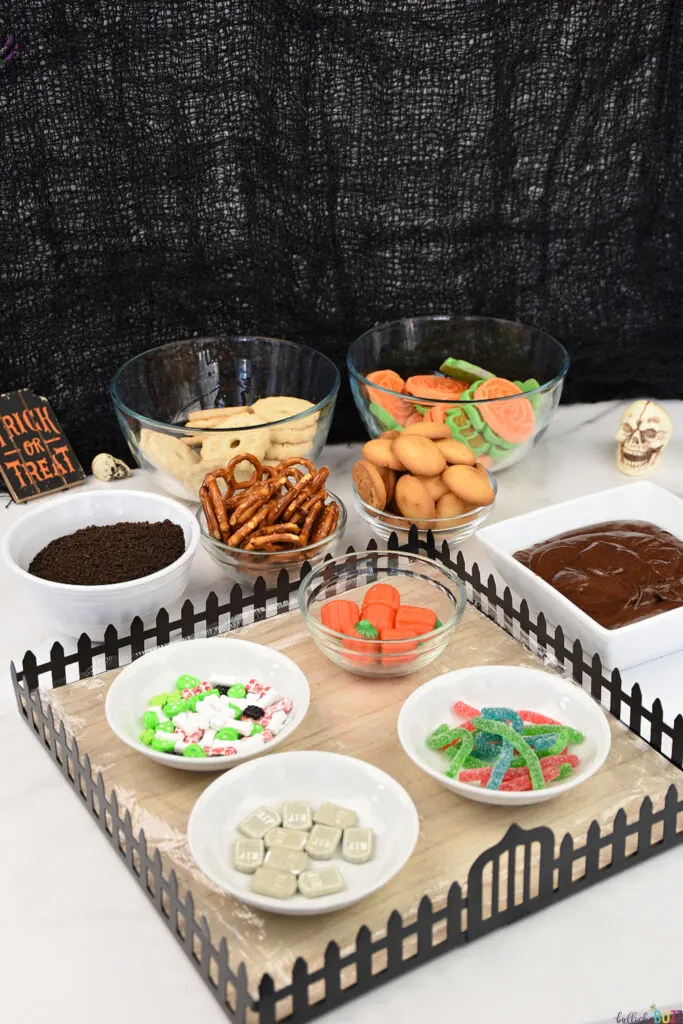 INGREDIENTS YOU WILL NEED TO MAKE GRAVEYARD HALLOWEEN BUTTERCREAM BOARD
After you've gathered your tools, it's time to dig up the ingredients that make this ghoulish Graveyard Halloween Frosting Board.
From candy bones to spectral sugar cookies, I've summoned some ingredients from beyond the grave to infuse your Halloween Frosting Board with an assortment of unearthly flavors tasty enough to raise the dead!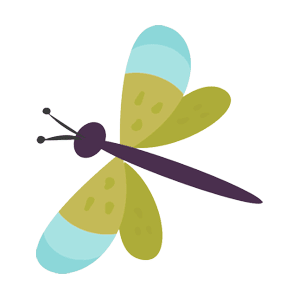 Pro Tip
You do not want to use just any knife to cut these donuts as they are more likely to break apart. Use a bread knife instead. Bread knives are specially designed to cut through bread and similar foods without tearing them apart.
Chocolate Frosting – the foundation of our graveyard delight (homemade or store-bought)
Chocolate cookies – to transform into delectable dirt (I used Oreos but removed the frosting)
Haribo Sour S'ghetti – or gummy worms
Butter Rings – so yummy!
Vanilla Wafers – perfect size for dipping!
Halloween Sugar Cookies – I used pumpkins and ghosts from my local grocery
Tiny Twists Pretzels – to add the perfect amount of saltiness to all of the sweetness
INSTRUCTIONS TO MAKE YOUR OWN HALLOWEEN FROSTING BOARD
Below, you will find a hauntingly simple step-by-step guide on how to create a spectral masterpiece that will haunt taste buds and memories alike.
From creating the 'dirt' to laying out the goodies for dipping, let's unveil the secrets of crafting this confectionary feast!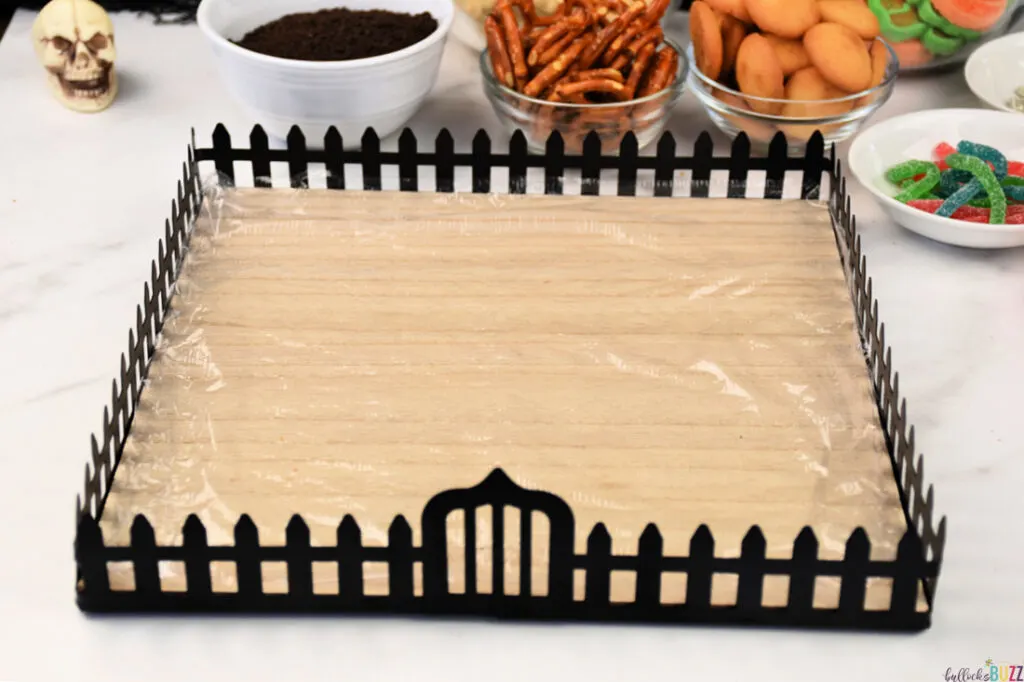 STEP ONE: PREPARING THE BOARD
Begin by cutting a piece of plastic wrap the exact size of the bottom of your tray.
Then cover the bottom of your tray with the plastic.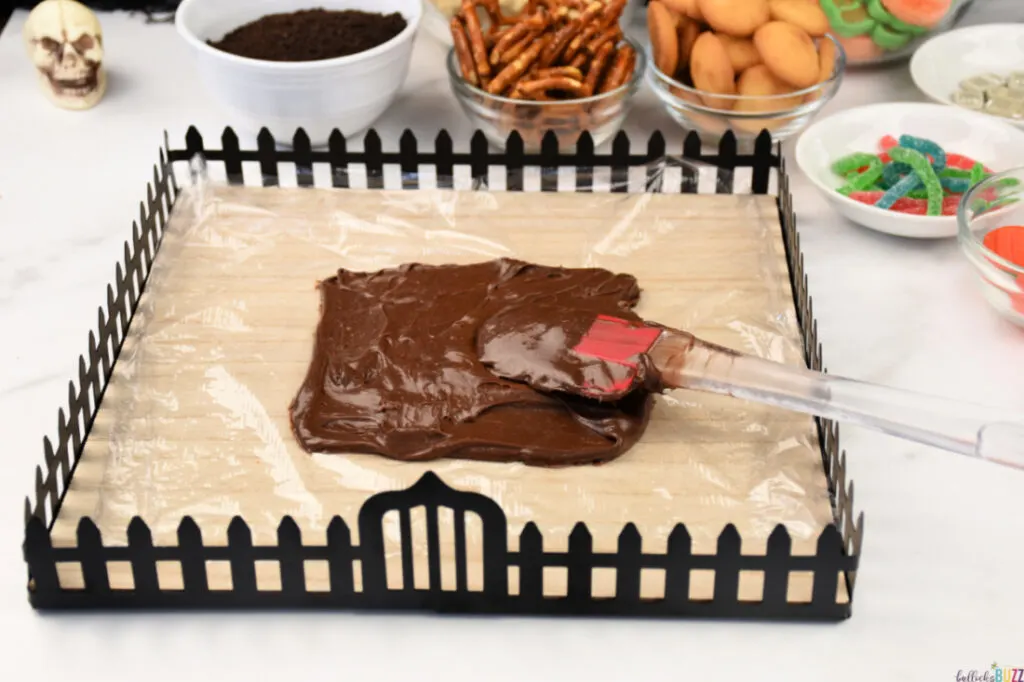 STEP TWO: ADD THE FROSTING
Using a small spatula, add the frosting to the very middle of the tray. Be sure to shape it into a square or rectangle (depending on the shape and size of your tray).
Add enough frosting so that there is plenty for the number of people you are serving. I used one container of icing and made it about ¼ to ½-inch thick.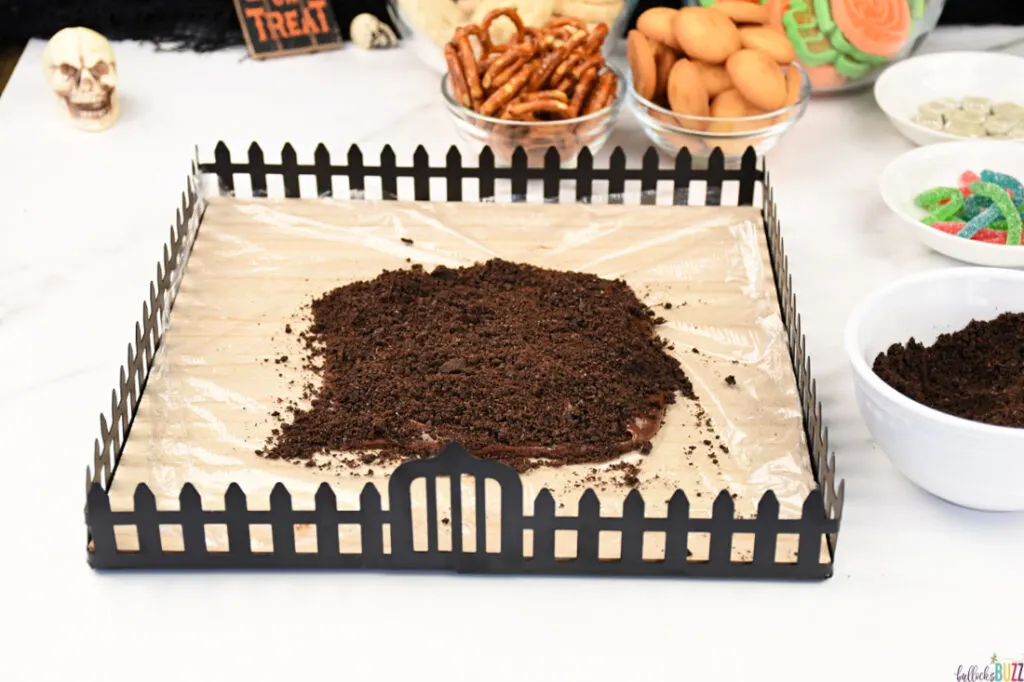 STEP THREE: MAKING AND ADDING THE DIRT
Using either a blender or a snack bag and a rolling pin, crush chocolate cookies until the consistency resembles dirt.
Then generously sprinkle the dirt on top of the frosting and all around the board. Be sure to cover the frosting completely.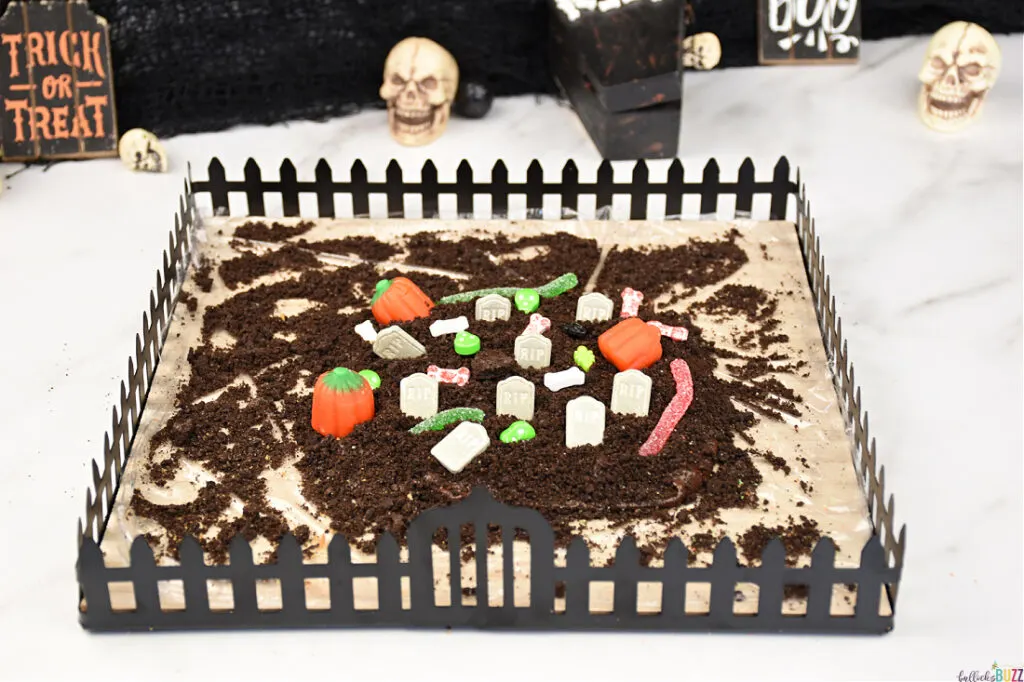 STEP FOUR: ADDING THE HALLOWEEN GRAVEYARD DECOR
Now the fun part! Adding the graveyard features on top of the frosting and dirt. Arrange the candy tombstones, bones, worms, pumpkins, and any other decorations you have chosen to create a bone-chilling graveyard scene.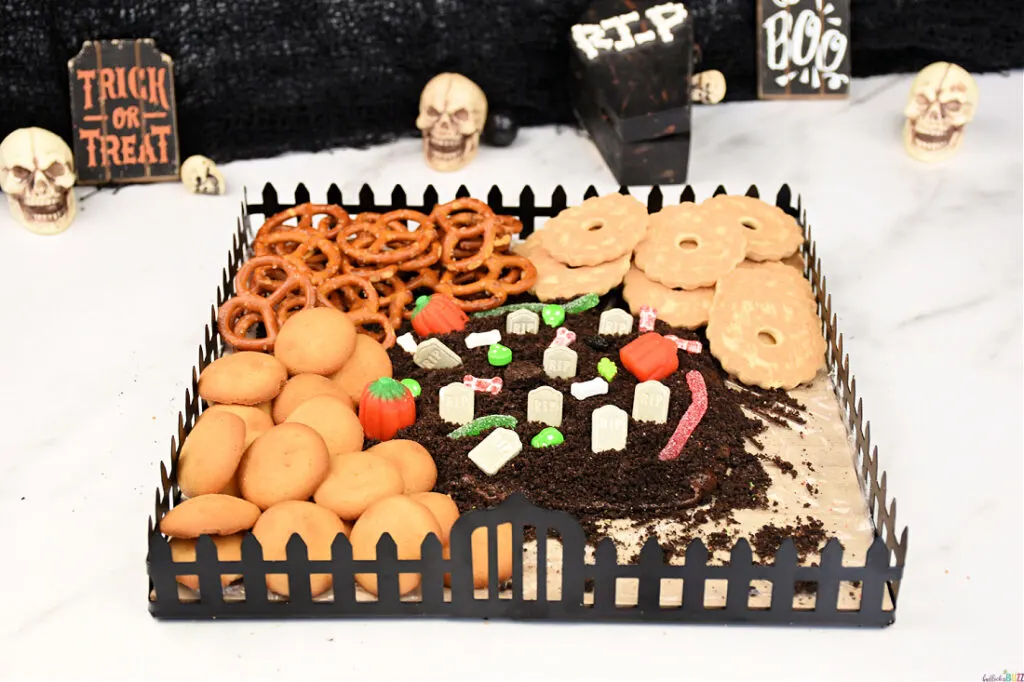 STEP FIVE: SURROUND THE GRAVEYARD WITH THE DIPPERS
Then, on one-quarter of the tray, layer the butter ring cookies. Make sure to fill it in from the outside edge all the way to the graveyard frosting in the middle.
Fill in the next quarter with the pretzels.
Add the Nilla wafers to the third quarter.
Then place the Halloween sugar cookies in the remaining quarter.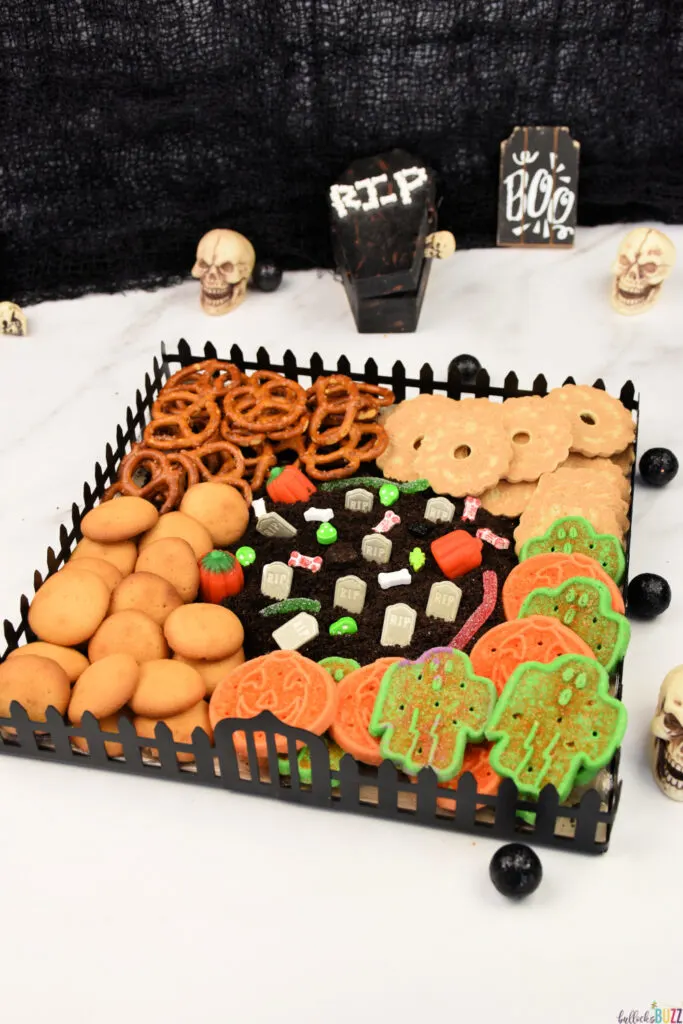 With the last eerie touch in place, your Haunted Graveyard Halloween Frosting Board is now complete! It's a bewitching masterpiece that is sure to cast a spell on every palate.
And now all that is left is to enjoy your ghoulishly delightful graveyard feast!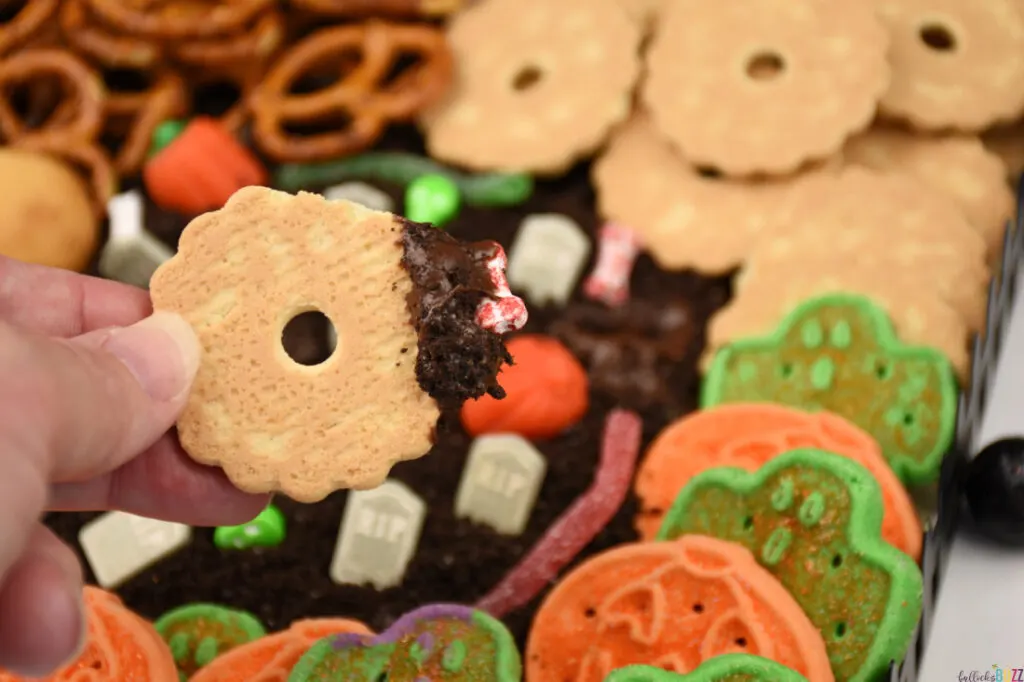 WHY YOU WILL LOVE THIS GRAVEYARD BUTTERCREAM BOARD FOR HALLOWEEN
This Graveyard Halloween Frosting Board recipe isn't just about taste; it's also a celebration of the spooky, the mysterious, and the delicious. And there are plenty of other reasons you will fall under its spell, too!
It's a Simple Treat to Make: Creating a Halloween spread doesn't have to be frightening. This Graveyard Frosting Board simplifies the process while offering a ghastly array of treats that not look great, but also involve no baking. That means less time in the kitchen and more time enjoying the party!
It Encourages Creativity: Let your creativity flow! Embrace the magic of Halloween as you customize the board the way you like. From the overall theme to the candy decorations, the type of cookies to the flavor of the frosting, it's easy to add your own touch to this supernatural creation.
It's a Total Crowd-Pleaser: This frosting board not only tantalizes the taste buds but it also awakens the spirit of Halloween within every soul. With its variety of sweet and salty treats, there's something for everyone to munch on. Plus, it's a show-stopping, Instagram-worthy creation that'll have everyone screaming with delight!
It's Perfect for Parties: Wanting to throw a Halloween party that'll be whispered about in haunted halls for ages to come? This Haunted Graveyard Halloween Frosting Board is the ultimate party centerpiece, capturing the spirit of Halloween in every bite!
It's Very Versatile:This frosting board is easily adaptable for other holidays, parties, or events. Simply switch up the treats and the theme to make it fit with any occasion!
Oh! And did I mention that it's fantastically fun to make?!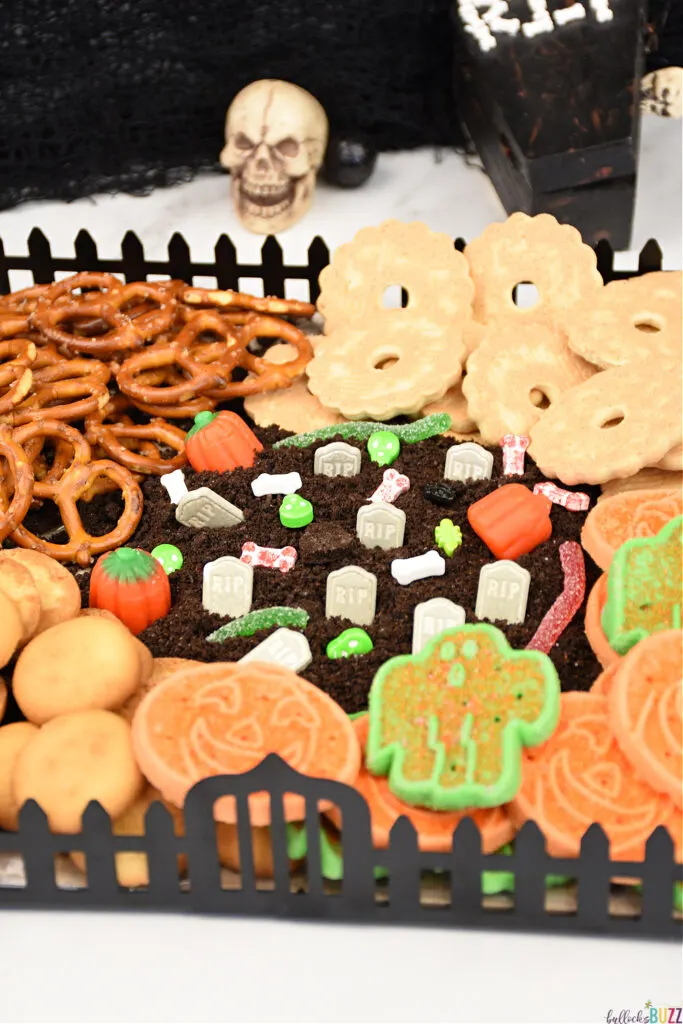 RECIPE SUBSTITUTIONS AND ADDITIONS
Unearth a myriad of chilling variations and ghostly substitutions for your Halloween Frosting Board. Here are some spine-tingling ideas to enhance your spectral spooky feast and stoke the fires of your creativity:
Alternate Icing: Try different frosting colors and flavors. If you're not a fan of store-bought icing, homemade cream cheese frosting or homemade buttercream works just as well.
Spectral Sprinkle Swap: Add an extra layer of haunted charm by adding more or swapping out the sprinkles and candies. Experiment with ghost-shaped sprinkles or creepy crawler sprinkles.
Cryptic Cookie Choices: Use your favorite cookies and other treats for the dippers. Think vanilla OREOs, Nutter Butters, or even some more unusual cookie flavors like Pumpkin Snickerdoodles, Samoas or Thin Mints.
Fangtastic Fruit: Try a healthy twist and use crisp apples, spooky strawberries, and ghostly banana bites for dipping into the creamy frosting.
Gluten-Free Goodness: For ghouls and goblins with dietary restrictions, use gluten-free cookies, pretzels, and other treats so everyone can partake in the eerie indulgence.
Add Fillers: Try filling every nook and cranny with ghostly treasures such as small candies like candy corn, miniature chocolates, or chocolate chips. You could also try nuts, brownie bites, or other snacks broken up into small bites.
Beyond the Grave Indulgences: Expand your spectral spread by including an array of different dippers like decadent brownie bites and sinfully rich slices of cake, or other salty treats like tiny crackers or pretzel sticks.
Spooktacular Display and Serving Ideas
Take your Graveyard Frosting Board to another level with these creative ideas. We already talked about how perfect this frosting board is for Halloween parties, but here are two suggestions to take your creativity to a new spine-tingling level.
Haunted Dessert Table: Create an Alluring Halloween Spread
by Take things to another creepy level by creating a haunted dessert table. Incorporate graveyard-themed decorations such as a black tablecloth, small purple-colored lights, faux spider webs, skulls and bones, and rustic wooden crates. Then place your Graveyard Halloween Frosting Board front and center on a cake stand and surround it with other Halloween treats and drinks. Some of my favorites include Frankenstein Twinkies, Spooky Halloween Ghost Cupcakes, Bat Brownies, a Graveyard Cake, and Poison Potion Punch for the kids and The Gravedigger Cocktails for the adults.
Interactive Decorating Stations: Engage Kids in Creativity
Whether your hosting your own spooky soiree or helping with a classroom party, get ghouls, ghosts, and goblins involved by letting them create their own mini-frosting boards. Instead of one large tray, pass out small Halloween plates and provide everyone with pre-baked treats, an array of frostings, and a plethora of toppings. Encourage creativity, and watch as the kids have a blast crafting their spooky masterpieces.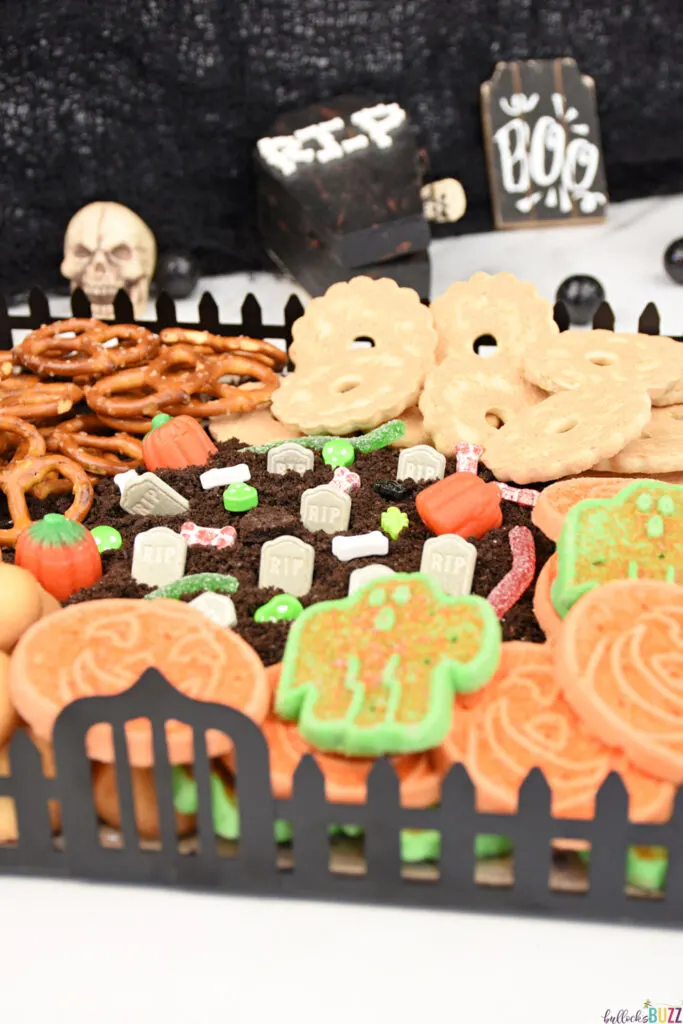 FAQs
Can I make this Graveyard Halloween Frosting Board in advance?
Yes, part of this frosting board can certainly be made in advance. Make the frosting first, but leave off the decorations and dippers until it is time to serve it. Carefully cover the frosting and store it in the fridge.
If you are baking your own cookies or other dippers, store them in an airtight container to maintain their freshness until you are ready to use them.
Can I customize the board based on dietary restrictions?
Absolutely! There are many gluten-free, vegan, and allergy-friendly frosting recipes and treats available. With a bit of creativity, you can easily cater to different dietary needs while still maintaining the spookiness of your Halloween Graveyard Frosting Board.
How long can the Haunted Graveyard Halloween Frosting Board be displayed?
Ideally, this buttercream board should be displayed shortly before serving in order to maintain the freshness of the frosting, dippers, and candies.
How long will the board stay fresh?
If stored properly, the treats will stay fresh for a couple of days in airtight containers, and the buttercream frosting can last up to a week in the fridge.
If you have any more questions, drop them below and I'll answer them as soon as possible!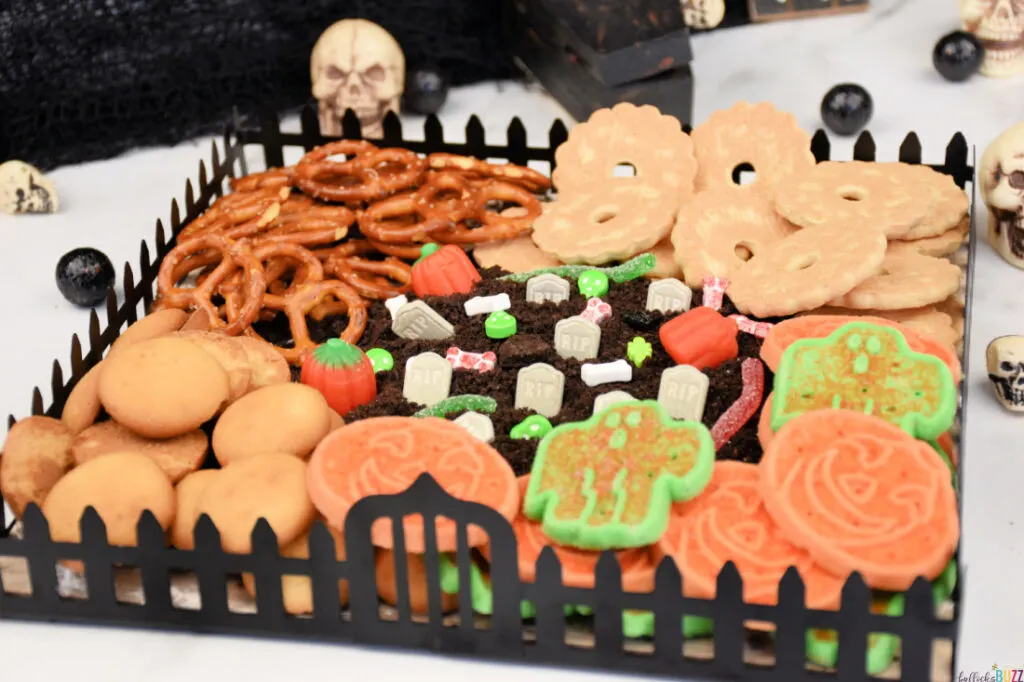 CONCLUSION
Now that you know how to craft a devilishly delicious haunted Graveyard Frosting Board, it's time for me to say goodbye and head back into my kitchen to craft a few more Halloween recipes.
Remember to print this spooky recipe below and bring the spirit of Halloween to life in your own home.
May your taste buds be forever haunted by the decadent delights of this Halloween Graveyard Frosting Board!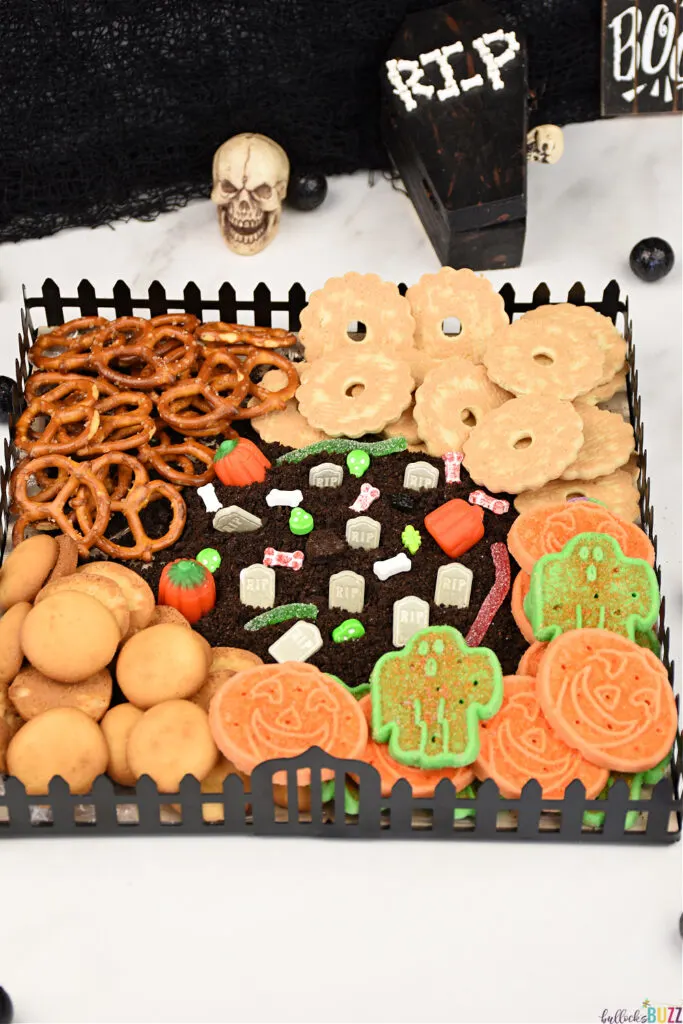 MORE CREATIVE HALLOWEEN RECIPES
If you're looking for more spooktactular treats to add to your Halloween dessert table, here are some spine-tingling suggestions:

LIKE IT? LOVE IT? PLEASE SHARE THIS HAUNTED GRAVEYARD HALLOWEEN FROSTING BOARD
Did you make this Haunted Graveyard Halloween Frosting Board? If so, I'd love to see how it turned out! I love seeing your own take on my recipes.
Tag me on Instagram @bullocksbuzz or using #bullocksbuzz and share a photo of your tasty creations!
Be sure to save this post either by clicking on that little heart over there to your right or by pinning it on Pinterest. Then share with your friends and family by clicking the share buttons above the post title, too!
And, if you really liked this Halloween recipe, comment and leave me a ⭐⭐⭐⭐⭐ rating on the printable recipe card below!
And finally, don't forget to follow us on Pinterest, Facebook, and Instagram!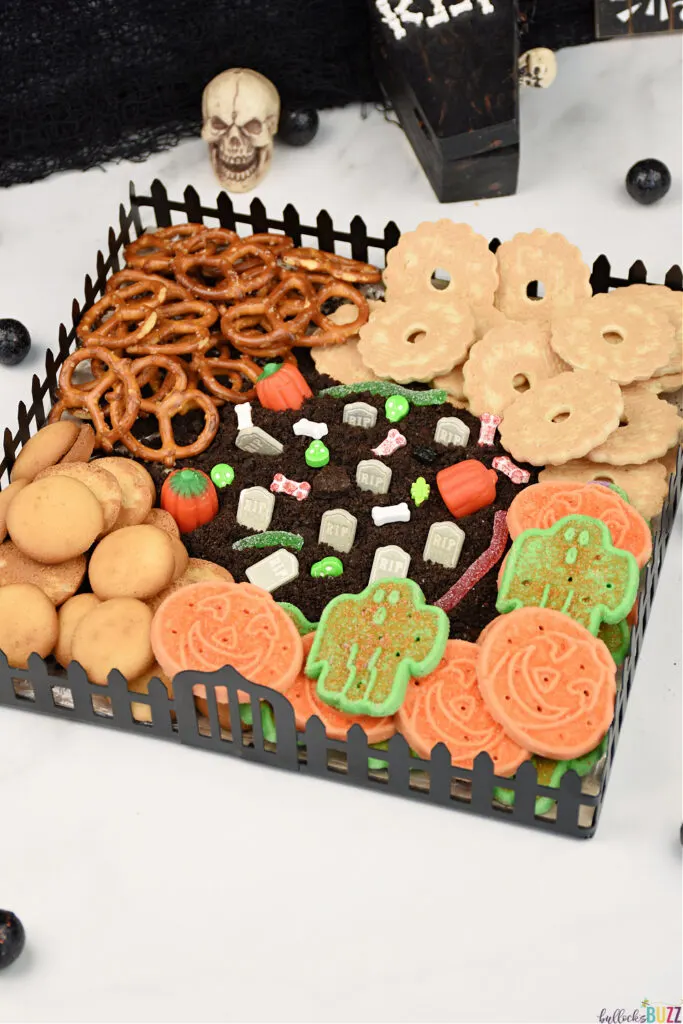 HAUNTED GRAVEYARD HALLOWEEN FROSTING BOARD PRINTABLE RECIPE CARD
Yield: 1 Halloween Frosting Board
Graveyard Halloween Frosting Board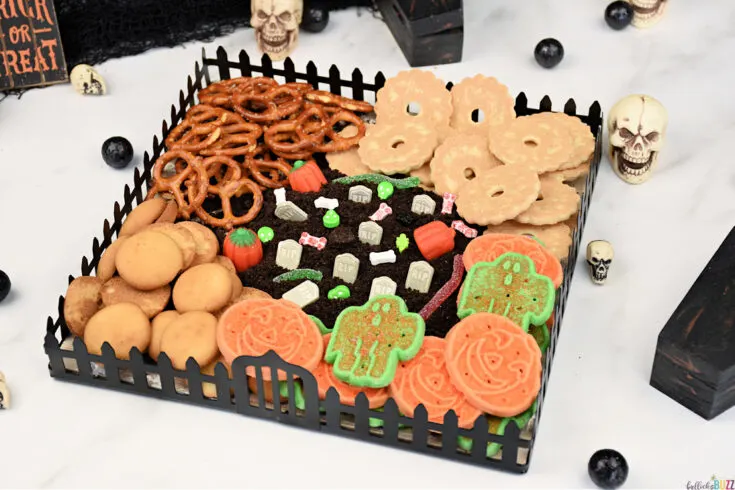 This Graveyard Halloween Frosting Board has a haunting blend of buttercream frosting and ghostly treats for dipping. It's perfect for all of your spooky Halloween gatherings!
Ingredients
Chocolate Buttercream Frosting - homemade or store-bought
Chocolate cookies - I used Oreos but removed the frosting
Halloween Sprinkle Mix with tombstones and bones
Halloween spider sprinkles
Candy mellow creme pumpkins
Haribo Sour S'ghetti - or gummy worms
Tiny Twists Pretzels
Halloween Sugar Cookies - I used pumpkins and ghosts from my local grocery
Butter Rings cookies
Vanilla Wafers
Instructions
Begin by covering your serving tray or board with plastic wrap.
In the middle of the tray, spread the entire tub of frosting in a square shape. You want it to be thick for dipping.
Using either a blender or a snack bag and a rolling pin, crush the cookies until they resemble the texture of dirt.
Then sprinkle the cookie dirt all over the frosting until it is completely covered, and then sprinkle some around the tray, too.
Carefully design your graveyard using the candy tombstones, bones, spiders, pumpkins, etc.
Working your way from the outside corner inwards to the edge of the frosting, fill in one-quarter of the board with the butter ring cookies. Make sure to fill in any empty spots.
Fill in a second quarter with the Nilla wafers.
Add the pretzels to the next quarter.
Fill in the last quarter with the Halloween sugar cookies.
Serve and enjoy!
Notes
*The amount of ingredients will depend on the size of your board and the number of people you are serving.
Nutrition Information:
Yield:
10
Serving Size:
1
Amount Per Serving:
Calories:

163
Total Fat:

6g
Saturated Fat:

3g
Trans Fat:

0g
Unsaturated Fat:

3g
Cholesterol:

9mg
Sodium:

104mg
Carbohydrates:

26g
Fiber:

1g
Sugar:

16g
Protein:

1g
Nutritional information is automatically calculated with ingredients and serving size and may not be accurate. Please always double check with your own nutritional apps as well.