Drizzled with red, white, and blue chocolate and studded with star-shaped sprinkles, these Patriotic Oreos are a fun and festive Fourth of July dessert that everyone will love. Best of all, they are quick and easy to make!
These super cute red, white, and blue cookies not only taste great, but they literally take just minutes to make. All you need are some Golden OREOs and candy melts, and your Patriotic OREOs will be good to go!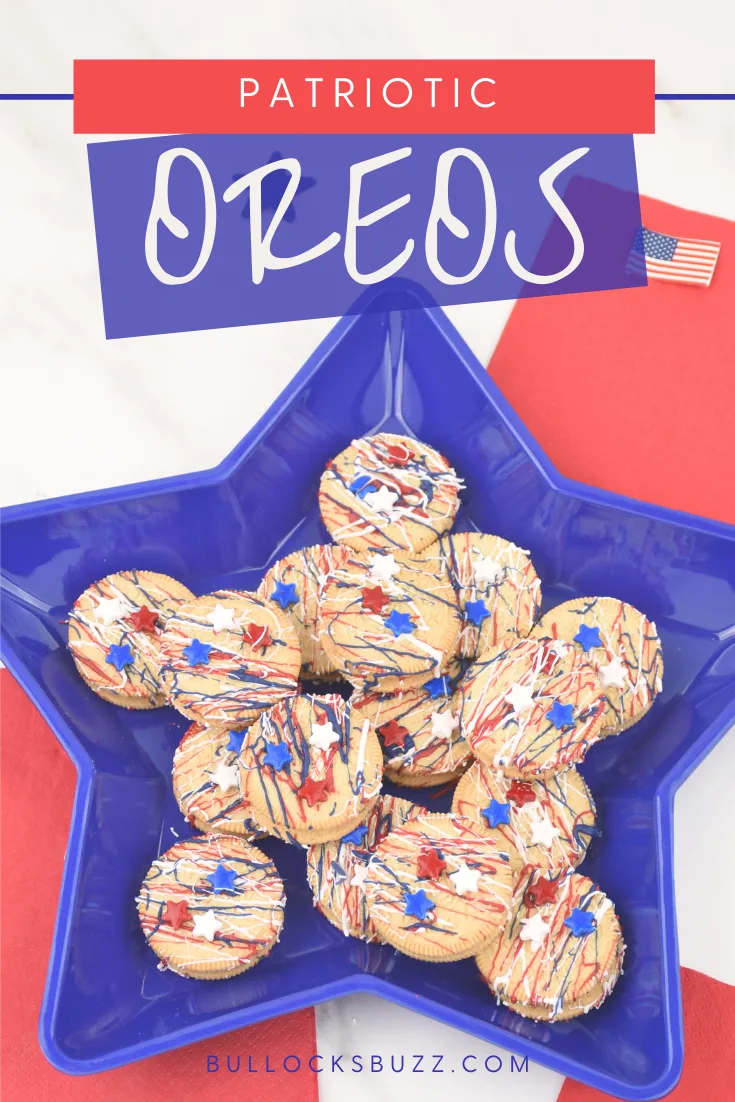 The Fourth of July is one of my absolute favorite holidays. It's also one of the most meaningful holidays that we celebrate.
The freedom we have and those who fight for it are two of the biggest reasons why I love it. The time you get to spend with family and friends is another. And the fun and delicious patriotic treats you get to make and enjoy is yet another!
Speaking of delicious patriotic treats, these festive Patriotic Oreos are a festive and incredibly simple treat that will look amazing on any Fourth of July barbecue table.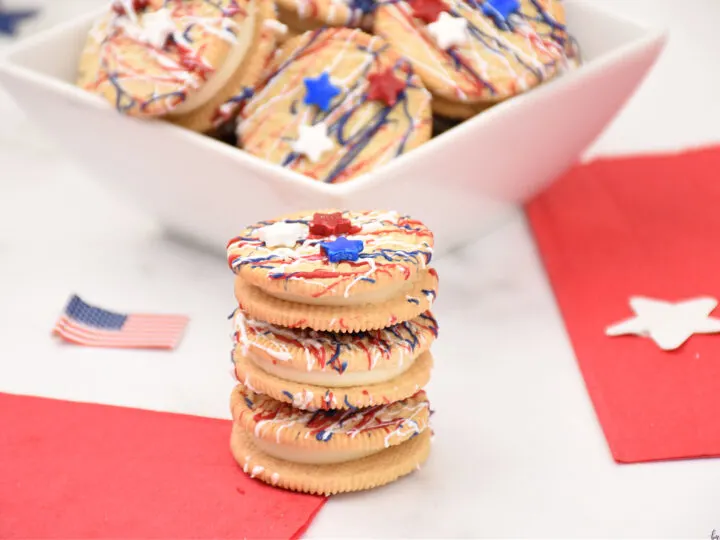 If you're looking for other no-bake Fourth of July desserts, try my Patriotic Candy Bark or my red white and blue popcorn.
How to Make Patriotic Oreos for the 4th of July
This no bake 4th of July cookie recipe only requires Oreos, melting chocolate, and a microwave (or another way to melt the candy)! Simply drizzle, sprinkle, and set. So easy!
You'll find the complete July 4th recipe in the free printable recipe card at the end of this post.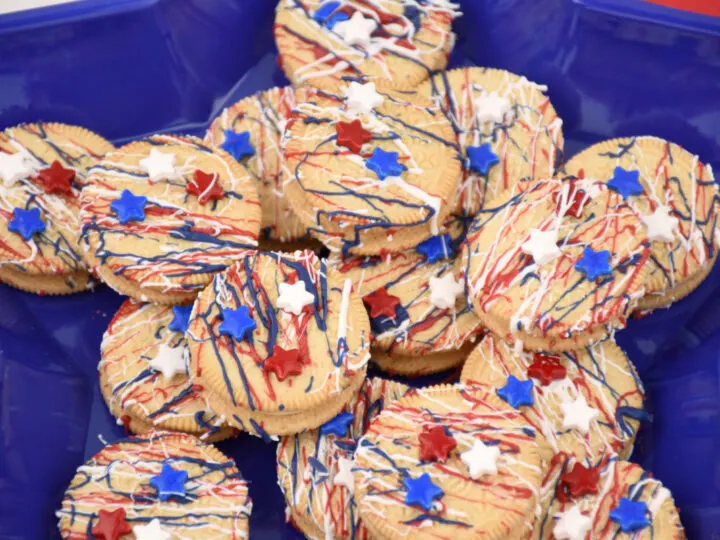 Kitchen Tools You May Need
Disclosure: This blog post contains affiliate links for products or services I think you'll like. This means if you make a purchase from one of these links, I may make a small commission at no additional cost to you. I only recommend items I use and love.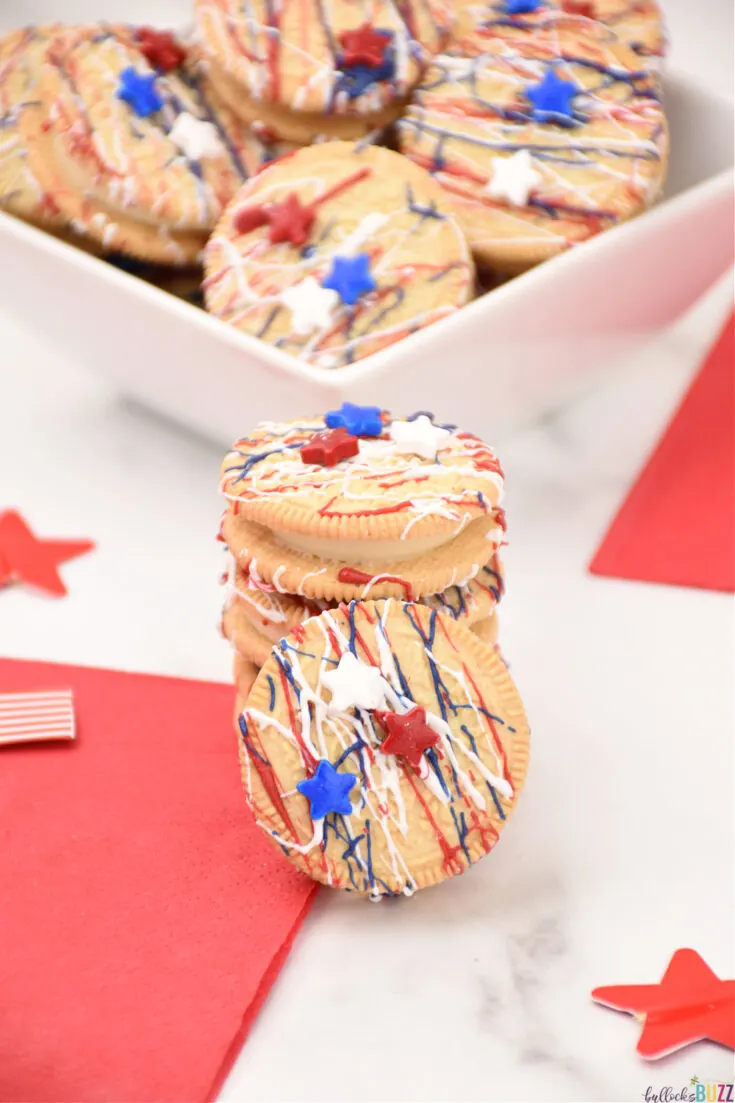 Ingredients Needed to Make Red, White and Blue Candy Bark
These pretty patriotic cookies call for nothing more than two simple ingredients.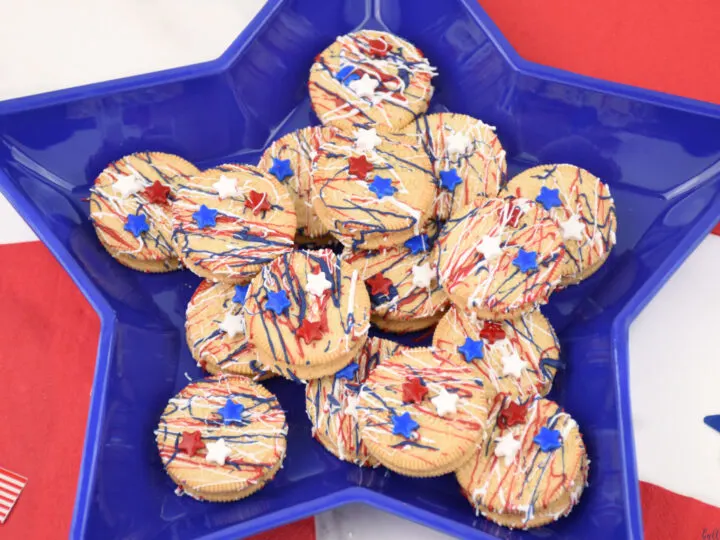 4th of July Swirled Candy Bark Instructions
Making these red, white, and blue cookies is as easy as melting the candy melts, drizzling the chocolate over the Oreos, and then adding the sprinkles. Then you simply let it sit until it's ready to eat!
When working with candy melts. the number one thing you want to do is to work quickly. This is a big part of making sure that the chocolate doesn't set before you've added the sprinkles.
Before You Start
To make these patriotic Oreos, you'll first want to cover a small baking sheet or other work surface with either a Silpat mat or parchment paper.
Step One: Melt the Chocolates
Next, following the instructions on the bag, melt the red, white, and blue candy melts using a microwave, double boiler, or a candy melting pot until the candy is smooth and creamy.
I usually melt two of the colors in my candy melting pot using a dual insert, and melt the third color in the microwave.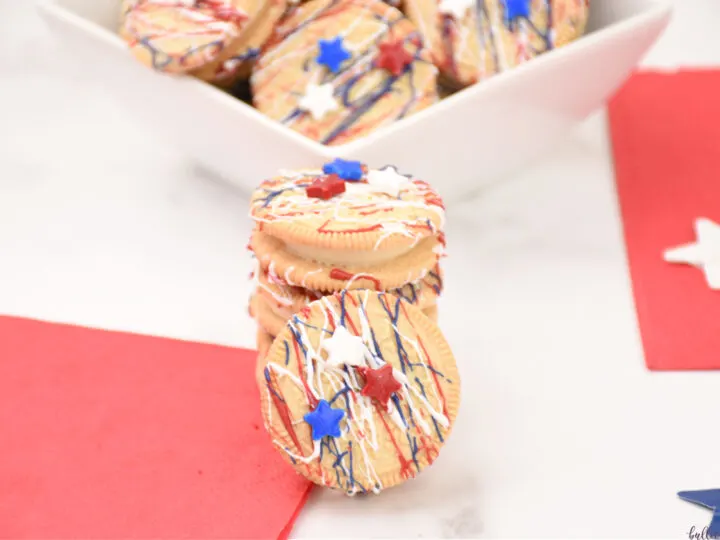 Step Two: Drizzle
Once melted, add the candy to individual snack bags, and then cut a small hole in the corner of the first bag. Note: the smaller the hole, the thinner your lines will be. Squeeze the bag and move it back and forth over the Oreos. Repeat with each color.
Pro Tip: if you move the bag back and forth quickly, you will end up with a thinner line.
Step Three: Sprinkle
After you have finished drizzling the final color, while the chocolate is still wet, quickly add the red, white and blue star candy sprinkles. Work quickly so the chocolate doesn't harden before you are finished.
And that's it! Now all that's left to do is to allow the chocolate to set. You can speed up the process by placing the tray in the fridge or freezer for about ten minutes.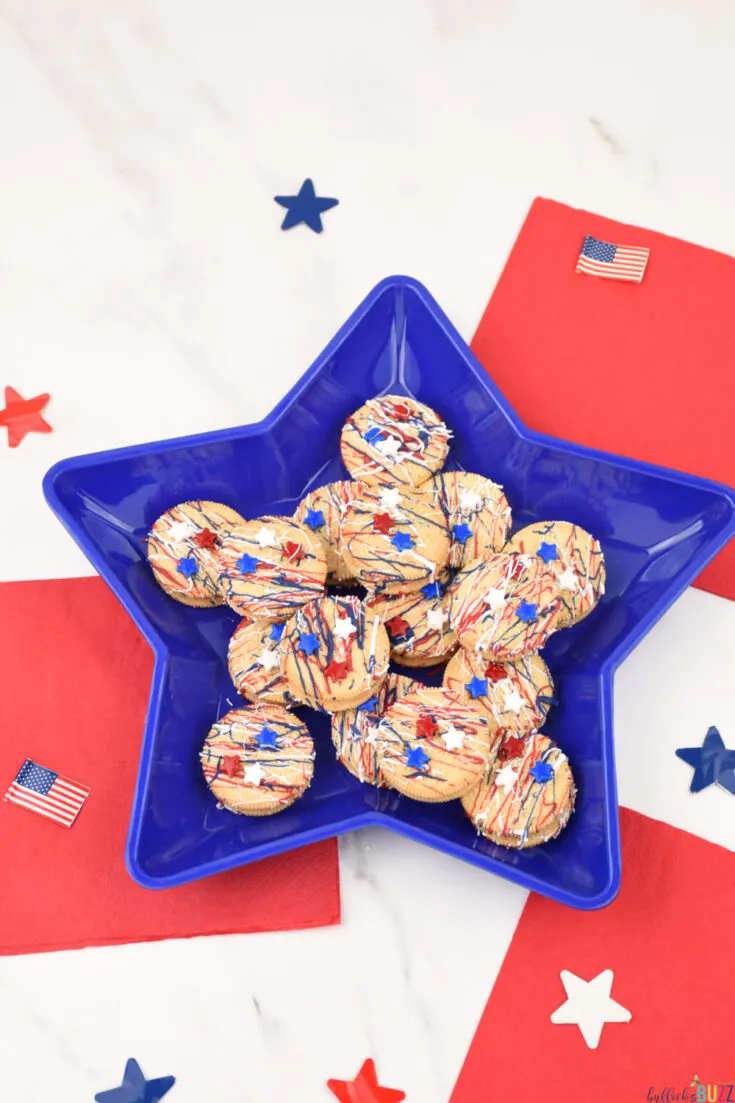 Everyone loves Oreos, but these chocolate-drizzled Patriotic Oreos are simply amazing! They're a fantastic red, white, and blue dessert idea that everyone at your July 4th celebration will enjoy!
More Red, White, And Blue 4th of July Desserts
Looking for more patriotic recipes? Look no further! I think you will really like these other red, white, and blue recipes!
And if you love golf and Oreo cookies, this treat is a must try! Golf Ball Oreos are super easy to make and look so fun!

Show Me What You've Got!
Did you make this tasty red, white, and blue patriotic OREO cookie recipe? If so, I'd love to see how it came out!
Nothing makes me happier than seeing your take on my recipes. So please be sure to tag me on Instagram @bullocksbuzz or using #bullocksbuzz!
And I'd love it if you would comment and leave me a ⭐⭐⭐⭐⭐ rating on the printable recipe card below!
Yield: 15 cookies
Patriotic OREOs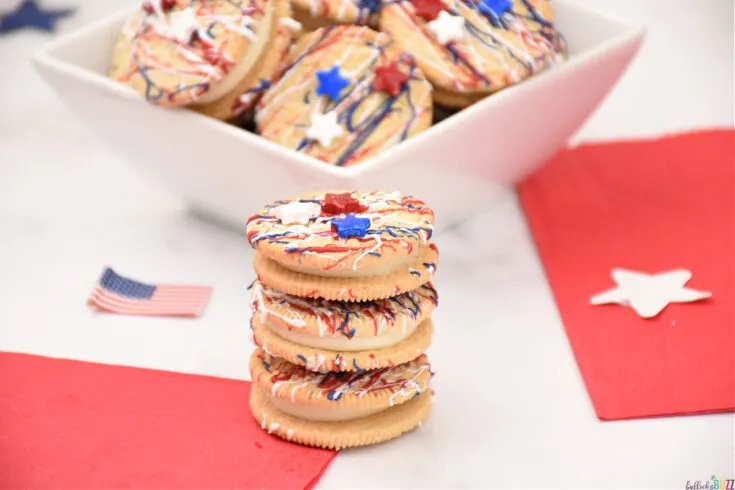 Drizzled with red, white, and blue chocolate and studded with star-shaped sprinkles, these Patriotic Oreos are a fun and festive Fourth of July dessert that everyone will love. Best of all, they are quick and easy to make!
Ingredients
Red Candy Melts
Bright White Candy melts
Royal Blue Candy Melts
Golden OREOs
Star Sprinkles
Instructions
Melt candy melts
Using snack bags with a corner cut off, drizzle all 3 colors of candy melts over the cookies.
Add candy stars before the chocolate hardens.
Allow to set before enjoying.
Nutrition Information:
Yield:
5
Serving Size:
3 cookies
Amount Per Serving:
Calories:

52
Total Fat:

2g
Saturated Fat:

0g
Trans Fat:

0g
Unsaturated Fat:

1g
Cholesterol:

0mg
Sodium:

25mg
Carbohydrates:

9g
Fiber:

0g
Sugar:

5g
Protein:

0g
Nutritional information is automatically calculated with ingredients and serving size and may not be accurate. Please always double check with your own nutritional apps as well.