Turn ordinary candy bars into an extra sweet treat this Valentine's Day with these free printable candy bar wrappers!
Valentine's Day is one of my favorite days. I absolutely love the idea of sharing the love with friends and family. And, of course, giving cute handmade gifts (like this Valentine's Day Coffee Mug)!
Over the years, I've shared lots of fun and easy Valentine's Day ideas, including Valentine's Day recipes (like these Red Velvet Donuts), Valentine's Day gift ideas, and even Valentine's Day printables.
And today I am sharing another super cute Valentine's Day idea, one that's specifically for younger children — free printable Valentine's Candy Bar Wrappers!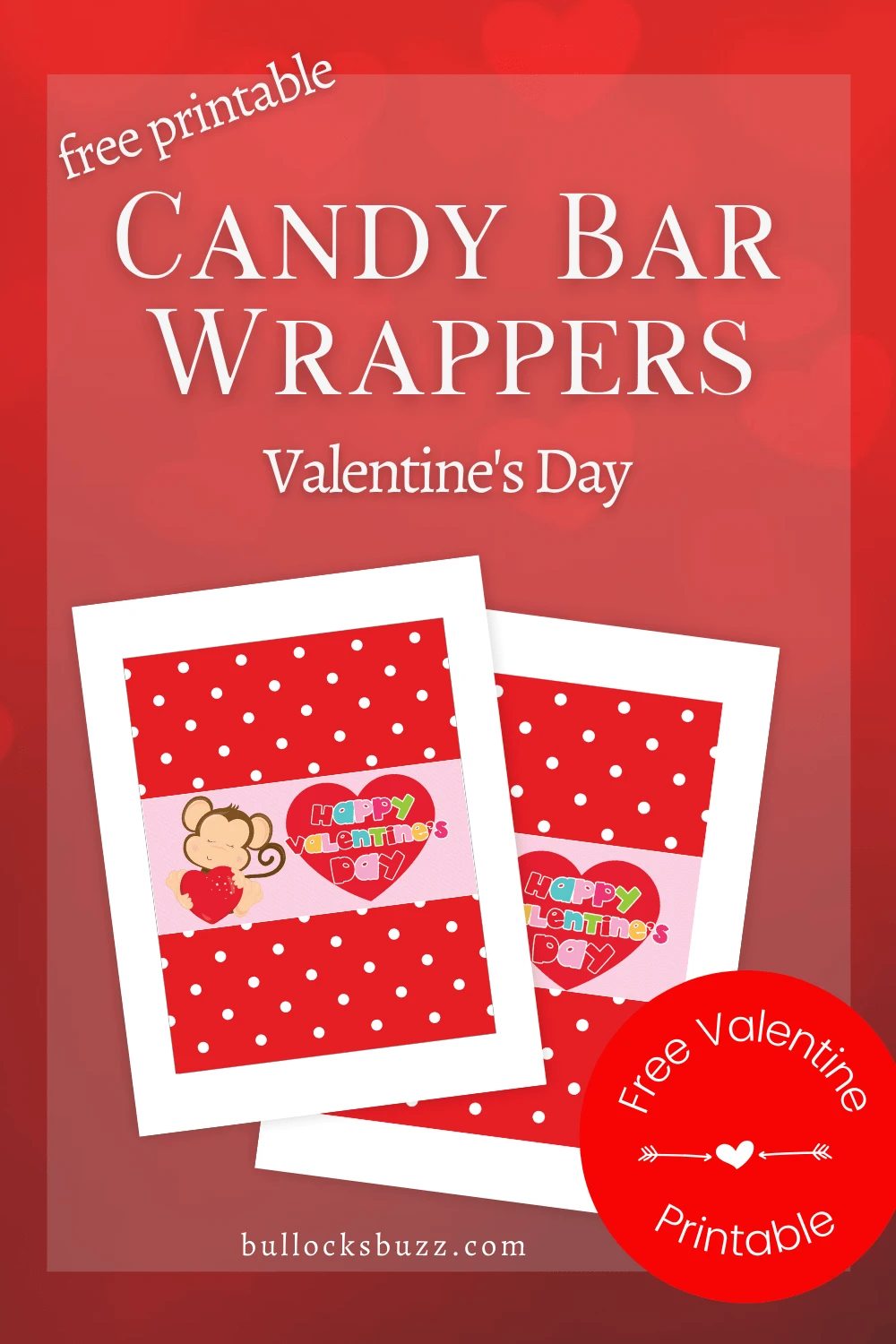 These printable Candy Bar Wrappers are the perfect free Valentine's printable. They are a quick, easy, and no mess, no fuss gift that's perfect for preschool Valentine's and for elementary school Valentine's!
HOW TO MAKE PRINTABLE VALENTINE'S DAY CANDY BAR WRAPPERS
These Valentine candy bar wrappers make a sweet, yet simple gift that you can have ready to go in just minutes. Plus, they're free to print off and use (for personal use only, please)!
These cute printable candy bar wrappers come with 2 different, adorable designs that are perfect for young children. One features a monkey holding a heart, and the other has a giraffe holding a heart.
This printable PDF file includes two 8.5″ x 11″ sheets, each of which, once cut, will fit around a standard-size Hershey's-style candy bar.
WHAT TYPE OF PAPER DO I USE TO PRINT CANDY BAR WRAPPERS?
When it comes to printing printables, the type of paper you use will vary depending on the type of printable. It also depends on personal preference. For best results though, you will almost always want to use high-quality paper.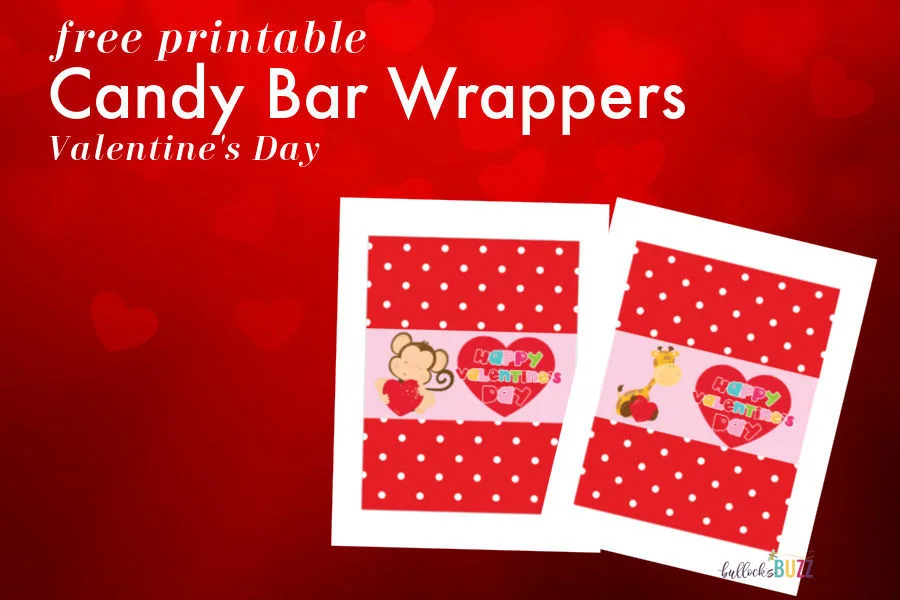 For these candy bar wrappers, I've found that that this Epson Matte Premium Printer Paper works wonderfully. The colors turn out vividly, and it folds nicely around the candy bar.
However, I've also found that a standard bright white paper works well, too. This is where that personal preference comes into play. If you don't want to spend a lot of money on something that's basically going to be torn off and thrown away, you can always use a bright white basic printing paper.
PRINTER SETTINGS MATTER, TOO
Printer settings are also key to making sure your printables come out nicely. So you need to always make sure to adjust the printer settings on your printer. These will vary depending on the printer you have.
Inside the packaging of most specialty papers from Epson, Avery, etc., you will find printer instructions that will tell you which paper settings to use.
In general, you will want to set your printer to its BEST Quality Print Setting AND don't forget to select your paper type.
Pro Tip: use "BORDERLESS PRINTING" and make sure "SHRINK TO FIT" is NOT checked because you don't want the printer to shrink the image. You can usually find these settings under the advanced settings option.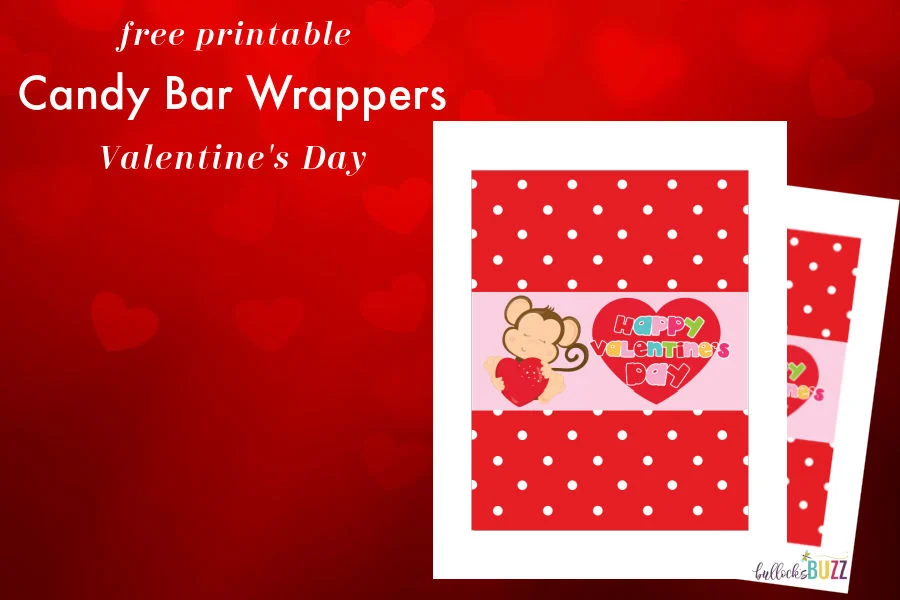 TOOLS YOU MAY NEED
These printable candy bar wrappers for Valentine's Day call for a few basic supplies, most of which I bet you already have at home!
Disclosure: This blog post contains affiliate links for products or services I think you'll like. This means if you make a purchase from one of these links, Bullock's Buzz may make a small commission at no additional cost to you. As always, I only recommend items I use and love.
PRINTABLE VALENTINE'S CANDY BAR WRAPPERS INSTRUCTIONS
To get started, download the printable Valentine's Day candy bar wrapper PDF from the link. Then locate the file on your computer. It's usually in the download file.
Next, check that you have white paper in your printer, then click to open the file and select the print option. Make sure your settings are correct and that you are printing in color, too!
Once all pages have printed, use scissors or a paper cutter to cut around all four sides of the design.
Wrap the paper around the candy bar. If needed, trim more of the paper off around the edges until the edges of the paper just reach the edges of the candy bar.
Lastly, use tape (or glue) to secure the candy bar wrapper.
And that's it! Your printable Valentine's Day candy bar wrappers are ready to be given away as Valentine's gifts. Enjoy!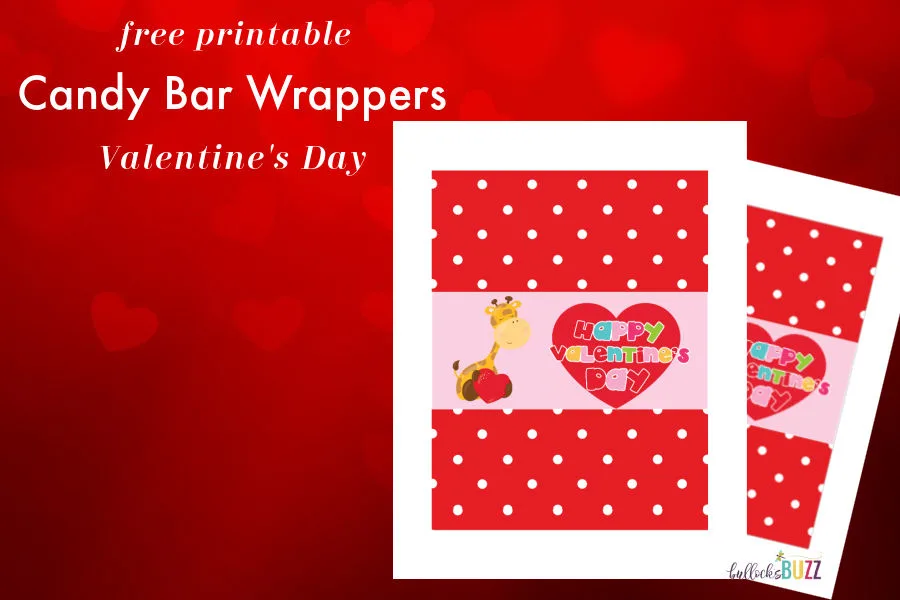 Click here to get your printable Valentine's Candy Bar Wrappers
Happy Valentine's Day!
Please note: As with all my printables on Bullock's Buzz, these candy bar wrappers are for personal use only. You may not sell them, mass-produce them, or claim them as your own. (Sadly, I see this happen all too often!) If you have a question about this, feel free to email me – I promise I'm totally nice. 🙂
SHOW ME WHAT YOU'VE GOT!
I hope you love these cute Valentine's printable Candy Bar Wrappers! If you do decide to print them, I'd love to know!
Tag me at @bullocksbuzz (Instagram and Facebook) or @alainabullock (on Twitter) and use #BullocksBuzz so I can see your creation and share it!
MORE VALENTINE'S PRINTABLES
Looking for more Valentine's Day printables? Here you go!
See you soon ~
Alaina
xoxo